Arran Banner Letters – week 27, 2022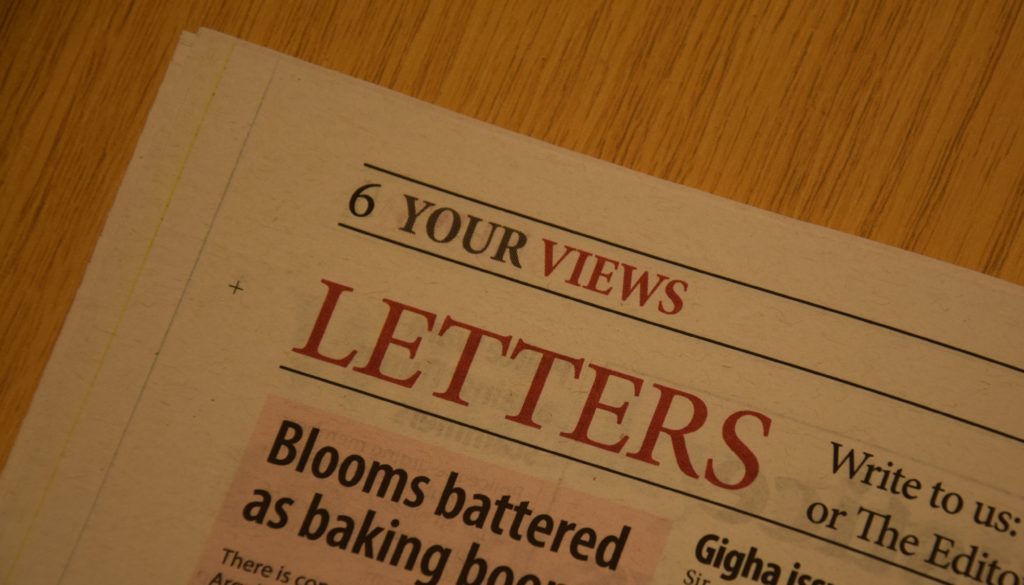 Want to read more?
We value our content and our journalists, so to get full access to all your local news updated 7-days-a-week – PLUS an e-edition of the Arran Banner – subscribe today for as little as 48 pence per week.
Problems logging in and require
technical support?
Click here
Subscribe Now
Lets for teachers
Sir,
Arran High School has a number of teaching vacancies and these have attracted a good number of applicants.
Generally, incoming teachers are happy to rent for a short while until they are out of their chain, if selling their own house, or find once over here, a suitable long term let.
Previously it has been tight, but with a number of privately owned long-term lets being sold, as many locals are acutely aware, the availability of long-term lets is effectively nil.
We urge landlords or holiday home owners to consider renting their homes to teachers until they can get settled on the island and to contact the school via head teacher Susan Foster on gw09fostersusan@ea.n-ayrshire.sch.uk
Yours,
Arran High School Parent Council.
Long Covid children
Sir,
Children and young people with Long Covid demand action from the Scottish Government.
On Tuesday June 28 my daughter and I travelled to Edinburgh with families from the Scottish Long Covid Kids' Support Services to meet cabinet secretary Humza Yousaf. The First Minister was invited but unable to attend due to Parliamentary commitments.
The children and young people living with Long Covid gathered outside the Scottish Parliament building to formally hand deliver the Long Covid Kids Support Guide and personal letters from the children outlining their experiences. Each family has faced difficulty accessing health, social care and flexible education for their children; often being dismissed, told they 'just have anxiety' and denied referrals, forcing them to seek private healthcare and education at great financial burden.
The cabinet secretary spent 80 minutes listening to the children to hear how Covid infection, and repeated Covid infections, have affected them and their families. It is the childrens' hope that, by seeing and listening to them in person, the cabinet secretary may better understand how Long Covid has upturned their lives as they now live with chronic illness and varying degrees of disability.
The children and young people living with Long Covid in Scotland want the Scottish Government to take immediate action to improve access to healthcare, social care and education and to take urgent steps to prevent more children suffering as they do.
Long Covid Kids and the families we support in Scotland are asking the Scottish Government for:
1 Improved access to appropriate health and social care support.
* Implementation of a paediatric Long Covid framework or care pathway.
* Support and education for health and social care staff to be able to identify, treat and support children and young people living with Long Covid and their families.
2 Improved indoor air quality in educational settings for prevention, health and wellbeing.
* Clean air for improved learning outcomes.
* Health and wellbeing at the heart of education.
3 Equitable education for all.
*Accommodations to level the playing field for children impaired by Long Covid.
* Flexible education policies that support all children to access education.
4 High-quality, co-produced paediatric research.
* Identify causes and evidence the impact of paediatric Long Covid.
* Evaluate treatments and interventions.
Yours,
Helen Goss,
Senior lead Long Covid Kids representative, Scotland.
Glutened in hospital
Sir,
With great sadness and frustration, I read recently about an inquest into the death of an 80-year-old with coeliac disease who was fed cereal containing gluten in hospital.
The patient fell ill within hours and started to vomit. She died four days later from aspiration pneumonia.
As someone with coeliac disease, it is upsetting to realise that even among medical professionals there is such a lack of understanding of this serious autoimmune disease.
One in 100 people have coeliac disease and there is no cure. The only treatment is a strict gluten free diet. Even a crumb of gluten can cause a severe reaction.
My mother, who is 86, has had difficult experiences in hospital. She was offered toast containing gluten, which would have made her very unwell. Another time she was told she was 'too late' at 4pm for gluten free food. The hospital clearly regarded a gluten free diet as a specialist request, rather than a medical necessity that should be offered as part of standard care provisions.
At Coeliac UK, we are calling on all hospitals to urgently review their guidelines and protocols. We're asking the NHS to update the information about coeliac disease on their website as the current list of symptoms is misleading. And we want to see better training for healthcare professionals to improve their understanding of coeliac disease and their management of patients who have the condition.
No one with coeliac disease should have to worry about being glutened in hospital.
Yours,
Maureen Burnside,
Chairman, Coeliac UK.
Roe v Wade debate
Sir,
William Wilberforce (1759-1833) brought the hidden plight of slaves into public view and helped fix their release.
'When America coughs, Britain sneezes', so Roe v Wade reform shines a light on our atrocious abortion record. The six-month UK time limit for abortion is barbaric beyond words and represents a grim human rights scandal.
General Practice colleagues encouraged me to reject 'abortion on demand' more than 20 years ago. Does abortion perhaps become 'a black and white issue' when viewing the NHS website's three month 'dating scan'?
My life journey was changed when a Free Church of Scotland evangelist and preacher sensitively outlined their interpretation of abortion facts.
Yours,
J T Hardy,
Belfast.