Arran Banner Letters – week 21, 2022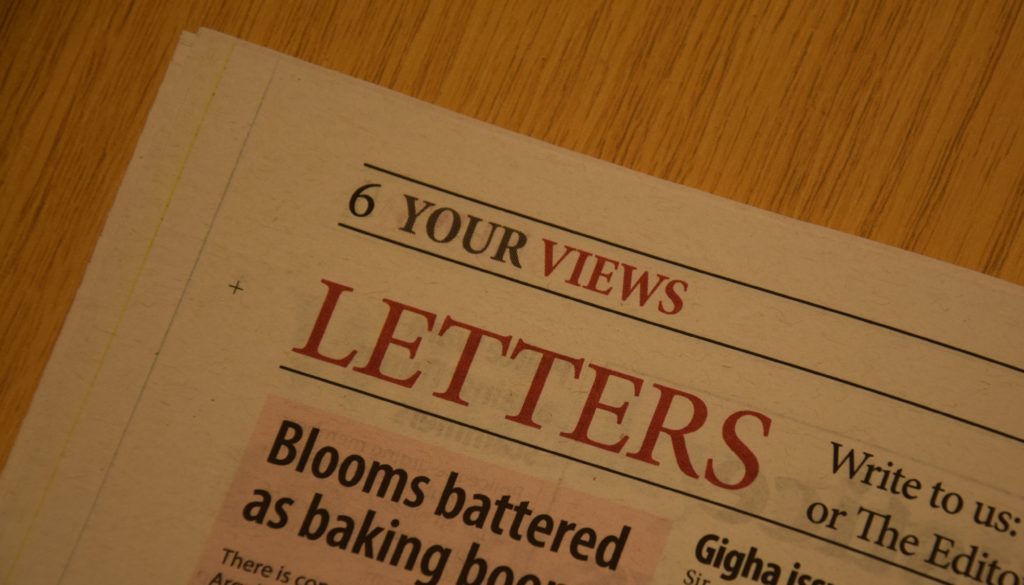 Want to read more?
We value our content and our journalists, so to get full access to all your local news updated 7-days-a-week – PLUS an e-edition of the Arran Banner – subscribe today for as little as 48 pence per week.
Problems logging in and require
technical support?
Click here
Subscribe Now
A journey of faith
Sir,
'Church closures threat as Kirk acts on crisis' made a striking Banner front page headline last week. Hugh Boag masterfully unpacked the numbers crisis facing mainstream Protestantism in Arran (as well as the wider UK).
I grew up on the Co Derry coast and was an atheist until my middle years. I went to work as a relief GP in the Highlands and Islands after burnout as an urban GP.
It was lovely to have time to ramble, explore rock pools, ski or fish. But a Christmas meal at the Port Ellen Freemason Hall on Islay started a different adventure.
The seafood and whisky were great, as was a chat with the local Church of Scotland minister, who also gave a talk alluding to the strength of spiritual cohesion amidst all the traumas or debris of life.
Another stepping stone on my journey from atheism came when attending a Christmas dinner at a church run care home on the Isle of Harris.
The food was excellent and I was surprised to be offered a generous measure of whisky after the dessert. It was quite a revelation to see this dispensed in a church run facility.
At the end of the meal a great number of the older people burst into Gaelic psalm singing for a few minutes, which shook me to the core and enlivened my interest in knowing more about their faith.
I endeavoured to put out a few feelers, akin to a child sticking a worm on a hook and whacking it into the local trout stream.
My on call sessions as a Hebridean GP were very quiet, so a daily bible reading (combined with study of the evidence for faith) proved to be a great time filler.
Reading Isaiah 53 drew me to reflect on how one-solitary-life mysteriously fulfilled the central messianic prophecy and the words of invitation in Isaiah 55 drew me to make a commitment.
Many of us listen at Christmas to 'How beautiful are the feet' as Handel's Messiah is played, but the busyness of life prevents us from examining the message properly.
When we look at successful church initiatives, like the modern Alpha Course, it's evident how lay involvement and informality connect with people seeking to explore the big questions.
When we read the book of Acts it's amazing how much church activity was in homes where smaller groups met. Just take a quick read at the first half of Acts chapter 2 describing Pentecost.
Lay people leading services in the kirk truly is a blast from the past. A top UK Anglican evangelist, Canon Michael Green (1930-2019), wrote a short text called 'Forgotten Dynamite'.
Shedding excess buildings, plus using cafes or homes to meet in, may strengthen the Arran Church of Scotland.
Yours,
J T Hardy,
Belfast.
First hand experience
Sir,
I've been reading for months in the Banner's pages about how CalMac's ferry woes are affecting the island, but as a visitor I've just experienced it first hand.
We were on the golf course on a Friday afternoon when we got the abrupt text telling us that our ferry for Saturday had been cancelled.
We did as we were told, and looked at the website: all it told us was why the problem had occurred, and showed us that the next available ferry we could book was the following Wednesday!
We tried the phone number we were given, consistently for over two hours but all we got was a message saying that the lines were busy, try again later.  We were told in a separate text that we should consider Claonaig – Lochranza, but we couldn't book a slot.
We were on the point of cancelling our holiday when, after three hours, we finally got through to CalMac, and on asking if they had any idea how long the wait to get on at Claonaig might be, were told, that there was no need to make that drive as it was only the Isle of Arran that wasn't sailing, and there was space on the Caledonian Isles 18.00 Ardrossan sailing on Saturday!
Now, I understand the problems CalMac have with their ageing fleet, and with a Scottish government that appears to have handled the replacement ferry situation with remarkable ineptitude, but customer communications are 100 per cent down to the company.
Their texts were pretty close to scaremongering, leading customers to believe that the situation was dire, and that their holiday was in jeopardy – I wonder whether the tactic was to paint a grim picture, so that they could appear to be heroes when they 'sorted' it?
Whoever is in charge of customer service at CalMac needs to take a long hard look at themselves, as I'm pretty sure some people will simply have given up when they received the texts.
This was bad enough as a one-off for a visitor (although I note they also cancelled our crossing last year), but it must be nigh-on unbearable for those living on the island
Yours,
Colin Boag,
Winchester,
Hampshire.
Toilet plea
Sir,
On a recent visit to Arran I was shocked to see that toilet provision on the island post-pandemic is still abysmal, especially in the popular villages of Brodick and Lamlash.
I am very grateful for the hard work which volunteers do but it still falls short of what is expected in the 21st century.
I used the dank, dark and dirty public toilet in Brodick and in Lamlash I had to stumble through boatyard debris to the public toilet.
In both cases there remains a well built brick structure which surely could be renovated
using upcycled building supplies etc and perhaps voluntary workforce or, perhaps, some of the large employers of the island could have some input in terms of donating materials and skilled workforce and in return receive public acknowledgement of this on the renovated buildings.
Yours,
Alice Wilson,
Glasgow.