Arran Banner letters – week 03, 2022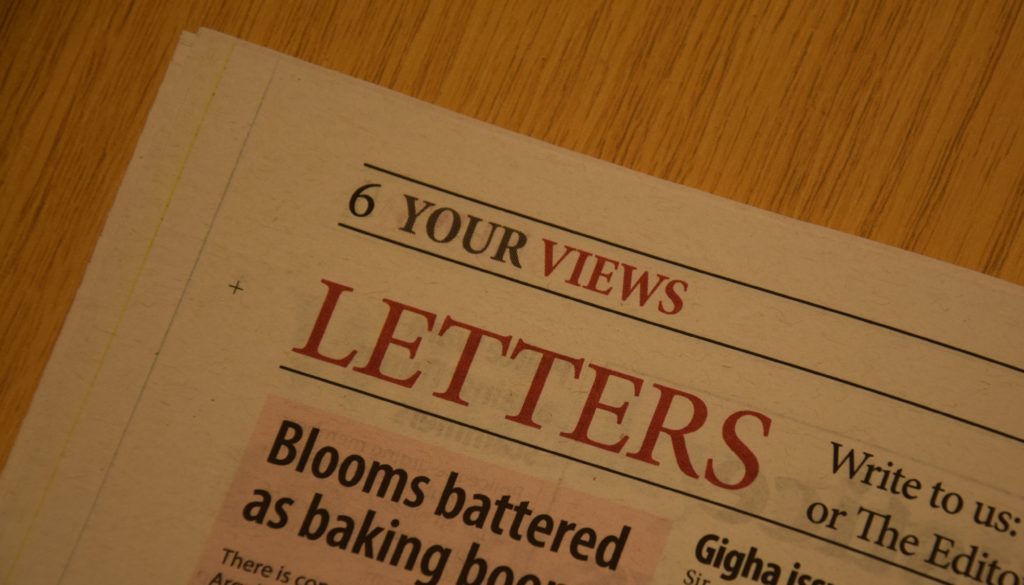 Want to read more?
We value our content and our journalists, so to get full access to all your local news updated 7-days-a-week – PLUS an e-edition of the Arran Banner – subscribe today for as little as 48 pence per week.
Problems logging in and require
technical support?
Click here
Subscribe Now
Cash for lights
I would just like to say a big thank you to everyone who donated to my garden lights this year.
We set a target of £200 for Alzheimer's UK and because of your generosity we have a total of £273, which has been sent to the charity.
Once again my thanks to everyone and hopefully look forward to next Christmas.
Yours,
Bernie Jackson,
Whiting Bay.
Santa dash thanks
Sir,
Through your letters page we would like to thank the following for their support and kind donations for our Santa dash/cycle that took place back in December.
Arran Pacemakers running group, Arran Belles, Arran Bike Club, Arran Gravel Riders, Brodick Golf Club, Liz McLean at the Co-op, Arran Cheese Shop, Amy Tattersfield and, of course, Sue Berry who set us all off!
I'm sure there are some we have missed but thanks to everyone, we raised the sum of £850 which has been passed on to MND Scotland.
Yours,
Lorna Logan, Arran Pacemakers;  Janice Small, Arran Belles.
Noisy trend
Sir,
I have been coming to Arran for over 30 years and spent many a lovely holiday here.  I started by camping and worked my way up to hotels and renting cottages.
The reason I love Arran so much is the relatively easy access (ferry allowing), the peace and quiet which is in sharp contrast to many of the places I have worked and lived in; Manchester, South London etc.
Arran has changed over the years, as all places do.  Old establishments close but new ones open, this I accept.  However, lately I have started to witness a trend that I feel I must comment on.
This is noise, mainly from builders' radios.  We love to walk down at Kildonan, it's slightly off the tourist track.  Late summer 2021, we parked as usual and got out of the car and could hear a radio that must have been over a good quarter of a mile away, some guy working on a house.
We came back just after new year, intending to make up for the lost walk only to find that he's still up there with his radio if anything louder.  I hope he's not being paid by the hour!
Talking to locals in the Kinloch at night it turns out that he may be doing up a cottage for holiday lets; well he won't be getting our business.
Next, whilst in Whiting Bay a white van stopped at a house, a builder got out and the first thing he did was turn his radio on full volume.
If I had rented a cottage near either of these I'd be furious; we are certainly avoiding Kildonan for our next couple of visits.
I am sure that many of your readers will say that the area where they are is still peaceful, but in my experience once this sort of thing starts it quickly becomes accepted as normal and more people start doing it.
Yes, it is your island and if you want to be the west coast of Scotland Ibiza then that is your choice but don't expect me to frequent your hotels, cafes and distilleries.
If you are Arran born and bred then maybe you should trying living in a big city on the mainland and see what it is like to have 24-hour noise.
If you are an incomer then why did you move to Arran if you have to obliterate the sound of the sea and the birds with Radio 1?
Yours,
Dr Pat Jones,
Cheshire.
Cooriedoon concern
Below is a copy of a letter sent to the Banner and addressed to two Arran councillors, Timothy Billings and Ellen McMaster.  
Dear Councillors Billings and McMaster,
Many of us on Arran aren't in youth's first flush.  We may not fancy moving into a care or nursing home tomorrow but at some point it'll be better than the alternative.
I understand that North Ayrshire Council has decided to withdraw its funding from Cooriedoon, Whiting Bay's long established and well-liked home.
This decision must put into question the home's viability and a key part of the island's care provision.
If council schools face problems, they're supported.
If there are aspects of Corriedoon's performance that fall short (although I believe none of its residents have been lost to Covid, despite their frailty) wouldn't it be more far-sighted to bolster existing arrangements than wash your hands of them?
Yours,
Nigel Armstrong,
Whiting Bay.
Offer of support
Sir,
The start of a new year is usually a time of celebration and anticipation. However, as the coronavirus pandemic continues to impact everyday life the arrival of 2022 may not be the fresh start we'd all hoped for.
At Macmillan, we know this continues to be a particularly challenging time for people with cancer or those seeking a diagnosis.
They may be shielding, feeling isolated or experiencing treatment and care disruption. It is understandably a period of uncertainty and anxiety for many.
So, even though it's a new year, you may be faced with many of the same worries.
That's why we want people living with cancer across Scotland to know that Macmillan will continue to do whatever it takes to give people the physical, emotional and practical support they need.
Our cancer experts are available via phone seven days a week, from 8am to 8pm, to offer advice, support or even just a friendly listening ear. If you, or a loved one, are living with cancer you can call free on 0808 808 00 00.
Also, our website is available 24 hours a day, www.macmillan.org.uk, where you can access a wealth of information resources, as well as the option to chat online to an expert.
You can find our online community on the website too – where people share their cancer experiences, ask questions, and talk to others who understand what it's like to have cancer.
In addition, you can find local support by visiting the 'in your area' section of the Macmillan website.
And if 2022 is the year you're planning to give something back or you want to take on a fresh challenge for a good cause, our website has a huge range of inspirational ideas – from taking on a Macmillan Mighty Hike to volunteering in your community.
Everyone at Macmillan Cancer Support wishes you a peaceful year ahead and we are here. Whenever you need us.
Yours,
Janice Preston,  
Head of Services in Scotland.