Arran Banner Letters – week 46, 2021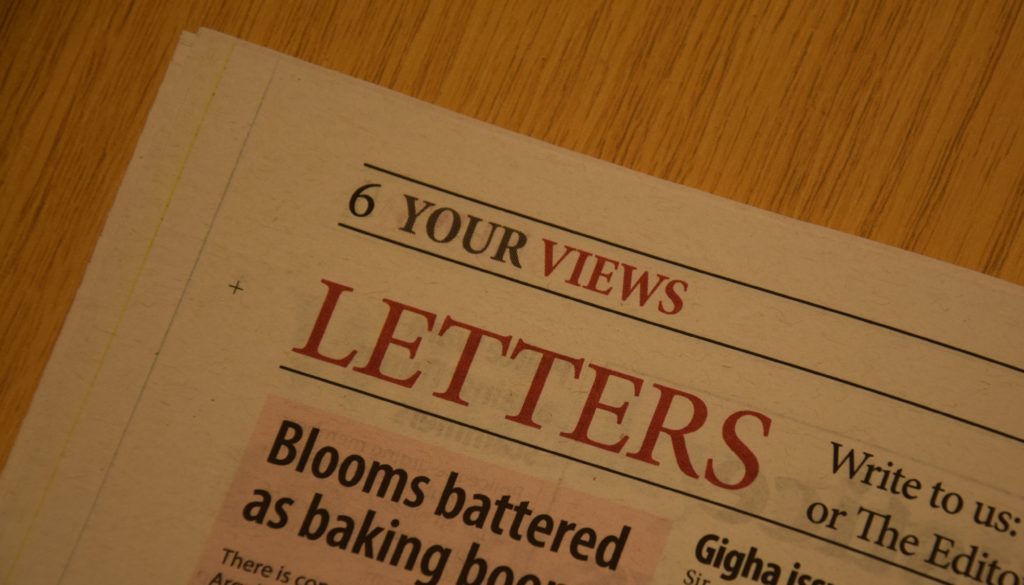 Want to read more?
We value our content and our journalists, so to get full access to all your local news updated 7-days-a-week – PLUS an e-edition of the Arran Banner – subscribe today for as little as 48 pence per week.
Problems logging in and require
technical support?
Click here
Subscribe Now
Bid to save old pier
Sir,
I am looking for support to take forward a proposal for transfer of Brodick Pier to the community of Arran; formal objections to the demolition must be raised by November 19.
Under the Community Empowerment (Scotland) Act 2015, we can apply for an Asset Transfer for the benefit of the community.
Do we really want to lose this iconic landmark, which has graced our shoreline for decades?
Could the old pier be an alternative berth for our ferries or other visiting vessels, such as the Waverley or the Hebridean Princess?
Could we create a marina or have moorings facilities with associated commercial benefits?
Could we become part of the Scottish Series?
CMAL is spending £3 million on demolition with further multi-millions to build a breakwater. It could save both these sums by leaving this piece of Arran heritage for the community.
According to CMAL the 'long term impact of the demolition to our ferries, harbours etc will be negligible'.
So, no missed Waverley passengers or sailings; no loss of revenue from visitors when two CalMac boats are already tied up to the new pier because of an easterly wind.
It also says removal will be 'more appealing to arriving tourists as well as improving the look for local residents in general'.
Has anyone from CalMac actually seen the atrocity we now have as a ferry terminal that dominates the landscape or the chaos at booking in as the vehicles extend into Brodick and up the Brodick hill?
Adding: 'Short term economic benefit will be the presence of a contractor and supervision team during the off season of tourism who will utilise local accommodation and services'.
Goodbye to the enormous potential development to a winter of a handful of B&B beds.
I cannot remember the last time I heard anyone refer to an 'off season' on Arran.
Sterling work by many businesses on Arran has been done over the years to create a 42-week destination.
How green is it to remove all that material, up the Clyde on a fleet of barges and where is it going? How much greener to refurbish and re-use.
I cannot do this alone but as a community we could.  Like-minded people are cordially invited to email me at bob.haddow@brodickpier.co.uk
Yours,
Bob Haddow,
Kingscross.
Renovate and restore
Sir,
Here we go again – yet another application for demolition of Shannochie Post Office and house. Have people never heard of renovation and restoration?
Please leave our heritage alone – we have little enough left!
Yours,
Sandra Macmillan,
Brodick, originally Shannochie.
Say HIE
Sir,
I was interested to read the article entitled Machrie motorhome site secures HIE funding.
Will this mean a widening of many stretches of the island's road network, which does not exactly seem to have been designed with this kind of traffic in mind?
And who will finance the costs that will arise in connection therewith?
Will two motorhomes passing on the southern stretches, (think Whiting Bay to Corriecravie) get close enough for the drivers to say 'HIE' to one another?
Yours,
Douglas Bruce,
Germany.
Link cause to effect
Sir,
I make reference to Mr Climie's letter of last week and its misrepresentation of scientific work undertaken by NASA and reported by former president Barack Obama's chief scientific officer.
While it is absolutely correct to reference the role of water vapour and its presence in the atmosphere as a significant contributor to planetary warming, the primary change to the atmosphere's composition which has induced a 'greenhouse' effect in recent times is CO2.
This in turn has led to additional water evaporation.
To quote NASA directly: 'the increase in humidity amplifies the warming from carbon dioxide'.  Not enough CO2 to impair brain function then, but more than enough to link cause to effect.
Yours,
Rob Cowieson,
Whiting Bay.
Climate clarification
Sir,
Jim Climie (Letter in The Arran Banner November 5) seems to have misunderstood the factors which affect the present global warming and climate change conditions.
The amount of water vapour in the atmosphere is the result of global temperature increase, it does not cause it.
It is the increase in CO2 which is heating the planet which then leads to an increase in evaporation of water which leads to its increase in the atmosphere.
This water is then recycled as rain or snow so does not remain long in the atmosphere but the amount of evaporation is determined by the global temperature which in turn is determined by the CO2 and other gases, including methane.
Water itself, as he rightly says, is the dominant greenhouse gas but please do not think that this is what is causing the global temperature to rise.
It is part of a positive feedback loop as determined by the global temperature which, in turn, is determined by anthropogenic changes to our atmosphere.
Our climate has changed many times in the past. To say that somehow this latest global temperature rise is only the latest in a succession of changes and somehow, we have nothing to do with it and therefore we should continue as normal is misreading the science.
The reasons for historical global temperature changes as identified by tree rings, rocks, and other artefacts have, in the main, been identified by scientists.
Global temperature changes do not just happen; they are caused by a reason. Scientists have spent many years investigating these reasons.
They are mainly affected by the concentration of atmospheric CO2.
Variation in the earth's orbit, massive volcanoes, temperature of the sun, and tectonic shifts have all been identified as contributing to historic global temperature changes. The latest, of course, is due to us.
Yours,
Colin Gunn,
Glasgow.
Poem in bad taste
Sir,
The poem concerning Greta Thurnberg printed in the November 5 2021 edition of The Arran Banner was in incredibly bad taste at any time, but especially so now.
The apparent author, who holds official positions on Arran, should have known better.
This poem was a blatant derogatory attack upon this courageous young lady, who is clearly an inspirational visionary for many thousands of young people around the world.
They see their lives blighted by the historical actions of others and threatened further by vested interests of powerful lobbies everywhere.
All they can do is protest and Greta is their champion.  The message Greta tells and that of her supporters is being heard by world leaders.
I believe the author's energies would be better directed at some climate change initiatives, as he is in a position to implement these.
I suggest firstly aiming to minimise atmospheric air pollution by convincing CalMac to adopt cheaper and more fuel economical ferries e.g. catamarans.
Secondly, I suggest he tackle the dreadful pollution of our Arran coastal waters being brought about by open-net fish farms, as there are more climate-friendly alternatives.
The rejection of the Millstone Point appeal by Bakkafost should give him a good starting position.
My confidence in either of these global warming initiatives being pursued by the author is virtually nil; mocking humour is so much easier.
Yours,
John Ford,
Lochranza.
Support for catamarans
Sir,
I must agree with John Lamont's piece about catamarans, in last week's Banner; however, the dinosaurs from the union and CMAL appear to make any excuse to rubbish catamarans without any concrete evidence, as I see it, to back up the claims they make.
I as a person who just wishes to book and sail when I wish and not be frustrated in this by the many and varied excuses made to avoid honouring the agreement made with me when I booked.
I followed the attempts to hire the MV Pentalina which were continually put down by the union on the allegations that the ship was a danger to the travelling public a claim which to my knowledge was never substantiated by specific dangerous items, and not to mention those made by CMAL regarding suitability for the west coast.
Seem to be missing something here – am I to believe that the Ardrossan to Brodick route is a more hazardous crossing than the one Pentalina serves at the moment.
I and my wife have sailed in the Pentalina in question and found her and her crew a pleasure to sail with and did not see any concerning items on board.
I will point out that I am particularly sensitive to safety as my wife is disabled so any ship or aircraft we travel on comes in for extra scrutiny from me to make sure we stay safe in an emergency.
To end I cannot see a change in CMAL or the union's stance any time soon. In the meantime I and other tax payers and travellers will continue to have our expectations regularly dashed by featherbedding incompetent dinosaurs.
Oh and my interest? I was reared and schooled on Arran and regularly return on holiday with my family including grandchildren.
Yours,
Roderick C McKay,
Forres.