Arran Banner Letters – week 45, 2021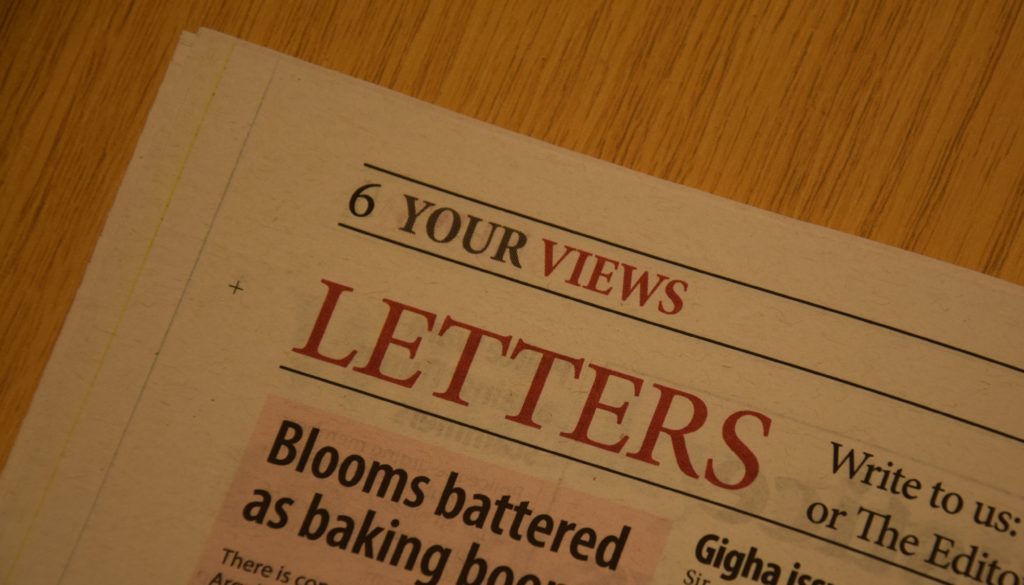 Want to read more?
We value our content and our journalists, so to get full access to all your local news updated 7-days-a-week – PLUS an e-edition of the Arran Banner – subscribe today for as little as 48 pence per week.
Problems logging in and require
technical support?
Click here
Subscribe Now
Dissenting views
Sir,
In all the words printed and spoken in the next fortnight at the COP26 conference there is one which will never be mentioned – and that is water vapour. Yet water vapour is the main greenhouse gas.
Confirmation of this can be found deep in the full text of the 2007 IPCC report. Because there is so much more of it in the atmosphere it has about 15 times more effect than that of CO2. It is rather strange that it is seldom mentioned. Perhaps because there is no way it could be taxed as is done with CO2.
Science attributes all the warming seen in the world these last 200 years to carbon dioxide and a few other very minor gases – this is incorrect. Carbon dioxide and the other minor gases are responsible for no more than one third of the warming, the rest is due to water vapour. Water vapour is invisible but eventually forms clouds.
President Obama's chief scientific officer John Holdren stated back in 2016 that 'a one per cent change in the amount of cloud cover was enough to change the temperature by 0.8 degrees centigrade', or about 75 per cent of the warming seen. It works both ways, more cloud the temperature goes up, less cloud it go down. Cloud cover is estimated to average about 67 per cent. One per cent would never be noticed.
The world's climate has always changed over many years and will continue to do so with or without humans on it. Climate science is now a closed shop where dissenting scientists, and there are plenty, are never heard. Group thinking has taken over where no-one is allowed to challenge ideas. It's all CO2 and Zero Carbon, more like a case of CO2 on the brain.
Yours,
Jim Climie,
Whiting Bay.
Climate solidarity
Sir,
On Saturday November 6, in all corners of the world, people will join marches, rallies, vigils and demos to demand that our political leaders bring real actions to avert the Climate Crisis and recognise the need for Climate Justice.
On Arran, we too will have a demonstration between 12.45pm and 1.30pm opposite The Douglas Hotel. Please join us to show solidarity.
But it is not just politicians, as we all know we as individuals will need to change our lifestyles, our consumer habits, our sense of entitlement to have what we want when we want it, in order to dramatically reduce our own carbon footprint.
After all, each of us contributes in some way or another to the energy demand which today is driving the heating effect in our climate. A very positive future lies ahead for all of us if we are willing to change.
See you there? Come and talk about it!
Yours,
Sally Campbell,
Lamlash.
A poem for COP26
Wee Greta's here in Glesca
Tae tell us what to do
Bagpiped right off the train here
Nae BSc – not a bloody clue.
Our universal leaders,
The world's great and good
They see her – a Messiah
How much they've misunderstood!
There's to be no more flood'n
And the rains are to have bans
Because Wee Greta's said so
And so, then say her all her fans.
So, when will they see through her,
And the price to them she'll cost
As they pay for air heat source pumps
And their new lives in the frost.
Happy to block the Glesca streets
But not at Volvo's gate
No protests then in Stockholm –
Just in the Gallowgate.
Wee Greta's here in Glesca
Tae meet Lorna and wee Pat
Lorna's Covid tested
So that's the end of that!
For those who're old enough and mind
Hans Christian Anderson's Song
The 'Kings New Clothes' and what it meant
What could possibly go wrong?
Yours,
Neil Arthur,
Kilpatrick.
Empty housing a valuable resource 
Sir,
I write in connection with your recent article on the housing crisis on Arran and the lack of affordable housing to rent or buy on the island.
A few hundred yards from my home there is a derelict house on a large plot of land which is eminently suitable for re-development, but which the owner has chosen (for reasons unknown) not to develop, or sell for development.
This is a disgraceful situation on an island where housing is at a premium. Such blight appears to have gone unnoticed by the North Ayrshire Council, as the local planning and housing authority.
I wonder whether this situation is replicated elsewhere on Arran, where owners have allowed their property to become derelict and unused – and the local authority has taken no action to remedy the problem?
Perhaps it would be useful for your newspaper to consider carrying out an investigation on the number of empty houses on the island; and examine the reasons why the owners are unable or unwilling to release such a valuable resource to the community?
Yours,
Graham Hill,
Whiting Bay.