Arran Banner Letters – week 43, 2021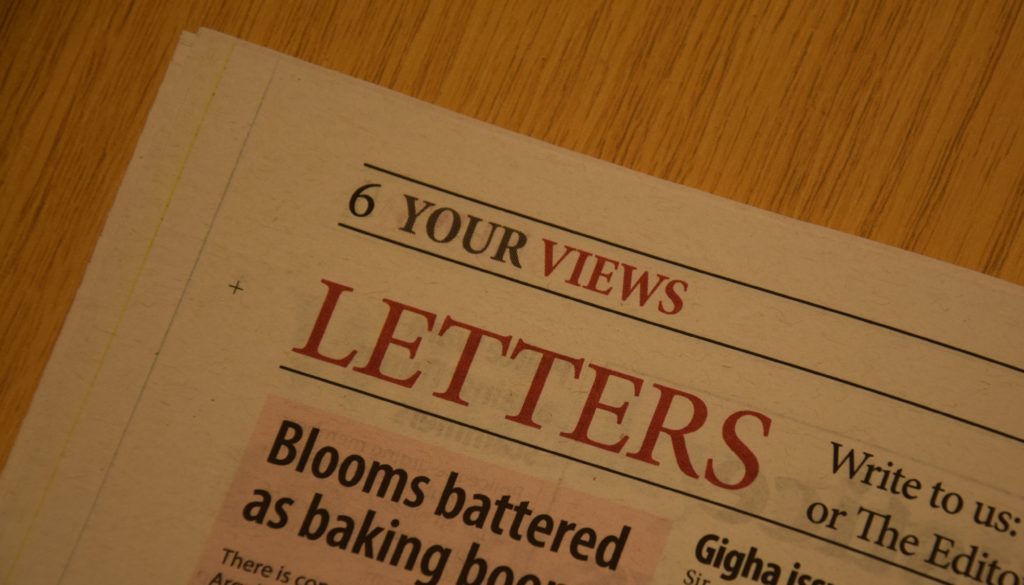 Want to read more?
We value our content and our journalists, so to get full access to all your local news updated 7-days-a-week – PLUS an e-edition of the Arran Banner – subscribe today for as little as 48 pence per week.
Problems logging in and require
technical support?
Click here
Subscribe Now
Enquiry required
Sir,
In the context of arguably the worst handled disruption of the Brodick/Ardrossan service in recent times I would go further than your excellent correspondents, Neil Arthur, Elaine Duncan, councillor Alex Gallacher and your own editorial. I would suggest that the chief officer of CalMac should 'consider his position'!
Every transport company in the land in the last 18 months must have experienced Covid among staff, yet I'm not aware of services being withdrawn without notice as was the case with the service to Brodick on Sunday October 10.
There was a lack of senior management to deal with an unsurprising situation. Are they all off at weekends? Where was the contingency plan?
The members of CalMac staff who went to Claonaig to try to sort the debacle there should be thanked, but to send off the number of vehicles that were advised to travel 130 miles, part way on a single track road, to a port with no facilities for a ferry too small to cope was a decision that must be questioned in an enquiry – and there should be an enquiry. Official apologies are wearing thin. Company protocol was put before passenger service and the reputation of Arran as a holiday destination was further damaged.
I join Neil Arthur in acknowledging the tireless work of the secretary of the Arran Ferry Committee. On occasions such as occurred that Sunday, he spent the entire afternoon and evening trying to contact responsible CalMac personnel.
Yours,
Margie Currie, Blackwaterfoot
CalMac criticism
Sir,
While I sympathise with the Covid incident affecting the Ardrossan shore staff and their essential actions to self isolate and test, the CalMac management failings in dealing with this event are unbelievable.
Did the CalMac management even consider getting off their backsides and heading to Ardrossan themselves to find a solution? (Oh sorry, it was a Sunday!)
I know for a fact that all the outgoing ferries from Friday to Tuesday were fully pre-booked for the Scottish school holidays. Consequently the majority of the cars and passengers would be fully ticketed. So why not load them on the ferry that was continuing to sail? We have all noted it takes only one person ashore to control the traffic flow; even Robbie Drummond could surely do that!
Would it really matter if a small minority of passengers were allowed to board without paying for a ticket? A minimal cost compared to the compensation requests CalMac are about to receive.
Arran's destination resort status has again been eroded by the incompetence of CalMac management. The CalMac shareholders (that would ultimately be our esteemed elected MSPs) should be taking a hard look at the competence of their appointed executives.  However I would retain their PR manager, who is to be commended for the speed of issuance of his bland and repetitive 'cut and paste' apologies.
Yours,
Bob Byers, Brodick
Prior planning and preparation
Sir,
Given the continuing and future problems from Tim Hair's ever extending completion dates for 801/2 to the Ardrossan Harbour Task force saga, is it too late for all the Transport Scotland-linked organisations to adopt the seven Ps?
Prior Planning and Preparation Prevents Poor Performance!
At the current completion rate, it will take around 85 years to renew the CMAL fleet – with Brodick /Troon as the only viable route for the, maybe, 'fit for purpose' vessels?
Yours,
John Lamont, Dippen.
Response to Councillor Gurney
Sir,
Arran Community Council (ACC) notes Councillor Gurney's letter published on October 15, which we feel needs to be balanced with some facts.
The ACC does not issue invites to specific elected members who are appointed and remunerated to represent community views to the local authority and inform local groups. We respect all in a consistent manner. It is the elected member's choice to acknowledge or contribute a report. The point in the article was to acknowledge one member who has supported the community council on a regular basis.
Councillor Gurney will, we are sure, acknowledge that he has been copied every month in our minutes and agenda for our meetings and checking the records we have only received a response on occasions which advises when he is out of office. Our mails also request anyone wishing to contribute to our meetings to do so in a timely manner to allow their reports to be circulated to members ahead of the meeting.  During the pandemic, these mails also asked that anyone wishing to participate in our digital meetings should contact us for the link and again that is left to the decision of the councillor. To date we have no record of any council updates being provided by him.
We acknowledge his location which prevents regular attendance. However, it does not prevent written communication of business etc. and we have a specific item on the agenda for elected members' inputs.
With the new term for community councils due to commence in November perhaps ACC can look forward to receiving written updates for future meetings.
Yours,
Bill Calderwood, chairman, Arran Community Council.
Coastal change
Sir,
I see that approval has now been given to change the former Coast restaurant in Whiting Bay to a private dwelling. Although there were many valid objections to this planning application in the centre of the village, North Ayrshire Council in their wisdom decided that the restaurant should be demolished and a new house built in its place.  In line with previous approvals to planning applications in Whiting Bay and their subsequent changes to use, I wonder how long it will be before this house is advertised on Air B&B?
Yours,
Kenny Walker, Dunblane.