Alright for Jack as he picks up champions trophy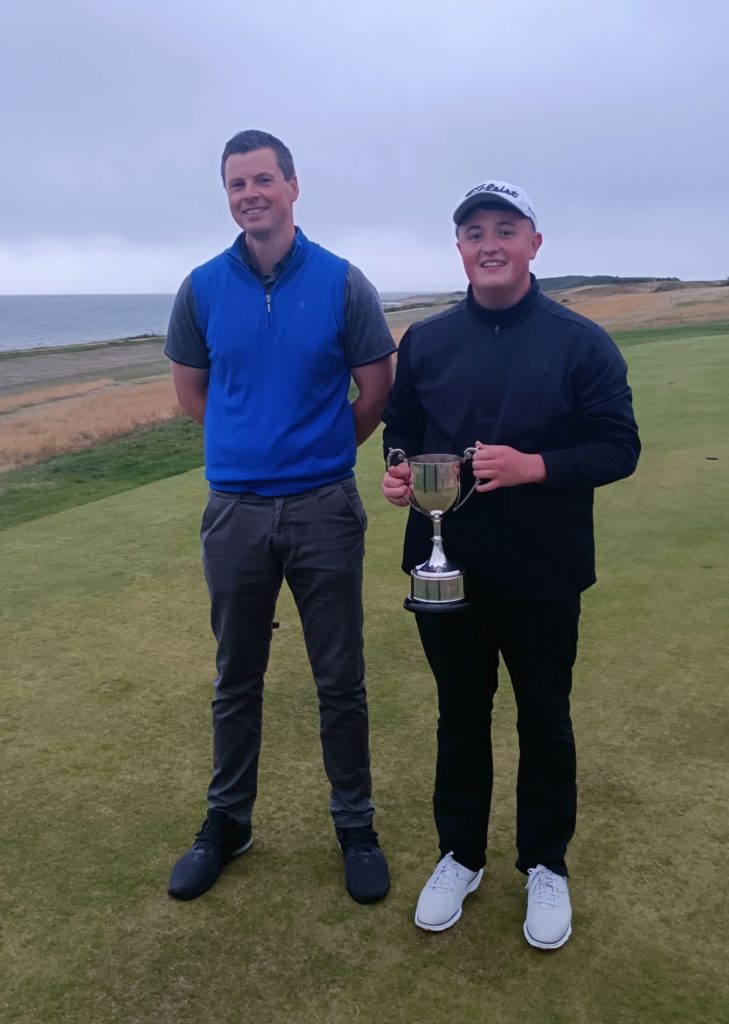 Want to read more?
We value our content and our journalists, so to get full access to all your local news updated 7-days-a-week – PLUS an e-edition of the Arran Banner – subscribe today for as little as 48 pence per week.
Subscribe Now
Jack McNally of Shiskine Golf Club is the AGA Champion of Champions, as reported in the Banner last week.
He beat last year's champion Ewan McKinnon two and one in a tight final held on his home course.
The game was played in the best of spirit with a good crowd enjoying the fine golf they  were treated to.
Jack got himself three up after seven, but Ewan fought back to level.
Jack then won the 14th and the 16th to go two up and at the 17th they both parred, so that Jack eventually won two and one.
Donald Logan (AGA) and Andy Gray, the new Shiskine captain, both spoke well and Jack then could celebrate with family and friends.
Ewan's quest to better his tally of 10 continues, with Ewan and Dougie Macfarlane currently tied on 10 titles each.
AGA fixtures: AGM will be held at Machrie Hall on Monday August 30 at 7.30pm.
AGA Autumn Handicap is being played at Corrie GC on Sunday September 5. AGA Seniors Handicap will be played at Brodick GC on Saturday September 11 at 1pm (yellow tees).
Lamlash Golf Club
Wednesday August 18, Stroke five: 1 Gay Mackay 88-26=62, 2 Sheena Murchie 83-13=70. Scratch, Sheena Murchie 83.
Thursday August 19, Summer Cup: 1 John O'Sullivan 91-31=60, 2 Billy O'Connor 94-32=62, 3 Paul Jameson 71-9=62, 4 Colin Richardson 78-15=63 BIH.
Best scratch Dougie Macfarlane 65. Magic twos Dougie Macfarlane @2nd and 13th, Willie Currie @16th, Paul Cowan @14th, Derek Harrison @5th.
Hole 12 drawn – rollover continues.
Sunday August 22, Medal Shield: 1 Graeme Andrew 72-11=61, 2 Hugh McLelland 85-22=63, 3 Ian Bremner 72-7=65. Best Scratch Ian Bremner 72 BIH over Graeme Andrew. Magic two Graeme Andrew @16th. Hole five drawn – rollover.
Fixtures: Sunday August 29, final of Hastings Cup, noon draw. Thursday September 2,  Summer Cup and Commando Cup, make up own groups and see starter for times. Saturday September 18, E I Cannon Charity Day rearranged from August 21 due to bad weather.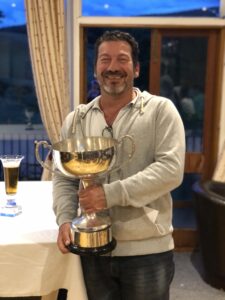 Machrie Bay Golf Club
Tuesday August 17, Peter Sutton: 1 John Pennycott 66, 2 Reuben Betley 68, 3 Brian Sherwood 72. Results of the Peter Sutton, 1 Hamish Bannatyne  374, 2 Alex Morrison-Cowan 375. Results of The Lady Mary, 1 Jenni Turnbull 25, 2 Piet Johnson 27. Fixtures: Tuesday August 31, Sweep,  tee off 12.30pm.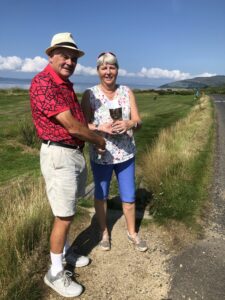 Whiting Bay Golf Club
Wednesday August 18, Summer Trophy, 26 played. 1 Duncan Heenan (11) 61, 2 Finlay Aherne (25) 62, 3 Dave Hackett (13) 63 acb, 4 Jamie Macpherson (5) 63 and lowest gross. Magic twos Jamie Macpherson @ 2nd, Finlay Aherne @ 11th, Jamie Macpherson and Gavin Mainds @16th.
Sunday August 22, The McKelvie Cup round two; 18 played in the second round of The McKelvie Cup which also counts as the third and final qualifying round for the club championship.
Jamie Stewart stormed home with the lowest gross score of the day of 63 to win by 2 shots from Graeme Crichton.
Result: 1 Jamie Stewart (4) 59 and lowest gross, 2nd Graeme Crichton (11) 61, 3 Neil McKechnie (11) 62 acb, 4 Stan Rainey (10) 62 acb.
As with the first round there was only one magic two score and again it came from Neil McKechnie, this time at the fourth.
Congratulations to Graeme whose second place score was enough to give him overall victory in the McKelvie with a net aggregate score of 124.
Fixtures: Sunday August 29, finals day, Club Championship and JC Reid Trophy. Wednesday September 1, Summer Trophy. Saturday September 4, Wolfi's Open Stableford (contact clubhouse for start times). Sunday September 5, AGA Autumn Handicap at Corrie GC.
Shiskine Golf Club 
Thursday August 19, ladies' 12-hole medal. Silver: 1 and scratch Fiona Henderson 53-11=42, 2 Sandra Myles 61-11=50. Bronze: 1 and medal winner Jerry Arthur 62-22=40,
2 Elizabeth Kelso 55–15=40.
Saturday August 21, gents' Open Day. 1st class: 1 and winner of Open Craig Watson 26pts, 2 J Salton 25pts BIH, 3 J Faulkner 25pts BIH. 2nd Class: 1 R Hailstones 25pts, 2 C Rutterford 24pts, 3 J King 24pts. Magic twos John King, D Scott, D Galbraith.
Nearest pin/longest drives: 1 Daniel Bailey, 2 Stevie Crawford, 3 Alan Ker, 4 Laurie McLeod, 5 Fred Galbraith, 6 Sandy Kerr, 7 Colin Rutterford, 8 Paul Crandles, 9 Sandy Kerr, 10 Fred Galbraith, 11 Harry Rowe, 12 Gary Campbell.
Brodick Golf Club
Wednesday August 18, Summer Cup, 37 played: 1 Bruce Jenkins 65-8=57, 2 David Hendry 77-14=63, 3 Matt Dobson 68-4=64. Scratch Bruce Jenkins 65.
Fixture: Sunday August 29, Brandon Cup Final and sweep.
Corrie Golf Club
Wednesday August 18, medal: 1 A MacDonald 74-17-57, 2 A Napier 72-11-61 scratch, 3 P McMillan 85-21-64.
Saturday August 21, Joe McKenzie Memorial: 1 J Quigley 71-17-54 scratch, 2 D Logan 77-13-64. Congratulations to John on winning his first trophy since retiring to the island. The club suspects there will be many more.
Fixtures: Saturday August 28, 18 hole medal. Wednesday September 1, 18-hole medal.