Arran Banner golf – week 32, 2021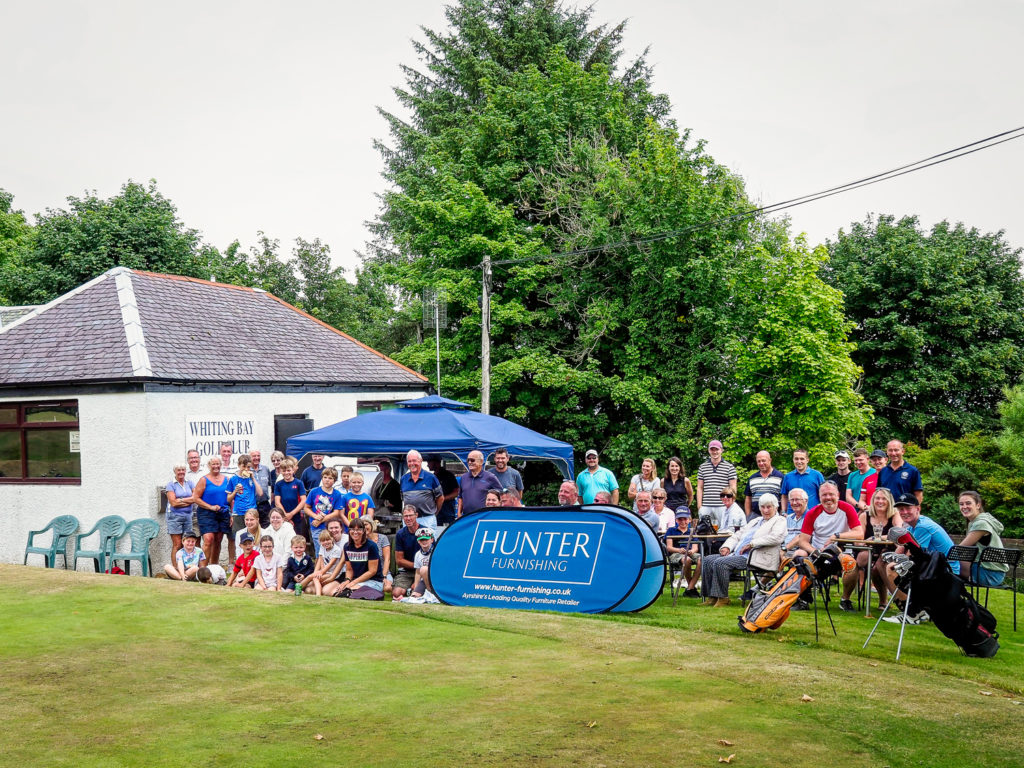 Want to read more?
We value our content and our journalists, so to get full access to all your local news updated 7-days-a-week – PLUS an e-edition of the Arran Banner – subscribe today for as little as 48 pence per week.
Problems logging in and require
technical support?
Click here
Subscribe Now
Whiting Bay Golf Club
Monday July 26, The WBGC Junior Open. As with the 'big open' we weren't able to stage the junior version last year, but for 2021 it was back with a bang. Another warm sunny day meant the youngsters who played had a great day of golfing fun with a free feed and juice at the end of it all. We had a good entry of both boys and girls, and a good spread of ages, from five to 16, to enjoy the specially-tailored course layouts and the various prizes allocated to each age group.
As usual the Adair and Foggo families came up with a generous array of prizes cleverly arranged so that everyone went away with something to remind them of the day. It was heart-warming to see so many excited faces as the prizes were awarded in front of a large and supportive contingent of mums, dads and other oldies.
There were too many prizes to detail them all here but Grace Crichton took the prize for the best girl's score and the overall winner was Ross Baillie who can proudly call himself the Whiting Bay Junior Open Champion of 2021.
The junior open is a good indicator of the health of the game on the island and it was heartening to see so many taking a keen interest. There was an especially encouraging contingent of locally-based youngsters in or approaching their early teens and hopefully their interest in the game will continue into adulthood. Like all golf clubs we rely on attracting new players coming through and the signs at the moment are very positive.
Our thanks go to all who participated and to the adults who acted as guides, caddies, referees etc – without their input this would be a very difficult day to stage. Thanks also to the course and clubhouse staff who carried on on Monday just as they had left off on Sunday. Superb! Finally another huge vote of thanks to the Adair and Foggo families and to Flora Jean Mack for their generous contribution of time, refreshments and prizes. We are once again indebted to them for staging this popular and important event. See you all next year!
Wednesday July 28, The Jim Pirie Quaich. Following the excitement and rigours of our open weekend, it was back to Stableford scoring for the Jim Pirie. Light overnight rain had taken some of the fire out of the course but not much! A total of 34 played and still found the odd wayward bounce but safe to say conditions were a little easier than the hard baked course of recent weeks. Gordon MacLachlan took full advantage to win on 38 points, thus securing his first trophy at Whiting Bay.
Result: 1 Gordon MacLachlan 21, 38pts, 2 Finlay Ahearne 25, 36 acb, 3 Murray Foggo 5, 36, 4 David Blair 12, 35. Magic twos Nicol Auld @4th, David Brookens @7th, David Blair @11th, Scott Murray @15th, Stewart Neil @16th, Cameron Hill and Ronnie Mann, both @17th.
Sunday August 1, Nestor's Jug. A total of 40 played in the 2021 edition of Nestor's Jug played this year from the yellow tees. Scoring was good with the top four players scoring 40 points or more. The winner was Scott Adair whose five birdie round netted him 42 points, the last two birdies on 17 and 18 proving crucial. 1 Scott Adair 4, 42 acb, 2 John Rankin 7, 42, 3 Markus Kroner 5, 40 acb, 4 Ronnie Mann 14, 40. Magic twos, Scott Adair, Doreen Mainds, Craig Simpson and Jamie Stewart @4th, Alan Foggo @9th, Scott Adair, Alan Foggo and Gus Macleod @11th, Markus Kroner @14th, Scott Adair and Andy Martin @17th and Jamie Macpherson @18th.
Saturday July 31, The Whiting Bay Golf Club Ladies Open. A total of 37 played and enjoyed a fine day's golf with only the very early starters experiencing light rain showers. They soon dried out and as with the gents and the juniors in their opens, the ladies returned some very impressive scoring with WBGC member Gillian Lockhart prevailing with a fine score of 40 points. 1 Gillian Lockhart 15, 40, 2 Elizabeth Paterson 26, 38, 3 Elizabeth Rankin 29, 37, 4 June Richardson 36, 35. Additionally there were a host of sponsored hole prizes.
Organiser Lesley Wood, in welcoming competitors to the prize-giving, was fulsome in her praise of the course and thanked all who had assisted in the running of the day. Lesley said: 'First of all a huge thank you to everyone who generously donated hole prizes and raffle prizes. I'm sure you will agree that we have a fantastic array of wonderful prizes, so thanks to everyone for their support. Thank you to our secret sponsor who supports us year after year. Thank you also to Doreen Mainds for kindly donating her delicious tablet to sustain us on the course and for prize winners. And for the lemon drizzle cake!
'I'm sure that you will agree, and many have commented, that the course is in fantastic condition especially given the unusually very challenging conditions of lack of rain. This is down to the exceptionally hard work and skill of our greenkeeper, Stuart, ably assisted by Jack Simmons.
'We very much appreciate the work and support of John, Nancy and Jenni behind the bar who have worked so hard all day keeping us fed and suitably hydrated, and have helped in so many other ways. Nothing is ever too much trouble so thank you all very much.
'Thank you to Brian Adair and Nicol Auld for the prosecco which was much enjoyed!
Thank you to David who painted, and he is very good at that, the markers for  the course, which were kindly laid out by Lynda and Fraser. My husband, Howard, for growing enough plants to decorate the clubhouse, and thank you to the Shiskine Ladies for bringing in the prize boards.
'A huge thank you to all the ladies in the ladies section, especially Lynda, Doreen, Flora Jean and Tricia. Today was a team effort with everybody chipping in, if you excuse the pun. However a special thanks goes to Jenni, who is not able to play at the moment, but who manned the starters box from early on and ensured players received a very warm welcome.
'Finally thank you all for participating and buying raffle tickets, without you this event couldn't happen and we are so fortunate to have such generous and loyal country members and friends who support us so generously every year. '
Fixtures: Sunday August 8, Lifeboat Stableford (Open). Monday August 9, AGA Champion of Champions. Wednesday August 11, The Betty Black.
Shiskine Golf Club
Thursday July 29,  Ladies Open Greensomes competition, 72 played. It was a cool day compared to recent weeks but stayed dry for the main. The raffle raised £445 for ArCaS. The 12 holes were sponsored by various ladies. The committee thanked them for their generosity. Two Mother and Daughter teams were among the prize winners. Such a delight to have them with them with us. Some really great scores were returned.
Result: 1 Esther Henderson and Isobel McDonald net 37.5, 2 Ruth Hardy and Gay MacKay net 40 BIH, 3 Shona Weir and Zara Weir net 40, 4 Marlene Waudby and Mary Tod net 40, 5 Susan Docherty and Ann Ferrier 40.5. Scratch, Jennifer Maxwell and Susan Butchard with a score of 46 net 39. Least number of putts was also Jennifer Maxwell and Susan Butchard. Well done to all the winners and all those who took part. We had a very convivial evening in the clubhouse restaurant after the prize giving with a delicious meal.
Sunday August 1, McCutcheon Trophy. 1st class: 1 and scratch, D Calder 39-1=38 BIH, 2 A Calder 41-3=38, 3 D Aitken 40-1=39. 2nd class: 1 and winner, C Rutterford 51-15=36, 2 W McNally 48-10=38, 3 A Gray 48-9=39. Magic twos A Calder, D Calder x2, R Traill, C Rutterford, Q Oliver, W McNally, G Campbell, I McLean x2.
Lamlash Golf Club
Saturday July 17, Club Championship Final. This was between last year's champion Iain Murchie and Todd Jameson, returning after taking a year out from golf. The final was played over 36 holes on what was the hottest day of the year. The course was still in excellent condition despite the weather, however, the dry conditions made the approach and greens very tricky.
In the afternoon the first three holes were halved, Iain going one up at 4th but he was pegged back after losing a ball at 5th – all square!  By the 9th Iain was one up. Between good golf and tricky greens Todd fought back and by the 18th was three up at the end of the first session. At the end of the second session Todd won the match at the 14th hole being five up with four to play.
A worthy Champion for Lamlash, Todd declared at the presentation, 'I am back!' Thursday July 29, Summer Stableford. 1 Lee Dutton 40pts BIH, 2 Derek Harrison 40pts, 3 Norrie MacIntyre  37 pts BIH, 4 Paul Cowan 37pts. Best scratch, Dougie Macfarlane 34pts. Magic twos, Paul Cowan @16th, Martin Wallbank @17th. Hole two drawn, rollover.
Sunday August 1, Hamilton Bowl Final. 1 Robbie McGunnigle +2, 2 Andy Smith level to bogey BIH, 3 Graeme Andrew level to bogey. Best scratch, Iain Murchie -6 to bogey. Magic twos, Graeme Andrew @ 2nd and 16th, Stuart  McLaren @ 4th. Overall winner of Hamilton Bowl, Hugh McLelland +3 & +2 = +5 to bogey, runner up, Robbie McGunnigle +2 and +2 = +4 to bogey. Fixtures: Friday August 6, Dan Crawford Salver and Open practice day. Make up own groups and see starter for times. Saturday August 7, Lamlash Open round one.
Sunday August 8, Lamlash Open round two. There are still a few places available for the Open, to register phone 600196 or 600296. Thursday August 12, Summer Cup and Jim Young Memorial Cup, make up own groups and see starter for times. Ladies section: Wednesday July 28, Medal 6. 1 Sheena Murchie 76-14=62, 2 Elizabeth Sinclair 89-22=67. Scratch, Sheena Murchie 76.
Brodick Golf Club
Wednesday July 28, Summer Cup, 39 played. 1 Matt Dobson 64-5=59 acb, 2 John Beattie 80-21=59, 3 Sam Tattersfield 76-16=60 acb. Scratch Matt Dobson 64.
Sunday August 1, Brandon 1ualifier, 32 played. 1 Iain MacDonald 71-10=61, 2 Greg McCrae 68-5=63, 3 Douglas Robertson 83-19=64 acb. Scratch Ewan McKinnon 64.
Fixture: Sunday August 8, Centenary Quaich.
Corrie Golf Club
Wednesday July 28, 18 hole medal, 1 J McGovern 73-13=60 BIH, 2 A Smith 75-15=60. Scratch G McKelvie 70.
Saturday July 31, 18 hole medal, 1 A McDonald 76-16=60, 2 A Smith 77-14=63, 3 D Logan 79-12=67. Scoring a bit higher than normal on Saturday due mostly to some very challenging pin positions!
Fixtures: Saturday August 7, 18 hole medal, Wednesday August 11, 18 hole medal. Competitors arrange their own matches and remember to abide to the latest Covid guidelines.
Machrie Bay Golf Club
Tuesday July 27, Peter Sutton. 1 Reuben Betley 66, 2 Brian Sherwood 69, 3 Alex Morrison-Cowan 70. Fixture: Tuesday August 10, Peter Sutton/Lady, tee-off 12.30pm.
Arran Golfing Association
Fixtures: Monday August 9, Champion of Champions first round at 5.30pm.  Friday August 13, Champion of Champions semi-finals at 5.30pm. Monday August 16, Champion of Champions final at 5.30pm.
The first round draw is Corrie (W Paton) v Whiting Bay (Jamie Macpherson), Lochranza (unknown) v Shiskine (Jack McNally), Brodick (Bruce Jenkins) v Champion (Ewan McKinnon), Machrie Bay (Phil Betley) v Lamlash (Todd Jameson).
There will be a further random draw for the semis after Monday's golf. Could all golfers arrive in good time as we don't want to run out of daylight – especially if the last couple of games go to extra holes.
A hearty crowd attended the Whiting Bay Golf Club Junior Open competition. No_B32QGolf01
Whiting Bay Junior Open Champion Ross Baillie with tournament hosts Scott Adair and Alan Foggo. No_B32QGolf02
Shiskine Ladies Open Greensomes winners, front, Esther Henderson and Isobel McDonald, along with scratch winners, Susan Butchard, left, and Jennifer Maxwell, right. No_B32QGolf03
All the prize-winners at the Shiskine Ladies Open Greensomes. No_B32QGolf04
Winner of the Whiting Bay Ladies Open, Gill Lockart, with runners up Elizabeth Paterson and Elizabeth Rankin. No_B32QGolf05