Gardens are full of young birds during breeding season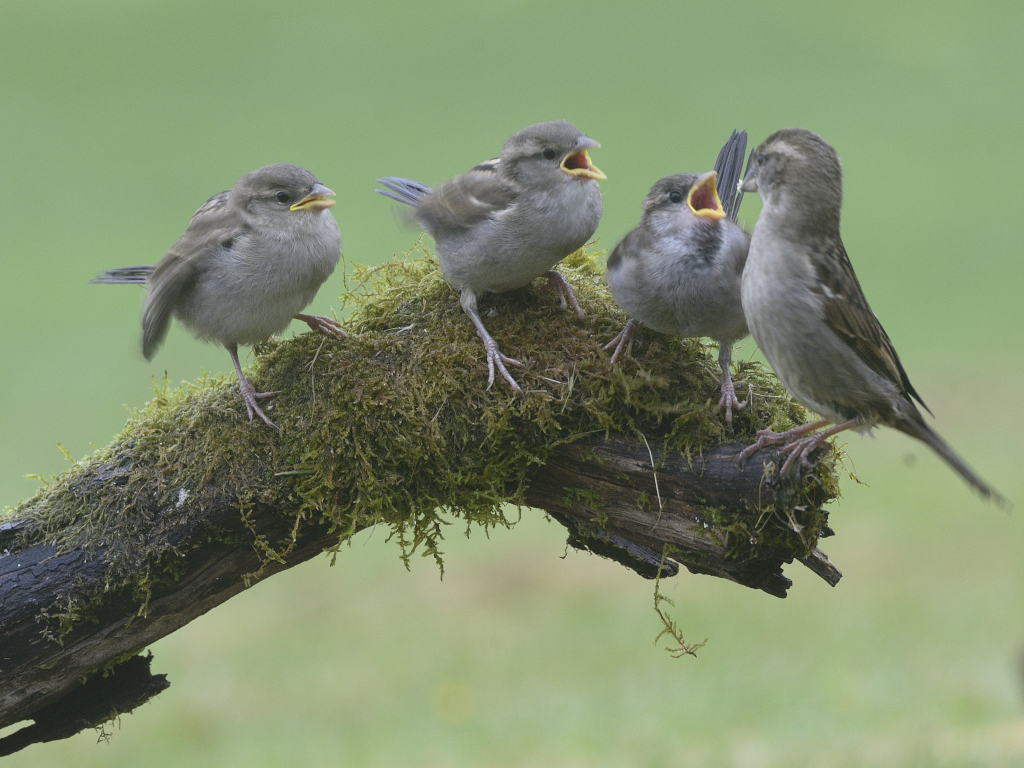 Want to read more?
We value our content and our journalists, so to get full access to all your local news updated 7-days-a-week – PLUS an e-edition of the Arran Banner – subscribe today for as little as 48 pence per week.
Problems logging in and require
technical support?
Click here
Subscribe Now
Bird Notes for June by Jim Cassels
June was noticeably warmer than May.
The mean temperature was four degrees higher, and the rainfall was more than 40 per cent less.
The light winds of May continued into June giving a prolonged settled spell.
One effect of this was the much-reported phytoplankton (microscopic algae) bloom that gave the sea an unusual green/blue colour.
Concern has been raised of the impact of this on species that hunt by sight in the sea, for example, gannet.
In June I received far fewer gannet sightings than usual. In June 2020 I received 39 gannet records.
While the vast majority last year were of one or two birds, I did receive a report of 13 birds together and 15 birds together.
This year in June, I have received six records, all of one or two birds.
Not a scientific sample and there could be a number of factors affecting these birds that are capable of flying long distances to feed their young.
Latest reports from Ailsa Craig, the nearest gannet colony, suggest normal breeding is going on.
No doubt a lot more data will be collected both above and below the waves on the impact of the algal bloom.
The settled weather was generally conducive to birds raising young during the long daylight hours in June. Some observers reported gardens full of young birds.
There were many reports of fledged birds in gardens including unfamiliar looking young birds, like goldfinch without the red face of the adult birds, and robin with spots and no red breast.
Among the familiar garden birds blackbird, song thrush, chaffinch and dunnock seemed to be doing well while others felt that blue tit, great tit and coal tit had a poorer season.
Most prolific of all seemed to be house sparrow, with 50 in Alma Park on 25th being one of the larger numbers.
Also, there were many reports of numbers of siskin and goldfinch with young around, including 22 siskin in Strathwillan on 20th and 20 goldfinch in Shannochie on 29th.
Like last year it was encouraging to get reports of young greenfinch and young great spotted woodpecker from widespread locations.
Away from gardens there were many signs of breeding including: nesting little grebe on Mossend Pond on 5th, roding woodcock in Glen Rosa on 10th, a flock of 200 starling with many young in Sliddery on 19th, skylark singing in Kilmory on 29th and activity at the grey heron heronries in Stronach Wood, Brodick, Lagg and Whitehouse Wood, Lamlash by the end of the month.
The sand martin colony in Glen Catacol had 74 nest holes and was a hive of activity on 29th with adults feeding many waiting youngsters.
To date the largest group of house martin is 20 at Glean Easan Biorach on 7th while the largest group reported of swallow with young is 14 at Kilpatrick on 19th.
A particular breeding highlight was a report of quail calling near Sliddery between 8 June and 16 June. The last Arran record of this occasional summer visitor was nine years ago.
The breeding success of some raptors is linked to the vole cycle.
Bumper years of voles tend to be followed by a crash followed by a gradual build up followed by a bumper year in a roughly four-year cycle.
Last year was a bumper year for voles to the benefit of barn owls and short-eared owls who both had excellent breeding seasons. This year the vole population has crashed.
Monitored barn owl nest boxes have had no young. The collapse of the vole population also had an effect on short-eared owls as well.
Females who were satellite tagged at nests on Arran last year are breeding in Norway and Russia this year. But it is all natural and the vole population will recover over the next couple of years.
Around the coast there were further signs of breeding including: a crèche of six eider at Blackwaterfoot on 3rd, eight black guillemot carrying food near Thunderguy on 5th, four fulmar nesting on Drumadoon Cliffs on 14th, a pair of mute swan with seven young in Lamlash Bay on 18th and a pair of shelduck also with seven young at Kilpatrick Point on 26th.
Breeding shore birds like oystercatcher, ringed plover and common sandpiper seemed to suffer increased disturbance as a result of increasing numbers of dog walkers ignoring the advice to keep dogs on their lead where ground nesting birds are nesting.
The highlight of the month was the 'rosy spell' that featured in a recent Banner article. Between June 14 and June 18, 2021 there were nine records of rose-coloured starling, a rare vagrant from eastern Europe.
Other highlights in a month with almost 100 species reported included the following: a wood warbler singing in Brodick Country Park on 6th, two grasshopper warbler reeling on Corriecravie Moor on 8th, a male common redstart in Corriegills also on 8th, six dunlin at Drumadoon Point on 12th, two red-throated diver close in-shore in Brodick Bay on 14th, three twite on Machrie golf course on 25th, 19 swift over High Kildonan on 29th and a great northern diver in full breeding plumage in Whiting Bay also on 29th.
Cuckoos, whose decreasing numbers are a cause for concern nationally, seem to be thriving on Arran. Cuckoo will feature in a future Banner article.
Finally in July, look out for early signs of breeding being over for some birds this year.
These could include the return of some arctic breeding species to our shores, as they travel south.
Remember July is the time when many birds, having raised their young, go about the process of renewing their feathers by moulting them.
As birds are vulnerable when they are shedding flight feathers, they literally make themselves scarce. On any birding walk you may see fewer birds, but they are still around.
Enjoy your birding and keep safe.
Please send any bird notes with 'what, when, where' to me at Kilpatrick Kennels, Kilpatrick, Blackwaterfoot, KA27 8EY, or e mail me at jim@arranbirding.co.uk I look forward to hearing from you.
For more information on birding on Arran purchase the Arran Bird Report 2020 and the Arran Bird Report, the first 40 years. Plus visit the website http://www.arranbirding.co.uk/index.html