Rory and Jack lift trophies at junior championship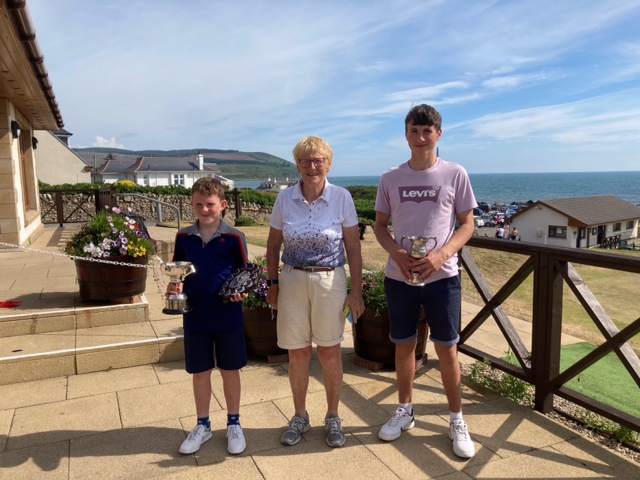 Want to read more?
We value our content and our journalists, so to get full access to all your local news updated 7-days-a-week – PLUS an e-edition of the Arran Banner – subscribe today for as little as 48 pence per week.
Subscribe Now
Shiskine Golf Club
Saturday and Sunday July 3 and 4, Junior Club Championship . On a lovely weekend the championship was run by junior convener Clare Buchanan. The Handicap Trophy was won by Jack Dunn with a nett 32. He also won the Scratch Trophy with a 49. The Club Championship was won by Rory Currie on the 11th after a very close match. They were presented with their trophies by club captain Fiona Henderson.
Congratulations to Rory and Jack. Special thanks go to Clare Buchanan for taking the time to organise this event, without her input the junior championship wouldn't take place. She puts her heart and soul into making it a success.
Thursday July 1, ladies 12-hole medal. Silver: 1 Alice Anderson 56-12=44, 2 Fiona Crawford scratch 54. Bronze: 1 Mary Jo Tod 56-19=37, 2 Yvonne Brothers 56-15=41 BIH.
Saturday July 3, gents vice captains prize. First class: 1 A Howie 43-3=40, 2 T Gowan 46-5=41 BIH, 3 S Miller 43-2=41. Scratch G Hay. 2nd class: 1 B Sherwood 53-10=43, 2 P Bryceland 58-14=44, 3 K Littlejohn 56-11=45. Magic twos, J Govan, S Miller, G Hay x2, A Miller, A Howie x2.
Sunday July 4, Victory Shield and Kay Maxwell Trophy. 1 J Morrison 42-5=37, 2 A Gallagher 43-5=38, 3 C Watson 43-4=39 BIH. Scratch, S Miller. 2nd class: 1 C Rutterford 53-15=38, 2 B Sherwood 50-10=40, 3 A Bannatyne 56-15=41 BIH. Magic twos, F Malcolm, J Govan, E Bryceland, J Salton, A Gallagher, S Gowan x2, S Sparked, G Hay, D Pilkington, C McGlone, J Cleat, A Howie. Lynda Howie leads the Kay Maxwell Trophy with nett 41, J Morrison leads the Victory Shield with nett 37.
Whiting Bay Golf Club
Wednesday June 30, Cancer Relief Stableford. A field of 24 players took advantage of yet another fine day to return some very impressive scores. The top nine players equalled or bettered par and 20 managed 30 points or more. Morning starter John Pennycott posted the number to beat on 40 points and Nicol Auld did exactly that, coming in on 41 points from the evening players.
Result: 1 Nicol Auld (4)41pts, 2 John Pennycott (11)40, 3 Neil Lucas (13) 39, 4 Gavin Mainds (7) 38. Magic twos Sandy Kelso @1st, John Pennycott @2nd, David Mair @14th, Jamie Stewart @16th, Nicol Auld, Gavin Mainds, Ronnie Mann and Jamie Stewart @17th.
Sunday July 4, The Morton Quaich. A field of 25 (including a few visitors – more of that later) took to the course for the Morton Quaich and thoroughly enjoyed a course in forgiving mood with plenty of run on the fairways and putts running straight and true on the greens. The result was a clutch of good scores with net par being good enough only for 7th place.  Captain Stan Rainey, returning from a short forced absence, clearly enjoyed his new found freedom starting with five threes on the front nine and finally returning a net 56, to win the trophy by six shots. Congratulations Captain. Superb golf.
Result: 1 Stan Rainey (12)56, 2 Andy Martin (15)62, 3 Kerr Drummond (5)63 acb, 4 Ronnie Mann (14)63 acb.
Of the three visitors who played, former WBGC member Frazer Barr, playing off seven, returned the best gross score of the day (probably of the year) with an astonishing gross 60, which included a front nine consisting of of seven threes, one four and one two for a gross 27. That's level threes! As a  non-member Frazer was not eligible to win the trophy but needless to say he won (plundered might be a better word) first place in the cash sweep. A fine display of golf. Well played Frazer.
Fixtures: Wednesday July 7, Summer Trophy. Sunday July 18, Raymond Curtis Salver Stableford (Open). Until further notice there will be no draws for partners and players should arrange their own groupings.
Lamlash Golf Club
Thursday July 1, Summer Cup and Tom Graham Cup. 1 Willie Currie 71-11=60, 2 Norrie MacIntyre 72-9=63, 3 Graeme Andrew 75-12=63, 4 Colin Richardson 80-16=64, BIH. Best scratch, Jamie Murchie 65. Winner of Tom Graham Trophy, Willie Currie 60, runner up, Norrie MacIntyre 63. Magic twos, Willie Currie, Barry Lind and Stuart Campbell, all @16th hole. Hole 14 drawn, rollover.
Saturday July 3, Club Championship qualifier round one. 1 Euan Bone 71-12=59, 2 Serge El Adm 75-12=63, 3 Paul Jameson 76-11=65, 4 Stuart Campbell 71-5=66. Best scratch, Stuart Campbell 71, BIH over Euan Bone. Magic twos, Euan Bone @2nd and 16th, Serge El Adm @17th, Todd Jameson @13th and 17th, Iain Murchie @16th, Ian Bremner @5th. Hole 14 drawn again, rollover.
Sunday July 4, Club Championship qualifier round two and Jamieson Cup. 1 Barry Lind 70-5=65, BIH, 2 Rob Niven 81-16=65, 3 Stuart McLaren 77-11=66, BIH, 4 Todd Jameson 71-5=66, BIH. Best scratch, Barry Lind 70. Magic twos, Euan Bone @5th, Barry Lind @4th, Rob Niven @2nd, Scott Campbell @16th, Iain Murchie @2nd and 16th. Winner of Net Qualifiers Cup, Euan Bone 59+67=126, runner up, Stuart Campbell 66+66=132. Congratulations to Euan on his first senior trophy at Lamlash.
Saturday July 10, Club Championship quarter finals. Draw as follows: Scott Campbell v Ian Bremner at 4.30pm, Euan Bone v Iain Murchie at 4.40pm, Todd Jameson v Jack McNally at 4.50pm, Paul Cowan v Neil Young at 5pm. Sunday July 11, Club Championship semi-finals, noon start.
Other fixtures: Friday July 9, Junior Open, draw at noon. Sunday July 11, Medal Shield, 12.30pm draw. Thursday July 15, Summer Cup. Make up own groups and see starter for times.
Ladies section: Wednesday June 30, Fleet round four. 1 Sheridan Walker 98-36=62, 2 Yvonne Brothers 87-21=66.  Scratch, Sheena Murchie 84.
Fixture: Wednesday July 21, Ladies Open (15 holes). Spaces still available, contact
alison.heron8@ btinternet.com
Corrie Golf Club
Saturday July 3, 18-hole medal. 1 M McDonald 78-18-60 2nd equal J McGovern 76-13-63, A Napier 73-10-63 and scratch.
Fixtures: Saturday July 10, Commemoration Shield and Scratch Rosebowl. Wednesday July 14, 18-hole medal. Please arrange your own pairings and adhere to the current Covid guidance.
Machrie Bay Golf Club
Tuesday June 29, Peter Sutton. 1 Hamish Bannatyne 60 BIH, 2 John Milesi 60, 3 Alex Morrison-Cowan 64.
Fixtures: Tuesday June 13, Lady Mary/Peter Sutton, tee off noon. Anyone intending to play in the evening please contact Brian by Monday.
Brodick Golf Club
Wednesday June 30, Summer Cup, 43 played. Finlay Sillars 69-14=55, Neil Duncan 83-25=58, Robert Waine 77-18=59. Scratch Ewan McKinnon 65. Fixture: Sunday July 11, Graham Putter.