Arran Banner golf – week 26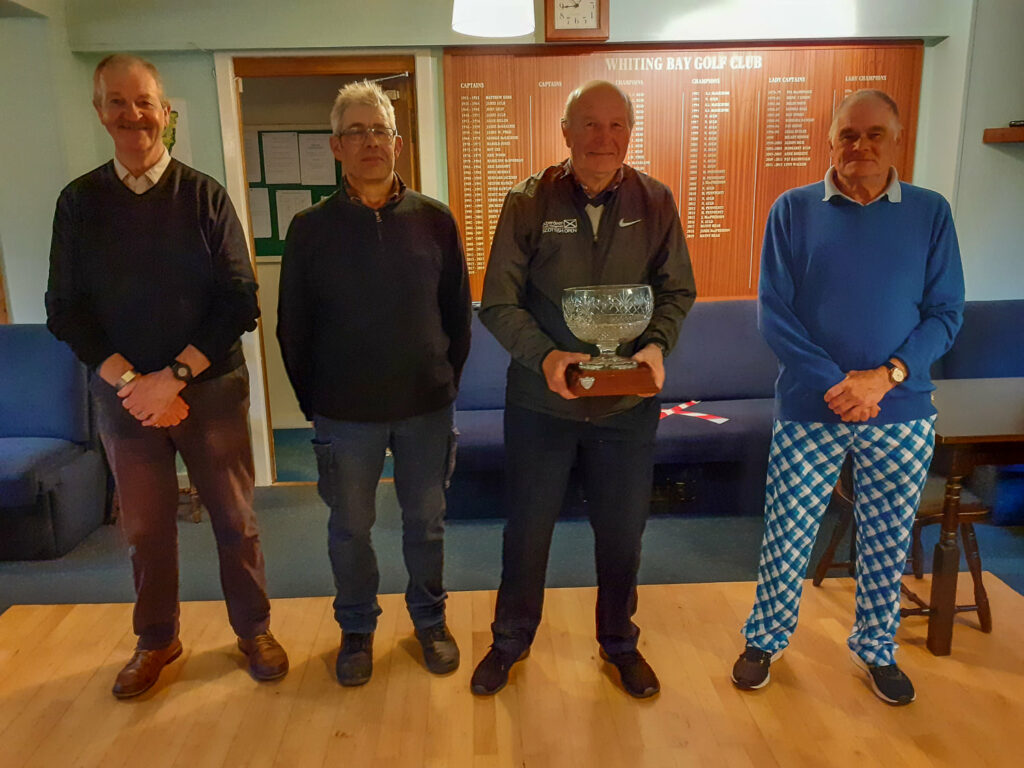 Want to read more?
We value our content and our journalists, so to get full access to all your local news updated 7-days-a-week – PLUS an e-edition of the Arran Banner – subscribe today for as little as 48 pence per week.
Subscribe Now
Whiting Bay Golf Club
Sunday June 6, The Tor Alvey Greensome, nine pairs played. 1 Graeme Crichton and Neil Mckenzie 13, 57 acb, 2 Fraser Mackenzie and Nicol Auld 11, 57, 3 Peter Towndrow and Jamie Macpherson 8, 60. Magic twos Duncan Heenan and Ronnie Mann @17th.
Wednesday June 9, Summer Trophy, 21 played. 1 Graeme Crichton 14, 60, 2 Neil Lucas 13, 63 acb, 3 Duncan Heenan 13, 63, 4 David Blair 12, 67 acb. Lowest gross, Jamie Macpherson 72. Magic twos Duncan Heenan @5th, Mark West @11th, Nicol Auld and Jamie Macpherson both @17.
Wednesday June 16, Summer Trophy, 19 played. 1 Dave Hackett 13, 59, 2 David Brookens 13, 61, 3 Gordon Maclachlan 23, 64 acb, 4 David Morrison 9, 64 acb. Lowest gross, Nicol Auld 70. Magic twos Gavin Mainds @12, Neil McKechnie @14.
Fixtures:
Sunday June  27, Medal. Wednesday June 30, Cancer Relief Stableford (Open).
Lamlash Golf Club
Thursday June 17, Summer Cup. 1 Derek Harrison  78-18=60, 2 Jack McNally 69-8=61, 3 Stuart Campbell 67-5=62, 4 Graeme Andrew 76-13=63. Best scratch Dougie Macfarlane 66. Magic twos,Paul Cowan and Dougie Macfarlane @16th, Iain Murchie @ 8th, Stuart Campbell @12th, Neil Young @2nd and 13th, Ian Bremner @14th and 16th. Hole two drawn, winner Neil Young.
Sunday June 20, Jamieson Cup. 1 Alan Campbell  74-14=61, 2 Serge El Adm 75-12=63, 3 Paul Cowan 69-5=64. Best scratch Paul Cowan 69. Magic twos Paul Niven @16th. Hole 17 drawn, rollover.
Fixtures: Saturday June 26, AGA Hope Cup semi finals at 1pm, followed by finals at 6pm. Sunday June 27, Medal Shield, draw at noon. Thursday July 1, Summer Cup and Tom Graham Cup. Make up own groups and see starter for times.
Ladies section: Wednesday June 17, Stroke 3. 1 Madeleine McLaren  88-30=58, 2 Kate McAdam 79-17=62. Scratch Kate McAdam 79.
Spaces still available for Ladies Open (15 holes) Wednesday July 21, contact Alison Heron, alison.heron8@btinternet.com
Shiskine Golf Club
Thursday June 17, ladies Nancy McCutcheon Trophy, nine played. 1 Fiona Scott 28pts, 2 Julia Salton 27pts, 3 Jenni Turnbull 25pts. Magic twos Clare Buchanan, Ann May and Jenni Turnbull.
Sunday June 20, gents Sunday Stableford. 1 W McNally 29pts, 2 J Bell 28pts BIH, 3 R Waine 28pts. Magic twos D Davidge, R Waine.
Brodick Golf Club
Wednesday June 16, Summer Cup, 36 played. 1 Fred Galbraith 74-14=60 acb, 2 Ali Hume 71-11=60, 3 Craig Thomson 84-22=62 acb. Scratch Ali Hume 71.
Sunday June 20, Marchioness of Graham Trophy (bogey), 20 played. 1 George Hamilton 16, 6 up, 2 John May 23, 5 up, 3 Douglas Robertson 21, 3 up.
Saturday June 19, Hope Cup. Brodick beat Lochranza in round one of the Hope Cup.
Fixtures: Saturday June 26, Hope Cup semi finals and final at Lamlash.
Corrie Golf Club
Wednesday June 16, 18-hole medal. 1 A Smith 74-15-59, 2 G Andrew 71-12-59, 3 R I McMillan 84-23-61. Scratch W Paton 70.
Saturday June 19, 18-hole medal. 1 R Burke 74-14=60, 2 A Napier 71-10=61, 3 W Paton 69-8=61 and scratch.
Fixtures: Saturday June 26, 18-hole medal. Wednesday June 30, 18-hole medal. Competitors arrange their own matches and adhere to the current Covid regulations.
Machrie Bay Golf Club
Tuesday June 15, Peter Sutton. 1 Phil Betley 63, 2 Campbell Laing 68, 3 John Milesi    69 BIH.
Monday June 21, finals day. Ladies – after a close game Jenni Turnbull beat Elizabeth Kelso. Gents – Phil Betley beat Brian Sherwood with Phil playing exceptionally well John Pennycott beat Willie Kelso.
Fixtures: Tuesday June 29, Lady Mary/Peter Sutton tee off 12.30pm. Anyone intending to play in the evening please contact Brian before Monday.
Arran Golfers Association
Hope Cup 2021. First round was hosted at Lamlash Golf Club. Shiskine bt Machrie Bay, Whiting Bay bt Corrie and Brodick bt Lochranza Castle. Tomorrow (Saturday) will be the semi-final at 1pm where the home team of Lamlash will play Shiskine and Whiting Bay will play Brodick. The final to be played at 6pm at Lamlash, please come along and show your support.