Arran Banner golf – week 23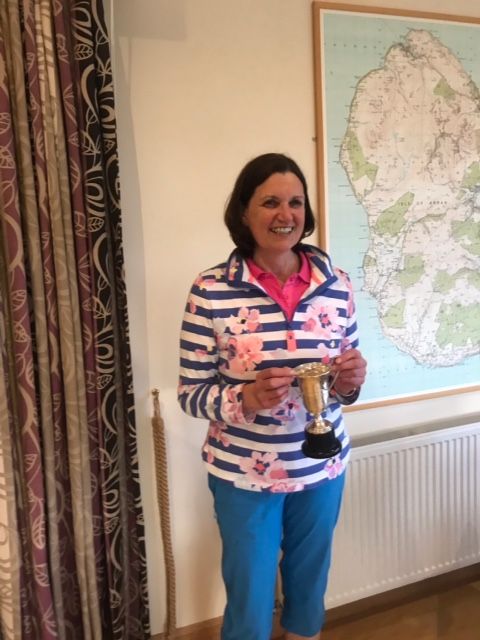 Want to read more?
We value our content and our journalists, so to get full access to all your local news updated 7-days-a-week – PLUS an e-edition of the Arran Banner – subscribe today for as little as 48 pence per week.
Subscribe Now
Shiskine Golf Club
Thursday May 27, ladies Mary Craig Trophy. Silver: 1 and winner Liz Kerr 51-10=41,
2nd and Scratch Ann May 48-4=44. Bronze: 1 Pat Adamson 57-15=42, 2 Julia Salton 60-17=43, 3 Elizabeth Kelso 57-13=44. Magic two Clare Buchanan @12th.
Saturday May 29, gents CCQ round 2. 1st class: 1 and medal winner D Tod 64-6=58,
2 and scratch T Mitchell 63-3=60 BIH, 3 S Kerr 70-10=60. 2nd class: 1. C Rutterford 86-23=63, 2. R Waine 79-15=64 BIH, 3. W McNally 79-15=64.  Magic twos J Stewart x2, T Mitchell, Gator and Q Oliver.
Sunday May 30, gents CCQ round 3. 1st class: 1 and medal winner D Tod 66-6=60, 2 J Stewart 65-4=61, 3. S Kerr 71-10=61. Scratch G Campbell 64. 2nd class: 1 W McNally 76-15=61, 2 R Waine 77-15=62, 3. B Sherwood 79-16=63. Magic twos D Tod, C Watson, M Adams, A Campbell, J Stewart and R Waine.
Lamlash Golf Club
Wednesday May 26, qualifying Championship R1. 1 Sheena Murchie 76-15=61, 2 Alison Heron 88-25=63. Scratch Sheena Murchie 76.
Thursday May 27, Summer Stableford. 1 Colin Richardson 41pts, 2 Paul Jameson 39pts,
3 Dougie Macfarlane 38pts BIH, 4 Jack McNally 38pts. Best scratch Dougie Macfarlane 36pts. Magic twos all @16th J McNally, D Macfarlane, Stuart Campbell and Iain Murchie. Rollover as hole two drawn
Sunday May 30, Hastings Cup R1. 1 Ian Bremner 72-8=64 BIH, 2 Billy Skinner 83-19=64, 3 Scott Campbell 81-16=65. Best scratch Paul Cowan 71. Magic twos Paul Cowan @2nd, Alan Smith @16th. Rollover as hole 17 drawn.
Fixtures: Sunday June 6, Hamilton Bowl (Bogey), noon draw. Thursday June 10, Summer Cup and Fleet Cup R1, make up own groups see starter for times.
Whiting Bay Golf Club
Wednesday May 26, Summer Trophy, 24 played. 1 Cameron Bruce (38) 58, 2nd John Pennycott (12)62, 3 Nicol Auld (4) 63 acb and lowest gross, 4 Jamie Stewart (4)63. Magic twos Ryan Armstrong @4th, Neil McKechnie @ 7th, Sandy Pringle @ 17th.
Sunday May 30, Stableford. Finally some summer weather and the 24 who played took full advantage, with 22 players returning scores of 30 points or more. The runaway winner though was Gus Macleod with an excellent score of 42 points beating the runner up by 4.
1 Gus Macleod (12)42pts, 2 Gavin Mainds (7)38, 3 Allan Macleod (11)37 acb, 4 Graeme Crichton (15)37. Allan MacLeod bagged a magic two @11th while David Brookens and Stan Rainey each did likewise @17th.
Fixtures: Sunday June 6, The Tor Alvey Greensome. This is a competition for teams of two and a draw will be made for partners at approx 9.45am with a view to a shotgun start at 10am. Wednesday June 9, Summer Trophy, players should continue to arrange their own groupings.
Brodick Golf Club
Wednesday May 26, Summer Cup, 41 played. 1 Tam McNab 72-14=58, 2 Frazer Barr 70-10=60 acb, 3 Neil Duncan 88-28=60. Scratch Ewan McKinnon 63.
Sunday May 30, Brandon qualifier, 29 played. 1 Frazer Barr 69-9=60 acb, 2 Fred Galbraith 75-15=60, 3 Ewan McKinnon 62-0=62 acb. Scratch Ewan McKinnon 62.
Fixture: Sunday 6 June, sweep.
Machrie  Bay Golf Club
Tuesday May 25, gents Club Championship qualifiers. 1 Brian Sherwood 62, 2      Hamish Bannatyne 63. 3 John Pennycott 69 BIH. Magic two Brian Sherwood.
Fixtures: Saturday June 5,  gents Duncan Sillars and 2nd round Gents Championship qualifier tee off 12.30pm. Tuesday June 8 ladies 2nd round Club Championship and Peter Sutton tee-off 12.30pm and 5.30pm. Please let Brian know by Monday if you intend to play in the evening.
Corrie Golf Club
Wednesday May 26, Wednesday Medal. 1 A Smith 75-15=60, 2 R McLean 75-14=61, 3 A Girvan 86-25=61.
Saturday May 29, Club Championship qualifying second round. 1 R T Logan 69-7=62, 2 W Paton 72-8=64, 3rd R McLean 78-14=64. The three qualifiers are: R Logan 141, W Paton 151 and J McGovern 154.
Fixtures:  Wednesday June 2, Wednesday Medal. Saturday June 5, Saturday Medal. Arrange your own pairings and adhere to current Covid regulations.