Signs that spring is on the way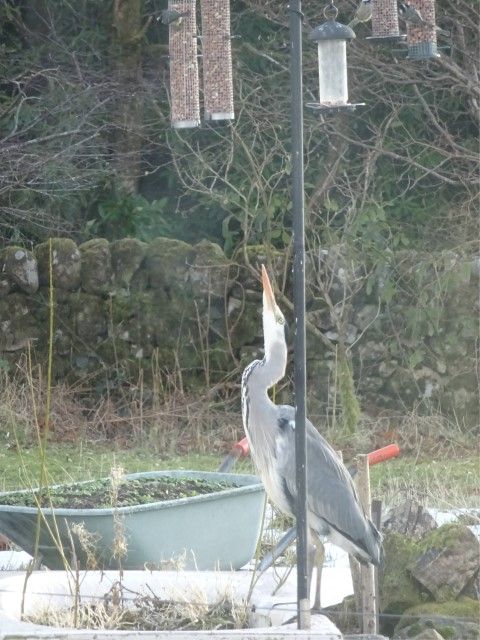 Want to read more?
We value our content and our journalists, so to get full access to all your local news updated 7-days-a-week – PLUS an e-edition of the Arran Banner – subscribe today for as little as 48 pence per week.
Subscribe Now
Bird Notes for February by Jim Cassels
February started with a very wet spell with most of the month's rain falling in the first few days.
This was followed by a prolonged very cold spell lasting until the middle of the month. Thereafter it was mild with a pleasant few days to end the month.
While at times the weather was not conducive to being out of doors, nevertheless almost 100 species were reported – 10 more than last year.
The hard weather had an impact on bird behaviour as birds struggled to survive. Grey herons frozen out of their normal haunts were reported hunting birds at garden feeders in Glenloig on 8th and in Sannox on 10th.
Woodcock seeking soft ground to probe for food appeared in gardens in Kiscadale on 11th and Dippin on 13th.
Species moving from the snow bound mainland and continent included lapwing.
Unusually there were over 20 widespread report of lapwing on Arran from Lochranza in the north to Kildonan in the south with 38 reported in Kilpatrick on 8th and 50 in Corriecravie on 9th.
Other movements were reflected in the report of colour ringed birds with two common gulls, colour ringed as chicks in 2012 in Aberdeenshire, reported in the Shiskine Valley and a Knot colour ringed on a Dutch island in September 2017 was photographed in Kildonan on 17th. Knot is an Arctic breeding species that winters as far south as West Africa.
Other wintering visitors included: six purple sandpiper on Holy Isle on 2nd, 50 fieldfare in Corriecravie on 8th, 14 redwing in Strathwillan on 15th, a sanderling on Silver Sands also on 15th and a rook on Clachaig Farm on 19th.
In addition, there was a report of a chiffchaff, more familiar as a summer visitor, in Glenkiln on 10th and a number of reports of blackcap including two in Corrie on 21st.
Wintering wildfowl continued to be present including: 38 teal at Carlo on 2nd, three Goldeneye on Mossend Pond on 3rd, 112 Pink-footed Geese in Sliddery on 9th, six white-fronted geese among 358 Greylag Geese in the Shiskine Valley on 16th and 16 Wigeon at Machrie on 26th. In addition, there were reports throughout the month of two single whooper swans one in Lamlash Bay and one in Feorline.
Other wintering flocks included: 100 jackdaw at Machriewaterfoot on 16th, 15 mistle thrush in Catacol also on 16th, 90 skylark by Lagg Distillery on 18th, six dunlin on Holy Isle also on 18th, eight long-tailed tit in Corrie on 21st, 70 curlew on Sliddery Shore on 22nd, 10 greenfinch in Pirnmill also on 22nd, 18 bullfinch on Holy Isle on 24th, 340  starling and nine yellowhammer in Sliddery on 25th, 45 golden plover and 50 turnstone in Machrie on 26th, 250 herring gull on Pladda also on 26th and 50 woodpigeon by Mossend Pond also on 26th.
Other interesting sightings included: two moorhen at Port na Lochan on 7th, two little grebe by Fisherman's Walk on 14th, two goosander in Cordon on 15th, a magpie in Clauchlands also on 15th, three black-throated diver in Whiting Bay on 26th, 13 great northern diver in Machrie Bay on 27th and three dipper in Glenashdale also on 27th.
In addition, there was a Mediterranean gull along with around 100 common gull by Lagg Distillery on 18th. The last record of Mediterranean gull on Arran was in November 2018.
Throughout February, reports of the long staying colonising species little egret, nuthatch and white-tailed eagle continued. Little egret was first reported on 20 October 2020, the nuthatch was first reported on 1 October 2020 and the pair of white-tailed eagle was first reported on 22 November 2020.
In February reports of the little egret were mainly from Brodick Bay and Lamlash Bay, the nuthatch reports were from Pirnmill and the pair of white-tailed eagles mainly from the west coast of the island.
Gannet seemed slow to return this year with only one February record in Whiting Bay on 28th. There were six records of returning lesser black-backed gull. The first of these was two by Lagg Distillery on 18th.
Other signs of approaching spring included: grey heron nest building in Stronach Wood on 9th, pair of fulmar exploring nest sites in Catacol on 12th, great spotted woodpecker drumming in Brodick Castle gardens on 17th, 25 eider displaying in Brodick Bay on 24th and song thrush singing in Blackwaterfoot on 28th. By the end of the month there were signs that spring was on its way.
Siskin reports in February were in short supply but numbers are expected to build up in March as the birds move north.
March could also see the arrival of some of our summer visitors like wheatear, chiffchaff, willow warbler, sand martin, even swallow and house martin, but their arrival will be dependent on the weather. Keep an eye out for these migrants and let me know when you first see them.
Enjoy your birding and keep safe.
Please send any bird notes with 'what, when, where' to me at Kilpatrick Kennels, Kilpatrick, Blackwaterfoot, KA27 8EY, or e mail me at jim@arranbirding.co.uk I look forward to hearing from you. For more information on birding on Arran purchase the Arran Bird Report, the first 40 years, which includes the annual report for 2019 and visit this website www.arranbirding.co.uk