Eco-Savvy eBikes put to the test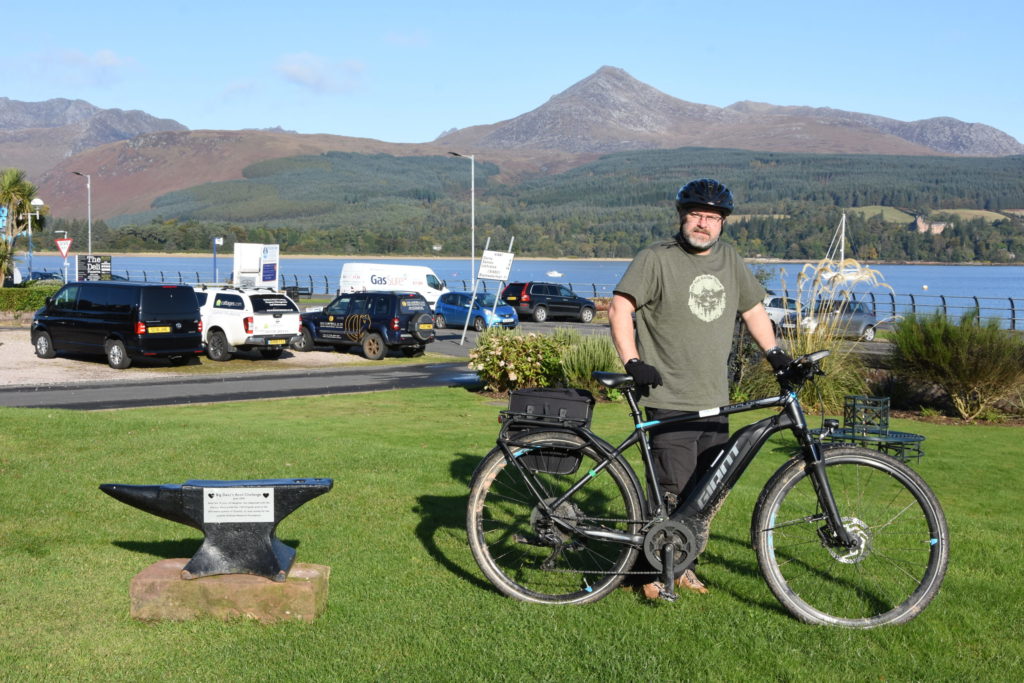 Want to read more?
We value our content and our journalists, so to get full access to all your local news updated 7-days-a-week – PLUS an e-edition of the Arran Banner – subscribe today for as little as 48 pence per week.
Subscribe Now
Standfirst
As part of the Arran Eco Savvy initiative aimed at reducing our carbon footprint and encouraging less polluting methods of transport, The Arran Banner's Hugh Boag and Colin Smeeton were given the opportunity to trial two eBikes to see if they could be viable alternative to the Banner car for both work and play.
The initiative, supported by Energy Saving Trust, Transport Scotland, North Ayrshire Council and the Arran Bike Club, has already provided organisations on Arran, including Arran Dairies, Arran Distillery and NHS staff, with a small fleet of eBikes which have been borrowed on a month-long basis to introduce people to the technology and to encourage the use of low carbon transport alternatives.
Main story
Reporter Colin Smeeton said:
Living on Arran within just a few miles of work and local shops, my total weekly vehicle mileage is minimal, often less than 15 miles. Where possible I enjoy walking but for rainy days and for when I need carrying capacity, such as collecting shopping or taking my son to nursery, the use of an enclosed car with a boot and child seat is inescapable.
Some background on my usual cycling habits: I consider myself an occasional, and fair weather, cyclist. My decade-old mountain bike gets wheeled out of the garage about every two weeks with the majority of my cycling being on off-road paths and forestry tracks. The rusting wheels and scratched paintwork on my bicycle tell the story of a bicycle that is seldom used but one that has provided many years of service in nothing more than a leisure capacity.
So while I cannot claim that using the Eco savvy ebike has reduced my vehicle mileage any more than it already is – as I generally only use my car for short essential trips – I can certainly say that it has improved my leisure pursuits enormously and contributed to spending more time outdoors with all of the health implications that cycling can bring.
The eBike has also encouraged me to venture out further than usual, surrounding forestry tracks and cycling locations to the north of Brodick were often reserved for those days where I felt like an extended 'expedition type' adventure owing to the hills between villages. But with the eBike -which Eco Savvy describe in their literature as helping to flatten out the connecting routes between homes, workplaces and villages – I have been taking on bigger challenges, steeper hills and exploring outlying areas which has expanded my cycling horizons.
The option on the eBike to select as much assistance (through the use of the modes: eco, normal, sport and sport +) as required, is something that I have found useful on the eBike and it is comforting to know that the additional assistance is there if required, especially when you find yourself many miles away from home, having possibly bitten off more than you can chew.
eBikes are heavier than normal bikes, and there is no getting around that, owing to battery requirements and therefore weight, but that is offset by the pedal assistance which drastically reduces the amount of energy required to peddle such a heavy bicycle. Without the assistance, all cycling on the eBike would be comparable to carrying a small person, or the equivalent of 25-30 kg, with you wherever you go. Recognising this helped alleviate some of the feelings of guilt associated with using the pedal assistance when I sometimes felt that I should be cycling without assistance.
And so the question has to be answered, could an eBike replace my normal vehicle mileage? In my case, in my circumstances, the honest answer has to be no. If I lived elsewhere and had a longer commute or my usual visiting locations were spaced further apart, it would undoubtedly be yes. If I travelled more, or further, each day I could without a doubt replace some of my vehicle miles with cleaner and healthier pedal miles.
Having said that, the eBike has definitely encouraged me to get out more, to live a more active lifestyle and there has been occasion where it has replaced the use of a vehicle. When the PS Waverley recently had an unfortunate collision with Brodick pier I needed to get to the scene, with my camera, as quickly as possible. I knew that vehicle traffic in the area, especially with emergency services, would be restricted with serious congestion. Suddenly the eBike became a perfect option. I slipped through the traffic effortlessly, arrived there quickly, fresh, and was able to get around places inaccessible by car.
My colleague Hugh Boag and I were able to cover the event, from the pier to the other side of Brodick at the Ormidale Pavilion, and provide immediate photographs and reporting on the incident thanks, in part, to the Eco Savvy eBike.
I will be sad when I have to return the smile-inducing bicycle and, when battery technology improves and prices come down somewhat, I will be looking at purchasing my own eBike, the implications for my health, and that of the planet, will be a worthwhile investment. I would urge everyone to contact Eco Savvy to book an eBike trial free of charge, it may change the way that you think about commuting and reduce some of your annual mileage, and at worst, it will bring a huge smile to your face as you barrel down the road effortlessly cycling through villages and over hills.'
News editor Hugh Boag said:
I am afraid the eBike just wasn't for me. I biggest drawback for me was the sheer weight of the bike and getting it in and out of storage was a real problem for me.
Once on the road it was fine. However I felt – and this was probably my fault – I was letting the electrics do most of the work. This was most pleasurable going up hills but – as an occasional runner – I did not feel I was getting much of a workout.
Also with the bike in its 'Sport +' fastest mode, I did feel the bike was getting away from me a bit going downhill.
I also discovered just how bad the roads on Arran are. The road edges are badly eroded in many places and the uneven surfaces and divots are a real menace to cyclists. These can be avoided sometimes, but not when cars are passing.
I didn't enjoy being off-road on the eBike either, as I felt the back wheel tended to skid and did not fancy a fall in the gravel – too many memories of playing football on red blaize!
The one thing I did find was that the vast majority of drivers were courteous enough in giving me a wide berth. But that maybe says more about my cycling than the drivers themselves!
I enjoyed the experience of trying an eBike, but I am afraid it is not for me.
Arran Banner reporter Colin Smeeton pictured with his Eco Savvy eBike with Goatfell in the background. 01_B41ebikes01
Hugh Boag at at Sandstone Quay in Corrie. 01_B41ebikes02
Colin having fun on his eBike. 01_B41ebikes03