Arran Banner letters – week 40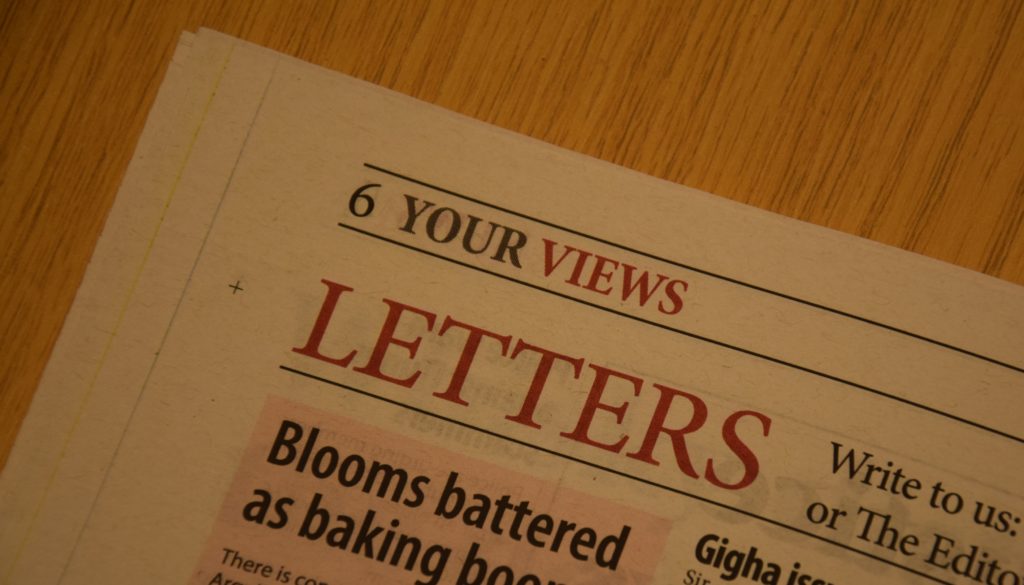 Want to read more?
We value our content and our journalists, so to get full access to all your local news updated 7-days-a-week – PLUS an e-edition of the Arran Banner – subscribe today for as little as 48 pence per week.
Subscribe Now
Relative risks 
Sir,
It is difficult to put one's head above the parapet at this time but I am not happy about the rules concerning the meeting of friends at home.
A good friend is visiting Arran next week. We cannot entertain her in our home but are allowed to meet her for a meal and a long chat in a restaurant. We are both over 70 and would like to ask an epidemiologist what are the relative risks to us of entertaining her at home as against spending a long time at a restaurant without masks?
Yours,
John Cruickshank,
Whiting Bay.
Golden opportunity
Sir,
I saw a comment on Arran Community Forum – also featured on this letters page – by Dr John Cruikshank remarking on the fact that an old friend from Cambridge was staying at the Auchrannie but he was unable to allow his friend to visit – because of the new rules. He and his friend are both over 70.
Arran is arguably one of the safest places in the UK. There have been only five cases recorded on the island and no new cases since the beginning of June.
Is it really reasonable? Are we to be subjected to a 'one size fits all regime?' This is not a university campus – we are not in a big city!
Arran depends largely on tourism for its livelihood – hotels, restaurants, letting houses, shops, the distilleries – are all largely dependent on tourism for their income.
The short season has become longer this year as people opt to spend their holidays, and  their holiday money, in the UK. Arran is proving to be popular for the October holidays – which are a staple of the Arran calendar.
Gone are the golden beaches of Spain and the warm breezes of Tenerife – when visitors come to Arran – they can of course enjoy the warm hospitality that the excellent teams are providing.
But  is Arran missing a golden opportunity? A simple testing procedure (10 minutes) and passengers would be allowed to board the ferry. Arran could then retain it's claim to be 'one of the safest places in the UK'.
Yours,
Sheila Noren,
Shiskine.
Free flu jab plea
Sir,
Diabetes Scotland is urging everyone with diabetes to take up the offer of a free flu jab.  People who are eligible for a flu jab should be contacted in the next few weeks with instructions on how to get their vaccine.
Getting the flu jab is the best way to protect yourself against the flu and reduce your risk of needing to go into hospital – which is even more important this year in light of coronavirus.
If you're living with diabetes, you're more at risk of getting the flu – and if you catch it, you are more at risk of developing serious complications.  Flu can also make your diabetes harder to manage and cause your blood sugar levels to rise dangerously high. This can lead to acute complications, which can often go unrecognised, and can even be fatal.
That's why it's essential that everyone at high risk of serious illness from flu gets vaccinated as soon as possible– especially as it can take up to two weeks for it to be effective.
For more information about diabetes and flu, please visit the Diabetes UK website www.diabetes.org.uk/seasonal-flu
Yours,
Angela Mitchell,
National director,
Diabetes Scotland,
Glasgow.
Sight loss service
Sir,
Next week marks both World Sight Day (Thursday, October 8) and World Mental Health Day (Saturday, October 10), two important reminders of the fragility and stress to which we are all vulnerable, and which have been exacerbated during the current crisis.
Every day in Scotland 10 people begin to lose their sight. To those affected, the prospect of losing their independence and even their livelihoods can have an understandable impact on their mental health.
RNIB Scotland's Need to Talk service is available in Ayrshire and Arran. It offers free and confidential advice and support over the phone from trained counsellors, providing vital reassurance that help is available so people can find their lives again and come to terms with whatever sight loss condition they have.
Our Need to Talk service is there so no one should feel alone or adrift at what can be a very sensitive time. It is also available to the family and carers of those experiencing sight loss.
Need to Talk can be contacted by telephone at 0303 123 9999 or email needtotalk@rnib.org.uk.
Yours,
James Adams,
Director,
Royal National Institute of Blind People Scotland,
Edinburgh.