My A to Z of Arran by Lu Dong – part 2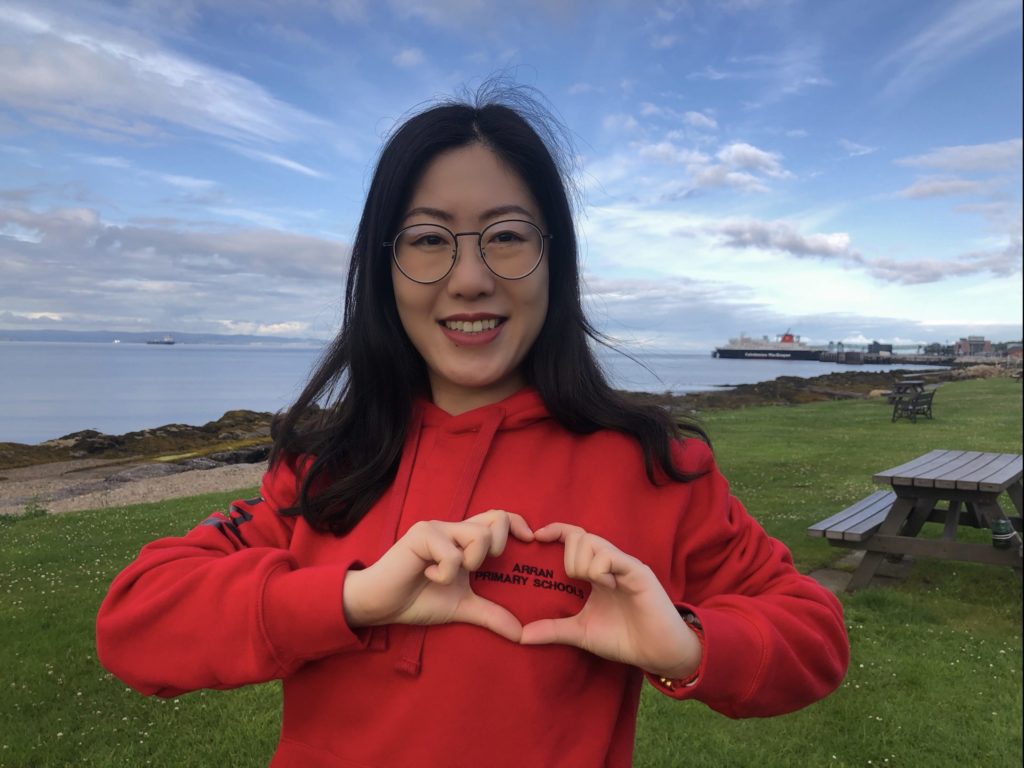 Want to read more?
We value our content and our journalists, so to get full access to all your local news updated 7-days-a-week – PLUS an e-edition of the Arran Banner – subscribe today for as little as 48 pence per week.
Subscribe Now
Standfirst
As she prepares to return to China Lu Dong, Hanban teacher with North Ayrshire Confucius Classroom Hub, reflects on what has made her experience on Arran so special. Lulu lived and worked on the island for two years as a Mandarin teacher. This is her Arran – letter by letter – part 2
N is for Neighbourly. Arran makes me redefine the phrase – strong community spirit. Now more than ever, folks appreciate it at the heart of Arran.
O is for Outdoor Learning, which makes me always feel grateful being on Arran, for getting outside, walking around, hearing the rustle of trees, feeling the wind on my face, the rain on my back, the sun on my skin.
P is for Pirnmill Primary School, which is a small school but a big family for pupils and for me too. When we sang in Mandarin on the stage of the Christmas show, I believe we were captivating the audiences. They were amazed and I am proud and honored to be part of the family.
Q is for Quinton Black. I would also like to take this opportunity to say a special thank you to my lovely mentor Quinton. I have given him the nickname 昆大爷,which means Uncle Quinton. Not only is he an uncle's age, but he is also the one who educated me patiently as a pupil, encouraged and inspired me as a new teacher, and took care of me as a daughter. With his support and encouragement, I experienced the real Scotland: St. Andrew's Day, Burn Supper, Chanter Class, Orienteering Championship and so on. I couldn't count everything even with the help of my toes. Thanks again for being such a good mentor.
R is for Robert Burns, the most famous Scottish poet. Thanks to him, I experienced different kinds of Burn Supper at least four times, drank my first shot of whiskey and enjoyed hundreds of poems in various ways, however, understood none.
S is for Shiskine Primary School, which is the school that inspired me to deliver Mandarin teaching through the outdoors in games. It also offered me another job as a photographer in Summer Fayre and Christmas show, which proved to be a chance to enjoy myself of experiencing all kinds of local games and snacks. Scottish Tablets, yum yum.
T is for Teachers and All the School Staff, who are my dear friends, my lovely advisors, and my private chauffeurs. I sincerely appreciate having had the opportunity to work with you all. Thank you for the support and encouragement you have provided me during my time on Arran. I thoroughly enjoyed having lunch with you in the staff room. I will miss our daily interactions and weekly conversations. You have really been there for me. Love you 3000.
U is for Unique. Delivering Mandarin on Arran is such a unique opportunity for pupils to get access to a totally different language. It is also a great opportunity for me to grow and transform. I have grown after nearly two years of a unique experience. It transformed Lulu from a scared cat into a courageous lion. I will definitely grow better in the future with what has Arran taught me and deeply rooted in my heart.
V is for Venture. Working aboard as a Mandarin teacher for me is venturing forth into the unknown. When I arrived in Scotland on 24th, October 2018, I wondered how I was going to survive in this new country, new culture, among foreigners, and being a foreigner teaching a foreign language for two years. I told myself to hope for the best and expect the worst. With a strong sense of passion and willingness to take all the risks necessary, not only did I survive but also gained a lot. I have been learning what I need to know and I believe I made a difference on Arran and will definitely bring the valuable working experience back to China.
W is for Whiting Bay Primary School, which is the only school I taught in the hall and so many fun and exciting experiences happened in it. I fixed the projector accidentally, watched the assembly intentionally, and was invited to sing a Mandarin song because of peeking to the House Treat curiously. They all happened in the hall and are fond memories in my heart.
X is for XX. It stands for kisses and hugs which is new to me as a Chinese girl. Because, instead of emoji, it always comes at the end of the messages I got from friends on Arran since I have been here. It might be a common way for Scottish people to express love, but for me, it is much more powerful than any emoji. It shows Lulu that she is welcomed with open arms, loved, or even spoiled sometimes by the whole island.
Y is for Yanyan, who is the Chinese Director in CISS I want to especially thank to. Being a wise, diligent, farseeing, and thoughtful leader, she is like the sun of the constellation that every Hanban teacher centers on. Yanyan offers me a hand and a bunch of opportunities to reach higher than I imagine. Thank you for being such a wonderful leader and role model for all of Hanban teachers.
Z is for Zero Zero, the nickname of my life long best friend línglíng(started by Quinton when he was obsessed with Mandarin numbers). We have been discussing, sharing, studying, exploring and adapting to the changes all the way till now, and will definitely go on in the future. Zero 0 to Chinese does not mean nothing, it stands for a new beginning. Even the finest feast comes to an end sometime. My teaching time on Arran is coming to an end, but to me, this is not the end. This is the beginning. It is time for a new chapter back in my homeland and starts from zero again (We say starting from zero means starting from scratch.) and while I will miss Arran immensely. I am beyond excited about new challenges and I know that I will come back and visit Arran someday in the future.
zài jiàn(再见), the most common term used to say goodbye in Mandarin, is literately translated to seeing you again. I am extremely grateful and mighty proud to be on Arran and have all of you in my A-Z of Arran. It truly made my alphabet that I love to sing and retell over and over again.
zài jiàn. See you again.
T is for Teachers. Miss Dong enjoys a chanter lesson with tutor Ross Miller. No_B29LuDong01
Q is for Quinton Black whom Miss Dong described as an excellent tutor akin to a family member. No_B29LuDong02
V is for Venture. Miss Dong's fears about travel were quickly allayed and she was included and welcomed by many families on Arran. No_B29LuDong03
X is for XX. A symbol for love and kisses which perfectly describes Miss Dong's feelings towards Arran all the places where she worked. No_B29LuDong04
O is for Outdoor Learning, an activity which left a large imprint in the mind of Miss Dong. No_B29LuDong05
U is for Unique. Which best describes the opportunity provided to her and for her love of Arran. No_B29LuDong06
S is for Shiskine Primary School but it also represents all of the primary schools on Arran which are individually named in the A to Z. No_B29LuDong07
R is for Robert Burns. Not only did Miss Dong teach children on Arran but she also learned a great deal, including the work of our national bard. No_B29LuDong08
Y is for Yanyan, the Chinese Director in CISS who Miss Dong described as a wonderful leader and role model for all of Hanban teachers. No_B29LuDong09