Third age university still thrives in lockdown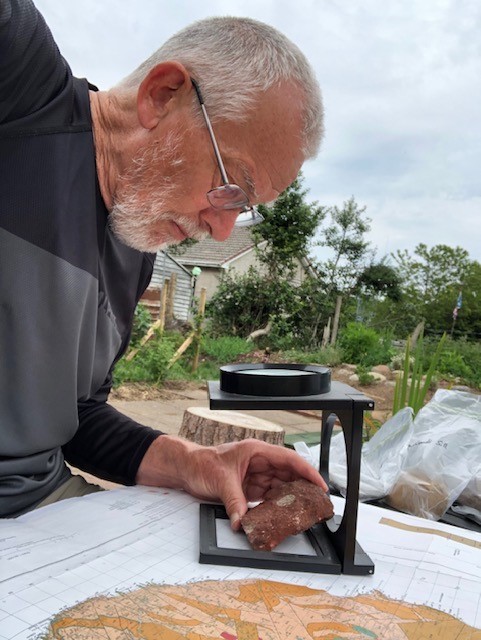 Want to read more?
We value our content and our journalists, so to get full access to all your local news updated 7-days-a-week – PLUS an e-edition of the Arran Banner – subscribe today for as little as 48 pence per week.
Subscribe Now
When all U3A – University of the Third Age – meetings were cancelled shortly before only their second monthly meeting on Arran, many of the 125 members were concerned that nothing could be done.
There had been so much activity and excitement and people had just started their new activities.  Some people were very worried that they would lose touch with new and old friends.  Many found themselves living at home on their own miles from family and friends.  Already U3A was helping  some deal with loneliness and all learn new skills through the 27 active groups that had been formed in the three months since the organisation was founded in Arran.
Shortly before lockdown started, the leaders, all voluntary, decided that as many topics as possible would continue.  The Isle of Arran U3A was not going to give up in its infancy.  There was a flurry of committee meetings which continued on email when lockdown became mandatory. Now leaders were  encouraged to find ways to carry on the work.  They were enthusiastic and anxious to keep going following the relationships already made.
However, the work of the U3A has gone much further than that, as they have supported the wider community, particular those who are shielding as a number of the leaders are.  Even before the Hub was set up members were given training in the use of PPE equipment  and in keeping themselves as well as every one else safe.  They made food deliveries, shopping trips, medicine collections and  even collected and delivered seedlings and cuttings to other members.  Some U3A  members also signed up for the Hub when it began and simply did whatever was needed with either U3A or the Hub.
When Barb Taub decided to make masks we discovered she had a need for material.  U3A  members  donated masses of suitable material and their volunteers collected it from all round the island and delivered them to Barb.  The mask kits would be cut and then  volunteers would help deliver them to the  community volunteers who were sewing them.  Many members helped with the sewing and then delivered masks to the hospital, medical group, care homes, Co-op, other shops and essential workers  and eventually to the wider community.   Amanda Grindall  one of the mask makers also prints out updates and distributes them through the Blackwaterfoot shop which  delivers them with the shopping to members who do not have internet access.  She also set up the gardening Facebook page and drives her tractor in the NHS thank you parade each Thursday in Shiskine.
Shielding members have been checking and chatting with members who live alone as well as running groups where possible.  Isle of Arran U3A is very proud of all the volunteers who, like those from the Hub and other community members, use their own cars and fuel to help even at short notice.
During lockdown we were asked by the UK National U3A to take part in a film which was commissioned to form a record of what U3A members did during the lockdown.  The national office  was very surprised to find the Arran U3A  doing so much and keeping so many groups going.   Videos and still photographs were taken and forwarded to the professional filmmaker on line.
The Isle of Arran U3A website has a constant stream of visitors and  has actually added membership during lockdown.  Joan Martin, U3A treasurer set up and maintains the website as well as a Facebook page. She has a lot of interesting information and pictures about this young U3A as well as forms for joining etc. More than 50 photographs have already been posted on the website from the photovisions group. The 12 members email photographs to the leader, Mairi Christie, and each other and comments are discussed on email.  They have a different subject each month. If you see people wandering around gazing at the skies, they are probably from  the photovisions group, who are taking pictures of clouds this month!
It is planned to get all the groups going normally as soon as possible and safe.  Indications are that people are really keen to meet up again. The smaller groups will not find it so difficult but the monthly meetings will have to wait. We don't have a hall on the island which could take  everyone with social distancing. In all 12 groups have managed to continue working during lockdown due to the ingenuity and dedication of their leaders and the enthusiasm and commitment of members.  They have met online, communicated through email, conferencing and other social media and kept in touch with their members through regular telephone conversations. Indeed most members of the 27 groups are still in touch with each other.
Ongoing groups, in addition to photovisions, include the ukulele group which is led by Tim Howarth through telephone conferencing and email; Robin Barnden has arranged on-line workshops with Stuart Blake for his group of  six doing geology;  Paul Fletcher supports his internet Italian group of four with email and telephone; David Scott leads his local history group by telephone and the use of online resources as does George Christie with the 11 members of the Genealogy group.  Steve Vex's cryptic crosswords group is still going strong on email and telephone and Mark Brown's fiddle group runs online and by email.
The philosophy group, which has just started with shared leadership is now a member of the Scottish Philosophy  Group and the National U3A Philosophy Group. Tennis is just about to start. Although the dancing group, with George and Mairi Christie could not continue in person, the group are in constant touch and some are still practising steps in kitchens and corridors. The favourite dance seems to be the Jive!
Hopefully at the end of lockdown we will all be able to get together again and continue to enjoy and celebrate the fellowship,  friendship and fun provided by the Isle of Arran U3A.
                                                                                                                       Mairi S Christie
Robin Barden, geology  leader, examines a rock. NO_B26age01
Angie Wright delivers a mask to Tom who is shielding. NO_B26age02
Amanda Grindall  in her garden. NO_B26age03
George Christie on the phone to one of the genealogy group. NO_B26age04
Paul Fletcher who leads Italian (left) and Mark Brown who teaches fiddle. NO_B26age05
George Christie takes a picture with a macro lens. NO_B26age06
Amanda Grindall on her tractor thanking the NHS in Shiskine. NO_B26age07