Arran Banner letters – week 26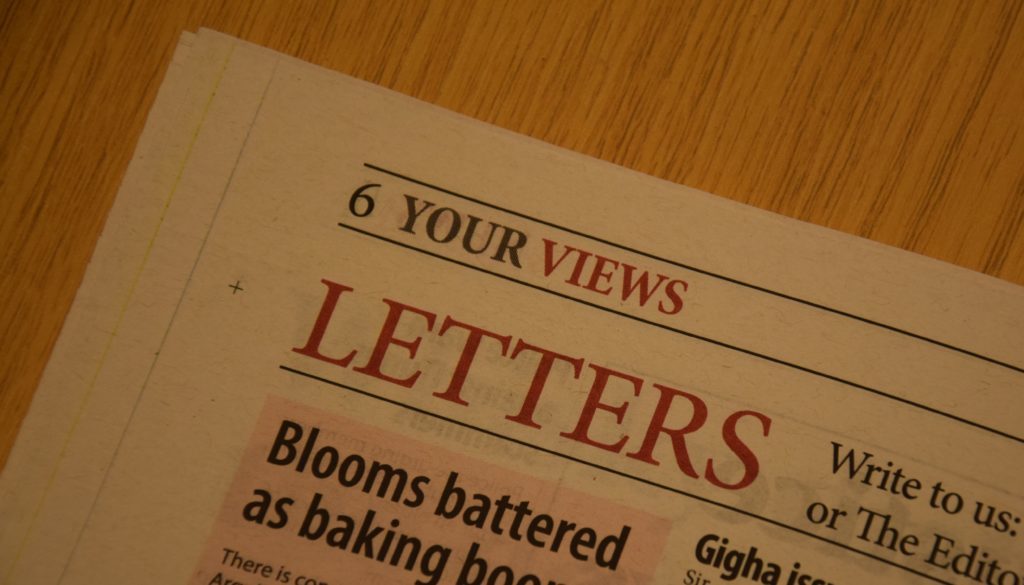 Want to read more?
We value our content and our journalists, so to get full access to all your local news updated 7-days-a-week – PLUS an e-edition of the Arran Banner – subscribe today for as little as 48 pence per week.
Subscribe Now
Beckford changes needed
Sir,
I was fascinated and moved by Cicely Gill's letter in the Banner (Arran's slavery link) and hearing of her Beckford family link.
Soon after the reopening of the castle I had gone to see the interior refurbishment expecting to find a new, and very overdue, reinterpretation of the Beckford silver collection. I was amazed; there was no reference at all to the grim and shameful history of slavery on the Jamaican sugar plantations lying behind the gross ostentation of this silver hoard.
On questioning this I was told that it was work in progress and new interpretive material would be forthcoming. So it is shocking to find that the progress in handling links to slavery seen in recent years at other NTS properties have yet to reach Brodick.
Cicely Gill's letter is a reminder that a true understanding of history can have contemporary relevance. What better means of presenting the reality of slavery than an honest treatment of the Beckford silver?
There is a connection here to another item in the Banner of 19th June. I refer to the heart-rending plight of the Young Naturalists. Their meetings have been suspended due to the COVID-19 restrictions and the ranger service being furloughed. The sad reality is that if the NTS redundancy programme is put into effect there is little chance this valuable, much-loved and long-running club resuming even after the restrictions are relaxed; another casualty of central office mismanagement.
Those concerned about the fate of the ranger service can visit the Facebook page, Save NTS Rangers. Some concerned Trust members are writing to the Trust to ask for an Emergency General Meeting. The NTS case can be read at https://tinyurl.com/NTSbusinesscase.
Best regards,
Robin Barnden
Lamlash.
Natural heritage
Sir,
May I thank Cicely Gill for her very personal reflection (Banner 19th June) on the Beckford Room at Brodick Castle? As a casual visitor last year, I too was disturbed by the euphemistic reference to 'sugar plantations' as the source of the wealth that funded the current castle, and its dust-collecting artefacts.
The NTS faces a financial crisis as a result of loss of visitor and membership income. With the overdue focus on Scotland's role in the slave trade coming hot on the heels of COVID-19, and Climate Change still looming over us, you would think that a forward-looking strategy might prioritise natural heritage over the sad culture of our 19th century aristocracy.
We should be thinking of access to garden space and wild countryside, outdoor education, socially-distanced hospitality, staycationing, and increased provision of self-catering accommodation. Are people still going to want to crowd indoors to view the oversized furniture, sombre oil-paintings and grotesque silverware of the Beckfords and Hamiltons?
The NTS needs to move with the times. It might be a good point to part company with their controversial president, Prof Neil Oliver, but a very bad time to make garden and estate staff redundant and decimate the ranger service.
Yours,
Malcolm Kerr,
Brodick.
School disgrace
Dear Sir,
Quite apart from the rights or wrongs of continuing lockdown, and the obvious wrongs of the state-owned CalMac, it is surely a disgrace almost beyond words that schools on Arran and elsewhere in Scotland are and will continue to be completely closed.
The Scottish government and first minister claim that education is a, or the, priority of their policy. The facts seem to tell a different story.  It is clear from experience in this country and all over the world that the risks from The virus to schoolchildren are trivially low. Not, admittedly, zero – but certainly lower than the risks involved in travelling to and from school, which we accept without question. By comparison, the risks to schoolchildren of denying them a large chunk of schooling are alarming.
Research by the UCL Institute of Education regarding behaviour during lockdown shows that children qualifying for free school meals are only half as likely to spend four or more hours a day on schoolwork as those who do not qualify.  31 per cent of private schools are offering four or more hours per day of live on-line lessons, against only 6 per cent  of state schools.  Within England, 28 per cent of children in the prosperous SE are doing four or more hours of schoolwork per day, against 9 per cent in the more deprived NE.  Those who need the most help to gain some sort of social mobility are actually getting the least.  And all this, of course, is in addition to the fact that Scotland's educational record by international (OECD) comparison has been poor and declining for years, and is now worse than that in England.
Almost five years ago the first minister demanded that she be judged by her record on education, and in particular in closing the educational attainment gap.  Yes, please.
Yours,
Richard S Henderson
Lochranza
Count his blessings
Sir,
I would like to respond to Mr Cowan of Glasgow and Catacol, Arran Banner 12th June 2020.
I think that he should count his many blessings. He is clearly in a very privileged position. Contrary to his opinion that we are all doddering old folks, many of the residents of Arran are young families. Unfortunately, a fair number of those families can barely afford to keep one roof over their heads. Mr two homes Cowan probably is unaware that in order to assist these less fortunate people a foodbank has to be maintained here in Brodick.
When next he and his family do get to visit their second home, I would suggest that on his way through Brodick he stops off at St Brides Church and takes a long hard look at the foodbank. Maybe even bring a few bags of shopping to leave as a donation. How about it Mr Cowan?
We the islanders are now into week 13 of the lockdown at the time of writing. Very few of us have been allowed to leave Arran in that time as the restrictions on travel are very strict. About the only reason to get a ferry ticket is by producing a letter of appointment from a hospital. The message from our government is 'Stay At Home' and that is what we have done and are continuing to do without whinging on about our rights.
We, the pottering old folks, do the bulk of the considerable amount of voluntary work that goes on here. As for the businesses, we the one home owners do support the ones that stay open during the winter months when the island is quiet.
While Mr Cowan goes on at length regarding the age of the population. Let us consider that Arran suffers the same problems as many other popular tourist areas in that it is his privileged attitude that is largely the cause of the problem. They are happy with their high income level to willingly pay over the odds for houses thereby pricing out the younger Arran people. Then a lot of them stand empty for most of the year.
Surely Mr Cowan and his ilk are aware that the medical facilities here on Arran, while being a superb service, are nevertheless very limited and couldn't cope if a major outbreak of Covid 19 were to develop with with an influx of large numbers people. Hence the ban on holiday traffic. We the islanders will have no say when the island will re-open for business. That is solely a decision for the Scottish Government.
And finally I have no idea how old Mr Cowan is but I would like to share this thought with him. You too will be old one day.
Yours,
Peter Harper,
Shiskine.
Economic disaster
Sir,
Jack Cowan's correspondence in the Arran Banner edition of 12th June was spot on in his support of the rights of second home owners to visit the island.
Although not fortunate enough to fall into this category myself, I have regularly stayed at self-catering properties on Arran – and like Jack was appalled to learn that 60 per cent of island residents voted in an online survey for the travel restrictions to continue. The internet is an invaluable tool – but it must equally be recognised that it has bred a nation of 'keyboard warriors' who all too often follow the 'herd instinct' of respondents to online surveys.
Your lead story and editorial in last week's highlighted the crucial importance of the tourist industry to Arran – yet this survey suggests that a majority of those islanders who voted want to continue with the lockdown. despite the likelihood of economic disaster.
Perhaps someone could explain exactly how Arran's tourist industry could survive without self-catering outlets?
Yours,
Bobby Whitacre,
Glasgow.
Sir,
I had to read Jack Cowan's letter a couple of times to understand that he was serious frankly I thought you had opened the April 1st file on your computer.
I must say that were I a holiday home owner I would be incensed at being associated with such a letter. It looks to me he is deliberately using protecting Arran from coronavirus as a platform to air his prejudice.
He makes an arrogant assumption that Arran relies on income from second home owners to survive he obviously does not look about Arran when he is there to see what really goes on and that his contribution more likely results in a net lose to Arran, The fact he has been able to outbid local young persons for an available house has resulted in Arran plc having to build an affordable house this negating his small contribution to the local economy. His mention of contributing by paying rates on the property is false as rates are payable whether by a local family contributing year round to the island economy or a second home owner.
I find it sad that somebody who has obviously done well in life to afford a second home cannot see what is going on on his adopted Island, I would suggest before he writes such a disparaging letter he sits back and looks at what he is writing about.
I will point out to him I left Arran in 1956 due to national service and interest in aviation which I could not follow on the island, this has given me a good career in aircraft maintenance, which I still do part time but never did I think on a second home on my ancestral island however many wonderful holidays on Arran have  been enjoyed by my family and not at the expense of an Arran family who could not afford a house due to second home owners. I go back to my opening paragraph and hope his letter was written tongue in cheek but is in extremely bad taste.
Yours,
Roderick C McKay,
Forres.
Vet kindness thanks
Sir,
A sincere thank you to Charlotte Clough at Arran Vets. Thanks for your patience and kindness shown to us on Saturday, your assistance and support was much appreciated.
Yours,
Nicol, Jill and Lyle Bunyan,
Brodick.