Arran Banner letters – week 25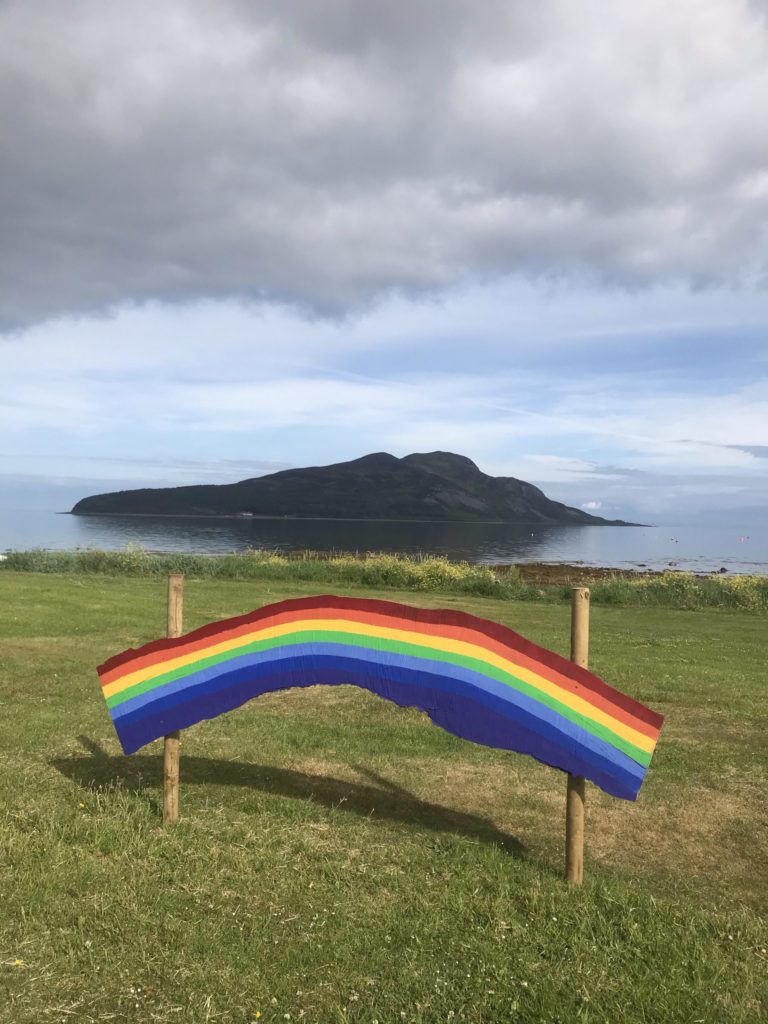 Want to read more?
At the start of the pandemic in March we took the decision to make online access to our news free of charge by taking down our paywall. At a time where accurate information about Covid-19 was vital to our community, this was the right decision – even though it meant a drop in our income. In order to help safeguard the future of our journalism, the time has now come to reinstate our paywall,
However, rest assured that access to all Covid related news will still remain free. To access all other news will require a subscription, as it did pre-pandemic.
The good news is that for the whole of December we will be running a special discounted offer to get 3 months access for the price of one month. Thank you for supporting us during this incredibly challenging time.
We value our content and our journalists, so to get full access to all your local news updated 7-days-a-week – PLUS an e-edition of the Arran Banner – subscribe today for as little as 48 pence per week.
Subscribe Now
Arran's slavery link
Sir,
I am thinking about everything that is going on as a result of George Floyd's death. 'No man is an island' as the poet said, though here on Arran it is easy to think of ourselves apart from the world.
We have no statues to ask the council to remove but we do have Brodick Castle.
Before I go on, I should declare an interest: my father's name was Beckford. He was Jamaican. His forbears were plantation slaves.
Many of you will have seen the silver in the Beckford room in the castle, acquired with money made through the plantations. I was utterly dismayed on a visit last year to find there was nothing in the accompanying explanatory notes to indicate there was anything untoward in the way the plantations were run—the exploitation, the cruelty, even the fact the people being employed had been forced away from their country of origin into slavery.
I would have expected that after the much-heralded overhaul of the castle, an effort might have been mad to rectify this. I could not stay in the room. I felt sick. No exaggeration.
I meant to write a letter then to complain and did not, but now – although the castle is unfortunately shut – with racism being the number one topic at the moment I decided it would be timely to raise the matter.
Surely, given the thousands of tourists of all ages and from many different countries who pass through the Beckford room, it would be responsible to educate and inform and shine a light of honesty on the silver.
Yours,
Cicely Gill, Whiting Bay.
Sooner opening 
Sir,
I would like to ask Arran islanders when they will feel safe to open the island?
The people managing Scotland's health still say there is no safe period as although the virus may reduce, it will never go away. The question will be asked during the winter when it will no doubt raise its head again.
My worry is the island may not be able to sustain no visitors coming to the island in the few months that are left this year.
These few months could keep some businesses afloat till the 2021 season as the government has promised to pull the support for businesses before the end of the year.
I have a caravan on Arran. I have not been allowed on the island this year. I buy all my groceries and stores on the island, I eat out every weekend on the island and I drink in the pubs and hotels. I support all the special days. including the Highland Games. I am a member of a golf club and I pay rent and rates for my caravan.
At seven years of age, 65 yes ago, I sat in the Aldersyde Hotel watching and listening to my granny playing the piano for residents and island visitors. I have brought my two grandchildren, now aged 17 and 19, to the island since they were babies.
I would not like to see Arran going back to the 1980s when some pubs were only supported by islanders because of the lack of tourists when Lamlash was, at one time, the European sea fishing capital.
I understand it's down to locals when the island opens but I would advise  sooner rather than later. The virus will eventually arrive so you could also be looking at losing 2021 trade. I hope the people of Arran make the right decision to save businesses on Arran.
Yours,
Alex Kay, Glasgow.
Great impatience
Sir,
I note with concern there is impatience from non full-time residents to visit Arran.
I would firstly ask they obey the guidelines laid down by the Scottish government and do not threaten the biological security of our island and secondly that they remain patient until lockdown regulations are lifted. Remember, it is better to come and go by ferry when authorised and not to leave by helicopter.
We can't leave Arran unless we have a valid reason within the guidelines.
Yours,
Derek Shand, Brodick.
Form of internment
Sir,
For younger readers, it was in 1975, following an earlier ferry debacle, 'Caledonian McBrayneless' was immortalised by the late cartoonist and banjo player Malky McCormick … and here we are again.
In implementing its decision to extend its 'essential timetables' till the end of June at least, CalMac claims to be taking its lead from the Scottish government and Transport Scotland.
Presumably, therefore, CalMac is not solely to blame for the draconian measures its staff have been asked to employ to keep islanders safe, not only from others but from themselves, by requiring the submission of written proof of the necessity to travel, residency qualification – whatever that is – before boarding is permitted.
As a consequence, a form of internment has been imposed on Arran residents, whether permanent or temporary, accidentally or otherwise, which arguably breaches their human rights, at least as the European Court of Justice might see it.
So desperate are some to circumvent these procedures, they have resorted to escape ploys, albeit less imaginative than those famous wartime successes at Colditz and Stalag Luft III.
Given the times we live in, one could probably overlook such heavy-handedness and woeful public relations, but this triumvirate has form. Together they are responsible for the appalling and still deteriorating ferry service which, over the winter, plumbed new depths in terms of cancellations as a result of mechanical breakdown and restricted manoeuvrability in bad weather. The primary vessel should already have been withdrawn from service but labours on with no prospect of replacement on the horizon.
The incomprehensible procurement solution is to persevere on the same course with a nationalised shipyard, bankrupted by a dispute over the escalating cost of the new vessel, the original design of which was rendered unfit for purpose by the construction of a new ferry terminal, which has its own short-comings, necessitating a major structural alteration.
The cunning plan is to throw good money after bad and sprinkle on some magic dust. Meanwhile, the silence on the anticipated date of delivery of the new ferry continues to thunder.
However, maybe these three bodies, which ultimately have the same parent and appear to mark their own homework, are smarter than we think. The Machiavellian explanation to all of the above is that, if the current lockdown procedures are kept in place for the next two years, the Scottish Government, Transport Scotland and CalMac need not worry about carrying more passengers, implementing a summer timetable or apologising for breakdowns, as it will have few customers.
It is about time the cloak of anonymity is cast off and those responsible for CalMac policy in the Scottish government and Transport Scotland are named, held accountable and compelled to reveal how they will resolve this ferry crisis.
Robbie Drummond of CalMac should not have to take all the flak and, instead, could devote his spare time to devising a plan-B, as no-one else seems to have one.
Yours,
Downie Brown, Whiting Bay.
Charity donation
Sir,
I write in response to the letter from Clive Mark of Glasgow and Corrie in The Banner's June 5 edition:
Dear Mr Mark,
I wish you every luck in your endeavour to receive a second home tax rebate from a council that bears no responsibility for COVID-19 lockdown measures.
If successful, would you consider donating it to a charity for people who cannot afford to keep their only home due to the pandemic?
Yours,
Jill Jeffries, Merely of Kildonan.
Alternative view
Sir,
The Banner is always a welcome arrival in my inbox as a way to catch up on island news, but it was disturbing to read a rude and entitled letter in the Banner of June 12 – 'Second home owners have rights'.
A response by an Arranach may only get dismissed by the author, so perhaps I may express an alternative view as a regular visitor.
Whilst there are a variety of political views on Arran, the community has been careful and transparent in exploring the challenges the island faces. There are also many second home owners who may make a significant contribution to the island, but no-one should be speaking on behalf of second home owners, as the author appears to.
It is presumptuous to dismiss the outcome of an island survey by making assumptions about who completed it and it is further presumptuous to allege older residents have no interest in the island's economy.
Those who live on the island are at the heart of Arran's economy, one that has become more and more reliant upon tourism as a result of the fragile economic infrastructure.
One of the reasons for this is the increase in second home ownership. This pushes up the cost of housing and with only eight per cent of affordable housing in rural areas, issues for young people and those wishing to get on the housing ladder are more difficult.
Rather than feeling second home owners are in some way benevolent to the population of Arran, there needs to be a realisation this is one of the reasons villages are dark and quiet in the winter. The economic instability is partly down to the recycling of funds through local businesses being throttled by second home owners every time they take their spending back to their first home. If there were substantially fewer second homes on Arran and more affordable housing, the resident population would be higher, the economic base would be more secure and there would be greater opportunity for sustainable growth.
It is absolutely right Arran is protected and preserved for all future generations, not just those who are fortunate enough to have enough disposable income to have a summer playground.
Yours,
David Phillips, Leicestershire.
Inflated house prices
Sir,
I write in rsponse to the letter in last week's Banner from Jack Cowan, Catacol and Glasgow.
Whilst making a considerable assumption about the age of those surveyed and extolling the virtues of visits to the island by holiday home owners, Mr  Cowan fails to acknowledge the fact second homes artificially inflate house prices which puts even small properties beyond the reach of young people who want to live and work on the island.
If those properties were affordable, those houses would be occupied throughout the year bringing more economic benefit to the island than holiday home owners.
Island business owners have packed up and left because they have been unable to afford housing, yet there is a holiday home in our village that, to my knowledge, has been visited about six times in the 14 years it has been built. As a consequence of the second home market, developers only build properties to target that market. Consequently, these houses, which are usually outside the salary range of islanders, stand empty most of the year whilst depleting available building land.
Yours,
Peter Lythgoe, Kildonan.
A sincere thanks
Sir,
A sincere word of thanks to the young couple who helped and assisted my wife and I during our recent misadventure along the Corrie shore.
Their response to our predicament was an immediate comfort to both of us and consequently resulted in our safe return home.
Very much appreciated.
Yours,
Gus Robson, Brodick.
Planning needed now
Sir,
Arran Ferry Action Group has watched with great interest, the recent debate about opening up Arran and restoring ferry services.
Unlike some others, we have felt we could not add to the discussion given we had no access to the appropriate scientific advice available to those in authority.
Without this, any opinion on our part would have been inappropriate. It will be our elected representatives at the Scottish government to decide if, and when, unrestricted travel is permitted in Scotland.
A ministerial statement states tourism in Scotland will be opening up in early July. Two things are essential at that moment of time and must be planned for now.
Firstly, we must have a full service with two boats on the Ardrossan/ Brodick route. The proposed passenger numbers are patently not going to achieve any significant access and are unacceptable.
The Scottish government urgently needs to find a solution to this dilemma. Perhaps it is time for people to wear face masks and accept their own responsibility for social distancing on board, thereby increasing passenger numbers to an agreed overall capacity.
Without onboard services, the crew could largely shield. Essentially passengers would make their own judgements about travelling under such circumstances. We are, after all, generally sensible travellers and do not really require CalMac to tell us how to keep safe, which is ultimately our own responsibility.
Secondly, a full or even enhanced capacity must be restored to the Lochranza/Claonaig service, where complete isolation is possible by remaining in vehicles, with toilets available at both terminals. The journey time is only 30 minutes. It is beyond belief the current proposal remains to operate once daily from Tarbert.
Both route services should continue into the winter, or for as long as it takes. Without such measures, the island's threatened economy will slip even further compared to the mainland and our future will be bleak.
Our elected representatives have a responsibility to resolve this problem and must act now.
Yours,
Robert Cumming, John Ford, Gavin Fulton, Sam Bourne, Donald McNicol, Bob Haddow, Sharon Shenhav, Sally Campbell and Chris Attkins, Arran Ferry Action Group.
Splash of Lamlash rainbow cheer
The 'Banksy' of the Arran public art world strikes again. This beech bow recently appeared at the bottom of the Lamlash hill. On closer inspection it looks like a rainbow painted onto a bent beech wood plank. Nice to see something where, at this time of year, there would be banners for various events including Lamlash Heather Queen, RNLI and Arran Coastal Rowing Club Regatta.