Arran Banner letters – week 23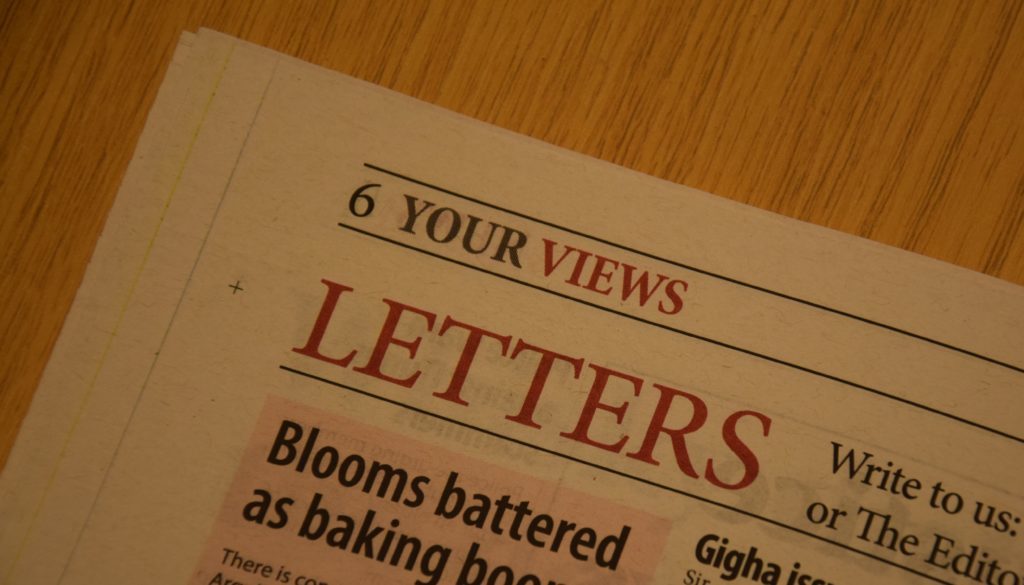 Want to read more?
We value our content and our journalists, so to get full access to all your local news updated 7-days-a-week – PLUS an e-edition of the Arran Banner – subscribe today for as little as 48 pence per week.
Subscribe Now
Second home rebate
Sir,
May I express my concern about Mr Scott's letter, Arran Banner May 22, and its accuracy.
As a second home owner in Corrie, I was due on Arran the first week in March but hesitated with the COVID-19  developments.
I am aware some second homeowners were already on Arran prior to March and quite rightly stayed put.
I, at 75, have not left my home for nine weeks, as directed by the Scottish Government and in particular adhered to the rule not to visit my second home on Arran. This has been policed by CalMac ensuring that only a driving licence with an Arran address would suffice passage, so this influx of second homeowners in Corrie seems incredible, but I am not there so unable to verify Mr Scott's claim.
I am aware, however, of a very small minority on Arran who, for whatever reason, have a grudge against those who own more than one property. I am not suggesting Mr Scott falls into this category. However, it might be helpful to carry out an unbiased study to highlight the economic benefits second home owners bring to Arran employing local builders and tradesmen as well as swelling the tills of local bars and restaurants.
I do not expect to be allowed to visit Arran any time soon and when this horrible virus is finally defeated I will be unsure whether I would want to  travel on the ferry as touching handrails coming up from the car deck is a no no.
However I, and I am sure other second homeowners, will look forward to a rebate on our council tax to reflect not being allowed on Arran by the Scottish Government.
Yours,
Clive Mark, Corrie and Glasgow.
Staying away
Sir,
I am a second home owner and would like to respond to the letter in the Banner from Gary Scott.
The lockdown has been in place for some time, as have the instructions to CalMac as to whom it can allow to travel to the island during lockdown and this does not include second home owners.
As a condition of my insurance on my property on Arran I am required to check out the property at least every 60 days. I have been to the CalMac offices at Ardrossan several times along with my policy and explained my visit would be during an afternoon returning the following day on the morning ferry.
CalMac explained that under current Scottish Government restrictions I did not fall into the category of acceptable passengers which I have accepted. In conclusion, the words 'influx'and 'small minority' seem at odds.
Yours,
Jimmy Love, Glasgow.
Wallet thanks
Sir,
Through your columns may I make known my warmest and grateful thanks to the lady who found my wallet on the green sward in Lamlash and thoughtfully handed it in to the adjacent chemist shop from where it was ultimately returned to me.
The lady did not leave her name, but if she is reading this somewhere, let me say to her: 'Thank you and thank you again.'  What a relief.
Yours,
Peter Morrison, Brodick.
Grasping the nettle
Sir,
We all know we are living in extraordinary times. A holiday island that people cannot visit. A ferry company serving our island that cannot buy or hire the boats it desperately needs. A ferry committee representing ferry customers that advises said ferry company to stop taking bookings.
On Arran, we have never seen it so quiet at this time of year. Shops, bars, cafes, restaurants, hairdressers, therapists, schools, churches and many more all closed for business. Hotels, B&Bs, self catering cottages that would usually be looking forward to another successful season, all shut.
It is clear the vast majority of people have adhered to the lockdown guidelines and our island has so far been mercifully spared the worst of this awful pandemic. I am thankful we have been so fortunate.
But we must start looking towards the future and how we can recover some of what we have lost during this time and how we can maintain the safety of everyone.
Ironically, emerging from the lockdown is likely to be even more challenging than going in.
A national poll commissioned by the BBC and published this week found that 42 per cent of Scots would likely take their holidays in Scotland from now on. We must work hard to ensure Arran receives its fair share of that 42 per cent and is not left behind by other areas similarly fighting hard for every visitor pound.
Arran enjoys a privileged position as a Scottish island accessible to the mainland via a relatively short ferry crossing. We have the luxury of a lot of space and relatively few people in it. We need to think carefully about how we manage that space, anticipate any bottlenecks that may arise and have a plan to deal with them.
The CalMac drawbridge will have to be lifted at some point. The challenge for us all is to make sure we are ready. It will only work successfully if there is proper consultation and a reasonable consensus can be reached.
So what is our specific plan for Arran?
Our island community must start to have the sensible and rational conversation about how we can once again welcome visitors while keeping everyone safe. That conversation must be open to and inclusive of everyone – residents, second home owners, businesses large or small, visitors, medics and transport companies and their staff.
In putting together a plan that allows us to open for business safely, the experiences of those who have remained open throughout this difficult period should be shared so we can all learn how best we can maintain the safety and health of everyone, while keeping the businesses we all need afloat. This process may give us all greater confidence to continue to maintain our island economy and keep the best of what makes Arran so special.
Amid so much uncertainty, we need to be ready for what might come next, and, with the government having now issued their route map to emerge from lockdown and announced Phase 1 of that plan, that discussion must start now so we can create a new way of doing things here that works for everyone.
It is not enough for CalMac to be expected to drastically reduce ferry services or prevent people booking. If anything, we will need more sailings not fewer, to allow for continued physical distancing on board. We need to plan for the future now so our island is not placed at an unfair disadvantage. It is obvious such a public consultation during the continued lockdown is also challenging when a public meeting or similar is impossible right now.
Who among us will have the courage to grasp this particular nettle for the future of our island community in these extraordinary times?
Yours,
Helena Paul, Whiting Bay.