Arran CVS serving the whole community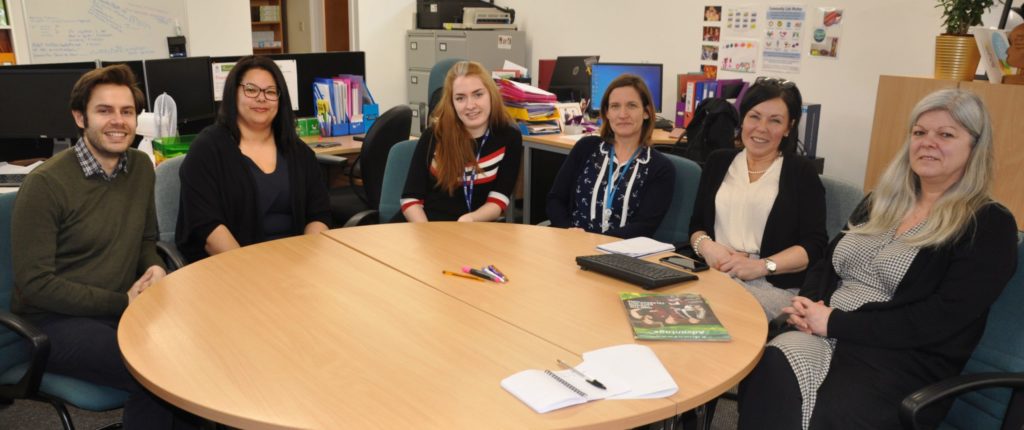 Want to read more?
We value our content and our journalists, so to get full access to all your local news updated 7-days-a-week – PLUS an e-edition of the Arran Banner – subscribe today for as little as 48 pence per week.
Subscribe Now
Standfirst
Arran Community and Voluntary Service (ACVS) is at the heart of the community response to the coronavirus pandemic. It is a vital service for people seeking help and support in these troubled times.
Its work is wide and varied and not always fully appreciated but it holds the the island's community and voluntary sectors together.
The eight strong team is, in normal times, based at the ACVS headquarters in Lamlash, led by chief executive officer Vicki Yuill supported by operations manager Carol Kane, development officer James Conlan, development worker Joao Goncalves, alcohol and drug researcher Heather Still, community link worker (Cumbrae and North Coast) Michelle Trainer, community link worker (Arran) Lorraine Hewie and administrator Nikki Thom.
While a lot of its work is island based, the group also has responsibilities on the mainland in North Ayrshire and nationwide on relevant policy issues.
Vicki said: 'As a charity, we are governed by a board of directors. It is a very supportive board, dedicated to the work of ACVS and its benefits to the Arran community, while on the ground we have an amazing team.'
This week the Banner looks at the work of ACVS over the past year.
Main story
Arran Community and Voluntary Service (ACVS) has core responsibilities in supporting not-for-profit groups and organisations.
In 2019, its quarterly networking forums brought together organisations that would not generally connect. Support and information from North Ayrshire Green Health Partnership, Arran Geopark, Arran Eco Savvy, Big Lottery, Just Enterprise and North Ayrshire Community Benefits was also received.
Through discussions at forums, the team identified training requirements which led to local delivery of volunteer management, adult support and protection, basic book-keeping, social media and General Data Protection Regulation courses.
A shared resources register was created electronically by development officer James Conlan. This holds information on who has equipment which can be shared, borrowed, hired or loaned, saving groups time and money should they host events or activities in need of particular items.
The link is available 24/7 for any group to add equipment to or browse for borrowing.
ACVS also provides one-to-one support for anyone needing help with governance, funding applications and training. This year, 97.5 per cent of users felt services met or exceeded expectations.
Involvement with health and social care integration continues to increase and allows the small organisation to take on a big role within its development, having lead responsibilities as third sector representative for all of North Ayrshire and Arran.
ACVS chaired two of the quarterly forums which bring together children's services and health and care providers across North Ayrshire. These forums include bigger charitable organisations that provide valued services and are a mechanism for them to engage with local authority and other partners to discuss needs, share issues and learn about new developments.
At a local level, ACVS is involved in discussions which address priorities and gaps in provision. This involves working with other groups and organisations and sharing information through email, website or the Third Sector Interface newsletter.
ACVS hosted the only hustings in North Ayrshire and Arran prior to the general election. This well-attended event gave people the chance to meet and question candidates.
The charity continues to raise awareness of relevant policy, including the Islands Bill, and encourage and support Arran residents and service providers in feeding back their concerns during public consultations.
Examples of consultations disseminated include the provision of counselling at schools; mental health law review from the perspective of professionals and people with personal experience of the system; inquiry into social care for people who had been cared for or were someone's carers  and out of school care, for which ACVS organised focus groups.
ACVS is keeping the momentum going in 2020 and is organising, alongside staff from the Scottish Parliament, sessions around climate change with groups which are harder to attract to formal consultations.
ACVS host projects fitting with charitable aims. In 2019/20 it sourced funding for an alcohol and drug research post to investigate the scale of hidden use and map support improvements required for those affected and their families, as previously featured in the Banner.
Community link worker Lorraine Hewie continues to help residents in need of non-medical assistance and smoking cessation and weight management. This year the link worker arranged 548 appointments, helped 14 people quit smoking and 29 people to lose enough weight to improve health conditions including type 2 diabetes, hypertension, liver/heart disease and cancer.
ACVS also raised awareness of the Arran Churches Together foodbank via the reverse advent campaign and the need for contributions.
Additionally, employment of a link worker on neighbouring Cumbrae and North coast has proved successful. Supporting people in vulnerable situations with one-to-one assistance, setting up mental health groups, providing food and clothing bank support, other community activities and appointments have all been achieved.
Social isolation projects featured highly. Befriending Arran has embedding itself in the community with volunteers securing successful matches leading to positive stories around reducing loneliness and isolation, which is as harmful to health as smoking 15 cigarettes a day.
A second lunch club has been launched and continues to thrive with both clubs providing regular social contact for older people plus a delicious hot meal.
The weekly Umbrella project also provides vital connections and craft activities selected by participants. It has increased its scope by venturing out to other areas of interest.
Arran Acorns brings together the young and young at heart in a sheltered housing complex for fun activities and interaction which lifts the spirit of participants and melts the hearts of observers.
In 2019, ACVS delivered 136 sessions across both lunch clubs, Umbrella project, Befriending Arran project and Arran Acorns which, in turn, provided 1,621 opportunities to combat social isolation.
Projects are supported through co-ordination and administration by the ACVS development officer where gaps and need have been identified by the link worker or through work with health and social care partners. These positive outcomes would not be achieved without the ACVS's much appreciated, friendly, dedicated and trained volunteers, of which there are 31, who give freely of their time and expertise.
This year volunteering awareness has been increased, especially around new Saltire arrangements for young people and the benefits available to them. To date, 32 certificates have been awarded. A quarterly volunteer newsletter continues to promote vacancies offering island opportunities.
ACVS has taken the lead on developments of the Dementia Champions group which is driving forward training and plans to create a Dementia Friendly Arran Community. This includes supporting free island wide dementia friendly training for public facing businesses.
New volunteers are encouraged to join and support this or any of the activities of the group when lockdown is over. Telephone 600611 if you want to get involved in the future.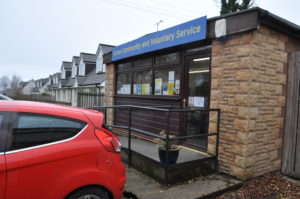 The ACVS team Joao Goncalves, Carol Kane, Heather Still, Lorraine Hewie, Vicki Yuill and Nikki Thom. Photograph taken in March. 01_B13acvs01
The ACVS office in Lamlash. 01_B13acvs02
Youngsters from Lamlash early years with pensioners at a special ACVS Hallowe'en lunch at the McKelvie Road sheltered housing complex. 01_B45lunch01
Sarah Cowan with her befriending dogs Corrie and Mini at a ACVS Befriending Project lunch in Lamlash. 01_B46friend01
The general election hustings organised by ACVS last year. 01_B48elect03
Sue McLintoch presents Carol Kane and staff at the ACVS with their Carer Positive award in November 2018. 01_B46care01