Memories of Arran childhood holidays – part two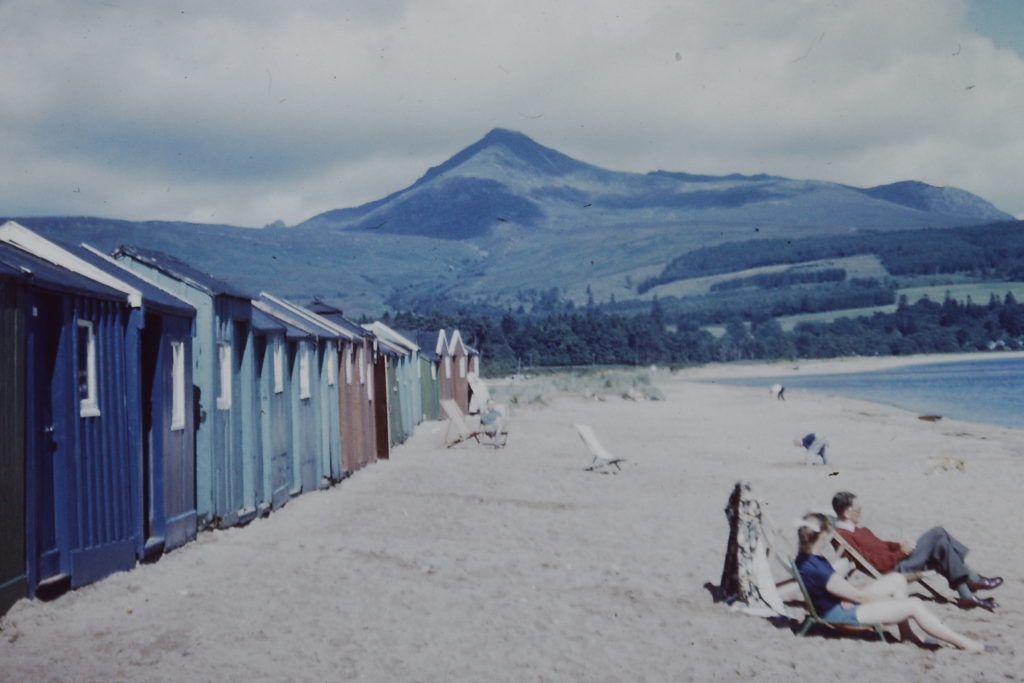 Want to read more?
We value our content and our journalists, so to get full access to all your local news updated 7-days-a-week – PLUS an e-edition of the Arran Banner – subscribe today for as little as 48 pence per week.
Subscribe Now
Colin Bowes has fond memories of his childhood holidays on Arran. Although he now lives in Lytham in Lancashire, he has compiled them into an essay which has been serialised in the Banner. This is part two of the three part series. We hope our readers enjoy this trip down memory lane in these dark times.
Part two
The family made lots of friends, who as returnees, we met each year. There were many boys and girls in those families of my age. We became good friends, most of those families also renting a bungalow or a house for the month or in some cases staying at guest houses or hotels such as Saint Denys, Saint Elmo, Ennismor, Kingsley, Douglas, Invercloy, Kilmichael House, Altanna or Auchrannie. One thing that was common in those days was for us children to travel to our holiday destination in our school uniforms. We also wore them on occasion during the holiday particularly if we attended a Church service.
The Lyndene Tearooms (now The Byre at Brodick) run by the McNicols were frequented by the smartly dressed parents but at night when the tearooms (the left hand side of the property as you entered by the front door) were closed for business the right hand side of the building was open as a takeaway fish and chip shop run by Archie McNicol, a son of the business owners. This is where 'the young ones' would visit for six pennyworth of chips or a fish supper but perhaps more importantly to listen to the hits of the day. You see there was a record player in the ordering and waiting area where Archie would play his gramophone records.
It must have been in August 1957 when a bunch of us walked in for our usual poke of chips and heard for the first time the opening bars of 'All shook up' sung by Elvis Presley. Of course we knew and loved Elvis already but this was his latest record. It was magical!
Awella bless my soul awhat's wrong with me?
I'm itchin' like a man on a fuzzy tree
Ma friends say I'm acting wild as a bug
I'm in love … I'm All Shook Up
The record was played over and over again.
The chippy at the Lyndene had competition from the chip van, a converted charabanc which parked on certain evenings of the week at the side of Curries and from where, via a central serving hatch, we could purchase chips or fish suppers to be eaten with the fingers once the delicacy had been coated with an unhealthy amount of salt and vinegar. The main problem which arose from this alfresco dining was the midges as we were continually smacking them from our faces with greasy, salty, vinegary hands.
Pellegrini's café and ice cream parlour (now The Book and Card Centre and Post Office) was a must visit venue famous for the wonderful home made ice cream. My choice of the offerings was two scoops of vanilla ice cream served in a glass dish and eaten with a spoon, the delight being smothered in marshmallow sauce.
Mr Pellegrini's Juke Box was important to us as we could pay for and select our favourite hits of the day. In addition to All shook up there are other tunes that bring back memories of those happy days spent with my family and my fondly remembered holiday friends. They are Wonderful Land by The Shadows, Because They're Young by Duane Eddy and the The Rebels, I Remember You by Frank Ifield and Adious Amigo by Jim Reeves.
'Away from these memories my life I must spend adios amigo adious my friend.'
The 'cinema' held at the Brodick Public Hall was a mighty favourite most of us not missing a showing. Films that I saw there include The Silent Enemy, Violent Playground, Pal Joey (where I fell in love with Kim Novak), Geordie (Come away ma wee Geordie!) 6.5 Special (featuring my hero Lonnie Donegan), Campbell's Kingdom, The 39 Steps (the Kenneth More one), The Hound of the Baskervilles (the one with Peter Cushing and Andre Morell), Idol On Parade, Carry On Constable and The Two Way Stretch.
What should we do after a visit to the pictures and a walk along Shore Road? A visit to the back of Wooley's bakers shop to the bakery where the door was always wide open to let some heat out and where for a penny the bakers sold a freshly baked breakfast roll still hot from the baking and eaten there and then and just as they were. No filling needed.
An annual treat would be when dad took us to Alexanders (up until recently Hair and Beauty) and let us chose our holiday book. Alexanders, newsagents, bookshop, tobacconist, toys and games, fishing tackle and buckets and spades, was a special place and is sorely missed. The split front door is still the same as I imagine is the door knob. The shadows of those thousands of folk who have passed through those doors and who are no longer with us remain. I seem to recall a bell ringing when the door was opened into that magical kingdom.
'Every time a bell rings an Angel gets its wings.'
At that time I was not a great reader. Comics such as The Eagle, yes, cowboy comics and annuals featuring Buck Jones, Kit Carson, Roy Rogers and Buffalo Bill, yes, Oor Wullie and The Broons annuals, yes! Books? Not really.
To encourage me Mum chose a book in Alexanders entitled 'A Princess of Mars' a science fantasy novel by Edgar Rice Burroughs who was, I would guess, more famous for his Tarzan books. One day the two of us went for a walk and she brought along the book and as we walked she started to read to me. The story captivated me and that night I started to read the book from the page that mum has reached and found that I couldn't put it down. Thereafter I discovered John Buchan, Arthur Conan Doyle, Edgar Allan Poe and 'A Christmas Carol' by Charles Dickens, but I still liked comics.
I mentioned hiring a rowing boat and fishing in Brodick Bay but our best fishing experience was from beneath the pier. In those days – pre nanny state and disproportionate health and safety regulations – you could wander up and down the pier day or night. There is still a set of fixed vertical ladders down the side of the old pier where we boys would descend and then clamber over barnacle covered beams clutching our wooden fishing reels to a position about centre of the pier and from there catch dozens of what I was assured were called saithe.
Having the pier decking above us created perfect visibility into the waters below there being no sky reflection. Not one of my pals fell in but it was a worry to our fertile imaginations that a slip into the depths below could be the end. We had once seen a basking shark just off the pier and knew it would be waiting to gobble up any poor unfortunate chap who lost his footing. The fish were only small and seemed to like being caught whether the hook was baited or not. The bounty from our fishing trip would then be thrown to the squawking gulls from the pier head with us watching them catching the fish mid flight. There were no 'Do not feed the gulls signs' in those days …
See next week for the third and final instalment
Colin's brother and sister, Alice and John, enjoy time on the beach in 1958. No_B13memories02
The Brodick beach huts in 1958. No_B13memories03
Colin leaping from a boat carrying John and Helen, two McPhersons and a Kelso in 1958. No_B13memories05
Alice and Colin at beach hut 15 Brown in 1962. No_B13memories10