Arran Banner letters – week 14 2020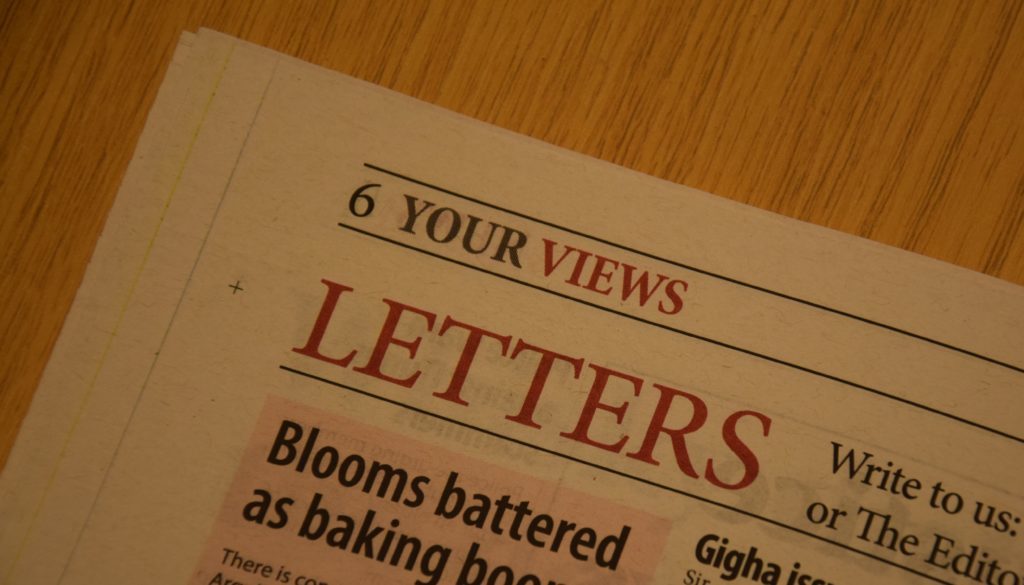 Want to read more?
We value our content and our journalists, so to get full access to all your local news updated 7-days-a-week – PLUS an e-edition of the Arran Banner – subscribe today for as little as 48 pence per week.
Subscribe Now
Ormidale welcome
Sir,
I'd just like to pass on my thanks to everyone at the Ormidale Hotel for making us feel so welcome on our recent visit.
We've been coming to Arran for longer than I care to remember, and to the Ormidale for half a century.
We'd had a difficult year and were badly in need of some quiet time. Arran was the ideal destination. We actually booked months ago and had our original booking cancelled thanks to CalMac, and as we boarded the ferry the idea of bar and restaurant closures was simply a rumour, which might happen at some point in the future.
We didn't expect that the Ormidale would be forced to close down on the Friday night, and we were booked to stay until Monday. Full marks to Tommy, Laura and Trevor for making us feel under no pressure to 'evacuate' until we felt ready to do so.
We eventually left the island one day ahead of schedule, feeling refreshed and delighted by the welcome we had received from the people of Arran.
I only wish we'd left under happier circumstances.
I'm sure Tommy, Laura and Trevor aren't the only hoteliers who face a worrying future, especially after such a difficult start to the year. I'm also sure I speak for very many regular visitors who are thinking of you all at this unhappy time.
Arran is a very special place, populated by very special people. In the dark days ahead, be sure that many of your regulars will often remember the happy times spent with you, and will do their utmost to come back to see you all soon.
We fully expect an invitation to the grand reopening of the Ormidale!
Yours,
Alison Allan,
Gourock.
Distancing advice
Sir,
The government's core injunction to all is to keep a two metre distance. Essential counsel!
But it is not easy to say to friend or stranger when you meet and they want to chat, or whatever, in effect, 'back off'. They might well comply but may never greet you again!
May I suggest everyone on the island get accustomed to saying (and everyone accustomed to hearing) the simple, polite and understandable 'keep your safe distance please'.
If this simply greeting spreads, and is obeyed, it will greatly help prevent the spread of coronavirus. And sooner, rather than later, we will be able to meet and greet appropriately once again.
Yours,
John G Webster,
Kings Cross.
Bide at hame
Sir,
My prophetic grandmother who passed away 75 years ago regularly dispensed her cure for the world's ills … 'bide at hame'.
Yours,
Mr L O Proudfoot.
Brodick.
Stay Home Save Lives
Sir,
For the first time in living memory we are facing a global pandemic which tests the ability of our health service, which tests our economies, and which tests our resilience as a country.
I'd like to put on record my sincerest thanks to the heroes in our health service, public services, emergency services and armed forces who are working around the clock to care for us, help us and keep us safe. The unsung army of community volunteers and everyday acts of kindness should not be forgotten either.
The difficult decisions currently being made by both of our governments seem unnatural to us as a society – no least to me as a politician. To be restricted, our freedoms limited, our movements questioned. In a normal democracy these things feel intrusive and difficult to accept. But let me be clear, they are absolutely necessary.
The months ahead will be challenging; many will face difficulties through the loss of income, social contact and routine. Scotland's two governments, as well as our local councils, are trying their best to react to this fast moving situation. We too have a role to play in this. Look after each other and look out for each other. The normal rules of political and societal division should be left behind.
There are many ways we can play our part. Be it checking on a vulnerable neighbour, picking up their shopping or prescriptions for them, to staying at home and away from crowds or unnecessary social gatherings.
My staff are working remotely, nonstop, to help with a wide and varied nature of situations. We don't always or immediately have all the answers, but all your local councillors, MPs and MSPs I know are working flat out to help you.
We can also use technology to create community support networks or use social media to keep in touch and keep each other going. For those without gadgets, pick up the phone.
There will be an end to this crisis and our lives will eventually, we hope, go back to some form of normality, whatever that normality may be. In the meantime, the rules are simple: Stay indoors to halt the spread of the virus, only go out for essential shopping, or for medical reasons and if you can, you must work from home.
Stay Home. Save Lives.
Yours,
Jamie Greene MSP
Member of Scottish Parliament for the West Scotland Region
Plate Up
Sir,
We find ourselves writing this in uncertain times.
The past two weeks have seen all of us have to change our lifestyles dramatically, and come together as one. Every area of our lives has been turned upside down, and for the first time in living memory many families have had to consider what life would be like if they didn't have enough food to eat.
Thankfully, the brilliant people working hard to keep producing and delivering the food we need have come to the fore, and there is more than enough food for us all, as long as we are careful wincluding poor growth, diabetes, mood swings, and lowered immune systems. Not to mention reduced learning capabilities simply because of being hungry.
As supporters of Plate Up, we are urging your readers to stand with us and donate £5 to help feed two hungry children during these difficult times, by texting PLATEUP to 70085.
This is such an unprecedented time, but, if your readers are fortunate enough to be able to help, their donation will make a big difference to children who desperately need it.
Yours,
Nadiya Hussain,
C/O Plate Up,
London.
Thomson apology
In an article in last week's Banner headlined 'Lorry slips from road at tight bend' we referred to the vehicle involved as belonging to John Thomson Ltd. We now accept this statement was made in error and apologise to the company for any inconvenience caused.