Arran Banner letters – week 08 2020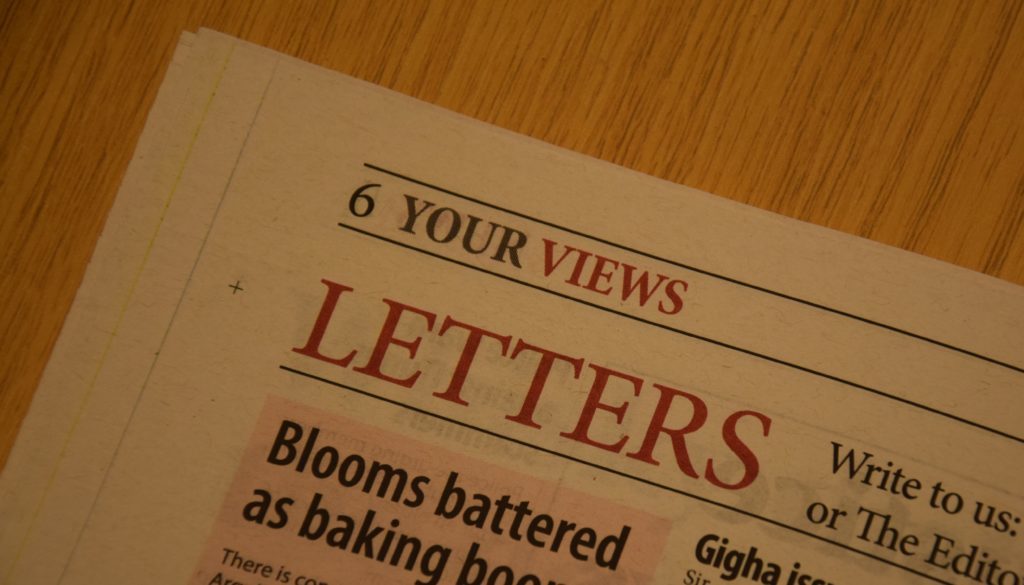 Want to read more?
We value our content and our journalists, so to get full access to all your local news updated 7-days-a-week – PLUS an e-edition of the Arran Banner – subscribe today for as little as 48 pence per week.
Subscribe Now
Public sector procurement
Sir,
It seems to be the case that all major works procured by government, councils and civil servants are liable to what many of us see as mismanagement at best and cronyism at worst. On Arran many of us have been focused on the ferries at present because of the abysmal service we are getting and we feel that it does not have to be like that. We watch as impotent bystanders whilst our supposed elders and betters wrestle with the obvious and elect to take the worst course of action whilst wasting precious time and money which could have been better spent elsewhere.
Think what we could have done on Arran with the funds left over from properly managing the provision of our ferry services. It seems we had a total of say £25m for Brodick, £35m for Ardrossan and what turns out to be something of the order of £100m for the new ferry itself to spend. The population of Arran is something just under 5,000. Why do we then need a ferry and terminal(s) capable of accommodating a total of 20 per cent of the total population of the island at any one time? Bear in mind too that at the terminals maybe 40 per cent of that number will not be in the terminal building, but in their vehicles.
We know that the proposed new Glen Sannox is oversized for Ardrossan harbour and frankly the way the rumours are going at the moment, it is quite likely we may never see her at all. So we may never know if she would have been able to use Ardrossan harbour effectively in heavy weather, whether the harbour is modified or not.
There is a ferry operation – Pentland Ferries – whose management seems to have addressed a similar problem rather more effectively than the local cohorts of the great and the good. Pentland Ferries began operations a few years ago in direct opposition to Northlink, a heavily subsidised, government backed operation, and seem by intelligent application of resources, to have carved out a profitable operation. Indeed so much so that recently they have gone for a larger vessel, the MV Alfred, capable of carrying 430 passengers and 98 cars (or a mix of 54 cars and up to 12 articulated lorries.). Furthermore the MV Alfred is significantly fuel efficient – a very real advantage with our present day fixation on carbon footprint.
We have had some really heavy weather recently and the Caledonian Isles (crew 26/1000 passengers/110 cars/burning lots of fuel) has been significantly disadvantaged by that. At the same time crossing the wild Pentland Firth has been challenging to say the least – however whilst the Northlink ferry has been laid up for weather, Pentland Ferries has continued to provide a service – albeit slightly modified – now we'd love to have some of that between Ardrossan and Brodick, I think.
So what is the cost of this apparently somewhat more resilient service. Well the crew on the MV Alfred is a mere 13 – albeit they are based ashore and not on board thus at times of need a round the clock operation can be provided by the simple expedient of having a second crew – and even two crews of 13 would only just reach the manpower of one Caledonian Isles. The cost of this new ship was £14m. Yes that is the figure published, £14m.
So, just to recap – ask yourself, did we need £25m spent on Brodick when perhaps all we needed was a linkspan repair and refurbishment – say £1m. Ask yourself, do we need a £35m refurbishment for Ardrossan when all we really need is refurbishment of the Irish Berth linkspan and perhaps the main linkspan. – Say £2m and we need a Gourock linkspan to be working as well – Say another £1m. So that adds up to £18m for a service which would have a fighting chance of being genuinely resilient – let's add on another boat at £14m – so that we have some redundancy and extra capacity to address that need for getting on for 20 per cent of the Arran population needing to use the ferry all at once – out or back. Two boats (to cover summer rush and maintenance) at £14m = £28m, plus four linkspans at £1m a pop – adds up to £32m. Nothing flashy and unnecessary needed to have been done – so just what could we have done for the good of the island with the remaining £128m – and don't forget the significantly lower operating costs? Unfortunately it's now too late but if we did just that even now then we'd have two boats – so some measure of redundancy – and availability for servicing, and £3m left over together with lower operating costs. Bet it won't happen!
Tragically, it is not just our ferry service that suffers from what many of us see as a gross waste of public money. Look at the third runway at Heathrow that hasn't been built (lots spent, not built), the tram service in Edinburgh that is yet to be completed, the HS2 railway line that has yet to be built, the Channel tunnel project (completed now) but which was first started when Queen Victoria was on the throne – etc. etc.etc.
We have to admit that our politicians, councillors and civil servants do not really seem to sparkle at these things. They are fettered by what has gone before, by their budgeting systems and they seem frightened of original thinking. Instead they build monsters like the Brodick Terminal, bestow them with 'a prestigious award' (whilst passengers gratefully tumble down the stairs to miss their buses) and then justify their errors on the basis of the gift of that prestigious award. Doesn't really cut much ice does it?
Is it not time to wake up?
Yours,
Rory Cowan,
Kildonan
Judicial enquiry
Sir,
Whilst reading last week's 'Arran Banner' I was initially pleased to note correspondence from Patricia Gibson, MP in the expectation that it might shed some light on the shambles that is the situation with the building of new ferries to the island.
I recognise of course that this is a devolved matter – but then the SNP at both Westminster and Hollyrood have never been slow to interfere in issues outwith their remit.
Not so – instead Gibson's letter focused on the European Union, and the falsehood that Scotland voted to remain. Not so – 62 per cent of those who voted in 2016 cast their ballot papers in favour of the United Kingdom remaining in the EU – not Scotland – as indeed distinguished members of the SNP like Alex Neil and Jim Sillars have recently pointed out.
Indeed the SNP's support for the EU is rather odd, given that they spent less on campaigning in the 2016 vote than they did in the Westminster by-election for the Orkney and Shetland constituency.
An independent Scotland would have very little chance of being admitted to the EU – as Spain for one would certainly block any application, given its' own internal situation with both the Basques and Catalonia.
Meanwhile Jim McColl's recent evidence to the ferry enquiry was most illuminating – his criticism of the First Minister was scathing. A full judicial enquiry must surely now be held.
Yours,
Bobby Whitacre,
Glasgow.
Sir,
I live here in Brodick and like most islanders depend on the Coop for our shopping.
I did my shop this morning (Monday February 17) finding the shelves well stocked and the shop as usual in a clean tidy atmosphere. The workers were busy filling shelves and as I saw the manager approach I felt the need to stop her and offer her praise for all the good hard work done in the view of the situation with our ferries etc. Folks are so quick to complain, but nice to offer praise and support and was kindly taken.
I was shocked to hear that she, the manager came into work at 4am to keep contact with the mainland warehouses and also Colin McCourt the manager of CalMac, in the efforts to keep things flowing. The staff, some have done double shifts, not yet received extra pay, and gone out of their way to smooth things over regarding the horrible weather conditions, all over and above their call of duty.
Like myself, I am sure most of the islanders are unaware of just what great efforts go on in the background to keep up the great standard the Coop offer us. They are the first ones to support any of our charities and often give donations, so I think it's about time The staff deserve all the accolades due to them.
Have a wee word with the manager. Let's show them all we appreciate all their efforts and acknowledge our unsung heroes who 'are merely doing their job'.
Yours,
Eleanor Hamilton,
Brodick.
Tracing cousins
Sir,
I am trying to trace my cousins who all, I believe, live on Arran. Their maiden surname was Green but I do not know if they are married or not. Their Christian names are Kate, Mary and Sharron and I believe Sharron has a son named Shaun Paul.
Their father was Anthony, known as Tony and their mother was Mary. Any help in finding them would be very much appreciated. My email address is nina2141@mac.com
Yours,
Nina Bayer,
Kilmarnock