Arran Banner letters – week 03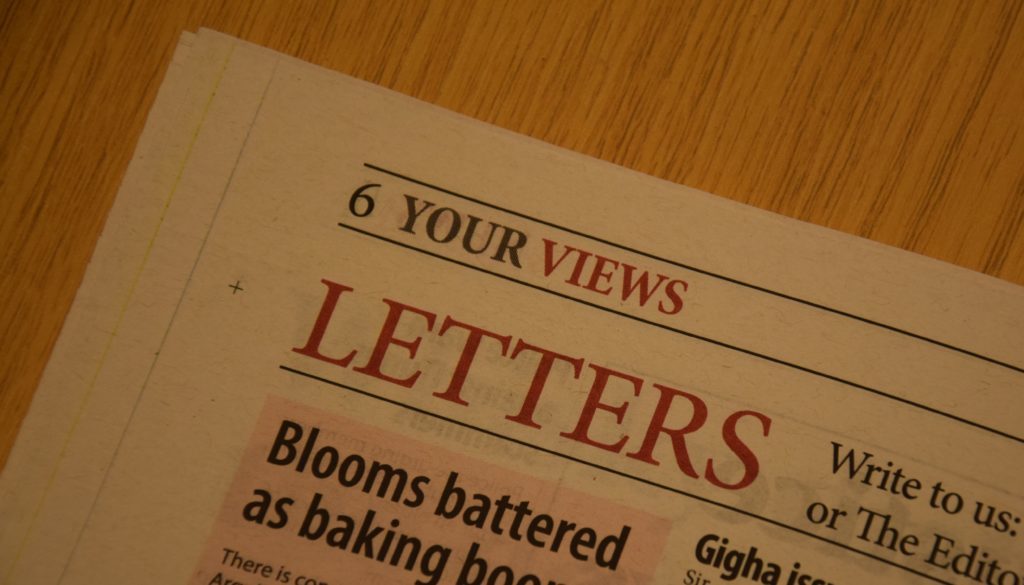 Want to read more?
We value our content and our journalists, so to get full access to all your local news updated 7-days-a-week – PLUS an e-edition of the Arran Banner – subscribe today for as little as 48 pence per week.
Subscribe Now
Tesco kindness at Christmas
Sir,
It is not often one can praise the service and customer care from a supermarket but this Christmas Tesco in Irvine deserves the greatest 'thank you' that my husband and I can give.
My husband, Mike, is rather seriously ill and has a very poor appetite. When he said he would like one of Tesco's turkey joints with trimmings for his Christmas dinner I was determined to get one.
I caught the 8.20am boat from Brodick to Ardrossan, walked up to Prince's Street and waited in the cold wind for half an hour for the Ayr bus which took me to Tesco's in Irvine.
Imagine my disappointment when I found they hadn't any turkey with trimmings left. I asked for help so Julia and Amanda searched the back store to no avail. Then Russell, the store manager, came to my rescue. He found the Kilmarnock store had one and sent Stacey to pick it up for me – as it would have taken three buses for me to get there – meanwhile he treated me to a cup of tea whilst we waited.
On Stacey's return, Russell presented me with the turkey and trimmings as a Christmas present – I was overwhelmed, but Russell decided that wasn't enough and dispatched Amanda and me to choose a jumper each for Mike and I as Christmas presents. His kindness reduced me to tears – not an easy feat as anyone who knows me can testify!
The spirit of Christmas lives on in people like Russell, Julia, Amanda and Stacey. Thank you Tesco so much for your thoughtfulness, kindness and generosity. Why don't you open a Tesco's on Arran?
Yours,
Liz Rose,
Lamlash
Lights thanks
Sir,
Just a wee note to say thank you to everyone who braved the weather and came round to look at the Christmas lights this year and to those who made a donation. A cheque for £107 has been sent to Whiting Bay Improvements.
Once again thank you and hopefully I will be doing it again next Christmas which will be the 31st year.
Yours,
Bernie Jackson
Whiting Bay
Ferry madness
Sir,
As I write this (Tuesday January 7) the MV Isle of Arran and Hebridean Isles are tied up at the monstrosity that is the new pier at Brodick. The Bute ferries are running a passenger service to Gourock (the linkspan there having been out of service for months if not years).  Meanwhile on the Pentland Firth, a notorious stretch of wild water, even in calm weather both the Northlink Ferry Hamnavoe and Pentland Ferries Alfred have both manage to maintain service to the Orkneys. In Alfred's case having crossed the Firth several times. When will someone/anyone wake up to the idea that CMAL may not be fit for purpose and CalMac's insistence on using Ardrossan, with no back up port for the Brodick service, be seen for what it is, MADNESS.
I go far enough back to remember Fairlie, a sensible winter alternative, unfortunately consigned to the history books; And a time when the ferry, the MV Isle of Arran, would run to Gourock, to the inconvenience of all, but at least it maintained a link. Come on CMAL fix the linkspan at Gourock even if it means the passengers have to exit via the car deck (just like the Irish Berth at Ardrossan).
Yours,
Eric Gilmour
Lochwinnoch
Joined forces
Sir,
It was with a strong feeling of deja vu that I read PW Yates' letter published in last week's Banner; I wholeheartedly agree with the sentiments expressed but the views are not new – what goes around comes around and the woes and inconvenience we experience at the hands of the unreliable ferry service will continue. My view with issues of a technical nature is, 'They put two men on the Moon and got them back in 1969 – what's your problem?'
I was interested to compare the article featuring Sally Campbell and the Arran Ferry Action Group with the update from the Arran Ferry Committee; the latter stating that the recent disruption was 'unacceptable'. We all know that, but it keeps happening, again and again and again. If it came to an election as to which group is more effective in representing the views of the island population and more focused on matters that need urgent action, my vote would go to the Arran Ferry Action Group.
Why cannot these two organisations join forces and work together?
Yours,
Brian Grindall
Torbeg
Ferry failures
Sir,
The saga that is CalMac rumbles on and things don't look likely to improve anytime soon. But I do get annoyed when the company blame all on the weather when there are other shortcomings quite often to account for reduced service.
Two of note occurred on the weekend of 4/5th January. The first was the withdrawal from service of the Caledonian Isles on Friday 3rd instead of Monday 6th while being fully aware of the large number of bookings to leave Arran that weekend.
The other, which is an ongoing issue, is why cannot a decision to cancel the service 'for the rest of the day' be revoked when weather conditions improve as happened on Sunday 5th?
It was good to read the report of Arran Ferry Committee and I hope that they will challenge bad decisions such as these.
Everyone on Arran has a gripe with the service and nothing short of a public inquiry into the whole debacle which is CalMac/CMAL and taxpayers money already expended will suffice.
It will take a concerted campaign by all parties to seek even limited mitigation such as the reinstatement of Gourock and impress upon the Scottish Government that the current situation is not sustainable for Arran .
Special appreciation is due to Gavin Fulton, chair of the Arran Ferry Action Group, who has become an excellent media correspondent and spokesman. All power to him for keeping up the pressure in the public domain.
Yours,
Margie Currie
Blackwaterfoot