Seeking your vote – the candidates have their say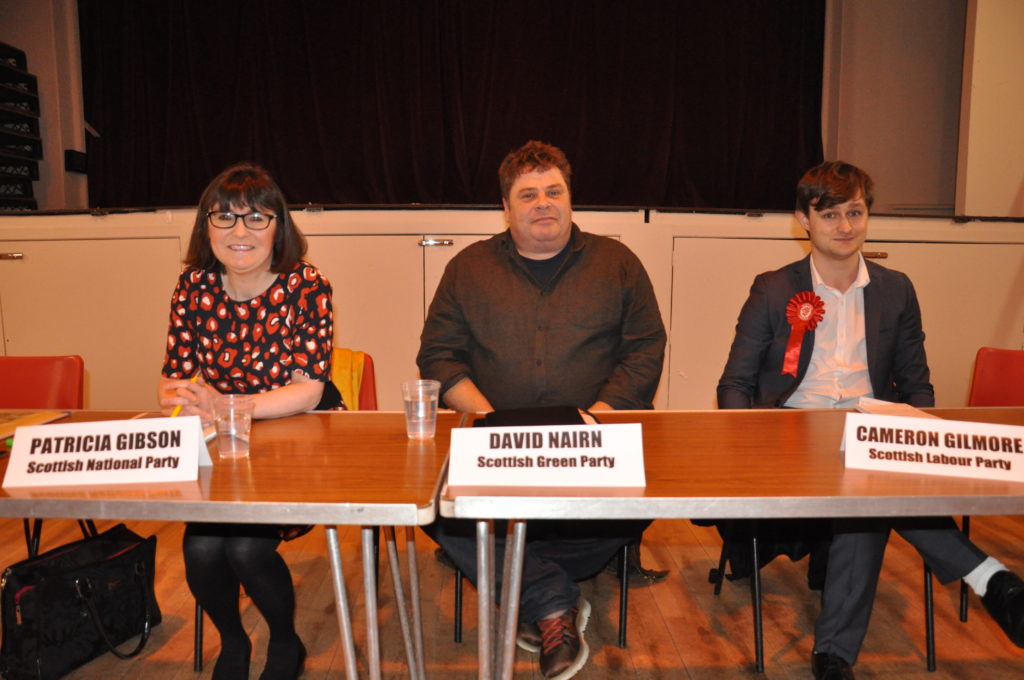 Want to read more?
We value our content and our journalists, so to get full access to all your local news updated 7-days-a-week – PLUS an e-edition of the Arran Banner – subscribe today for as little as 48 pence per week.
Subscribe Now
Standfirst
The country goes to the polls on Thursday December 12 in the general election. In the North Ayrshire and Arran constituency five candidates are seeking office. Here we give each of them the chance to say why they should get your vote.
Patricia Gibson
Scottish National Party (SNP)
I enjoyed participating in last week's Arran hustings, where a host of local and national issues were raised. It was a pity that the Tory candidate was a no-show and the Liberal Democrat did not respond to the invitation, particularly as it was the only hustings held in North Ayrshire and Arran constituency. I know that islanders were keen to put their questions to us.
This election will have far reaching and long-lasting consequences.
We face the prospect Scotland of being dragged out of the European Union, against the votes of 62% of us who voted to remain.
England has voted to leave the EU and will leave. Wales voted leave and will do so.  Northern Ireland voted remain and will enjoy a special deal.  Scotland voted remain and has been ignored, despite our attempts to compromise and work across party lines. Indeed, the Prime Minister's Brexit Withdrawal Bill runs to 548 pages and does not mention Scotland once.
Make no mistake, the mantra of 'Get Brexit Done' is a con.  Brexit will drag on for years and we still face the prospect of crashing out of the EU next year if talks don't go as planned.
We have no guarantees on workers' rights, consumer rights, environmental standards, protection of our NHS in future trade deals and increasingly we will see standards in these and other areas diverge from the EU and not to our advantage
The only people who should determine Scotland's future are the people who live and work in Scotland, including having the choice of independence.
We can choose to take that future into our own hands and build the kind of society we want, a more equal and more compassionate society.
This election provides an opportunity to lock our current Prime Minister out of Downing Street and in this constituency only the SNP can beat the Tories.
I ask that, once again, you place your trust in me to be your voice in Westminster and raise the issues that matter to you.
As your incumbent candidate, I have been a hard-working, accessible and hands-on MP, acting improve lives on Arran. Not just on the many broader issues of helping those suffering under Universal Credit, or the relentless attack on older people set to lose their free TV licences and suffer due to changes eligibility for Pension Credit.
I have also stood up for Arran's whisky industry, speaking at Westminster against the 25% import tariffs on malt whisky levied by the US; tackled "not spots", which can pose a danger to life in emergency situations and where there have been recent improvement in this regard; worked with constituents to secure effective broadband connections; campaigned against the discrimination islanders face in relation delivery charges, climate change and helped establish the Arran WASPI group, as they pursue for the return of their pensions, denied them by the UK Tory Government
On December 12, I urge you to put Scotland's future in Scotland's hands.  Vote SNP and let Scotland's voice be heard.
David Rocks
Scottish Conservative and Unionist Party 
I was sorry to miss last week's Hustings in Brodick but rather surprised that Mrs Gibson felt she could attack my absence as 'shocking' in a tweet the next day. The London Bridge incident was shocking. The NHS crisis in Scotland is shocking.
I have had a long-term commitment as co-founder and accompanist of the North Ayrshire Workplace Choir of council employees (not schoolchildren as she denigratingly mocked) and agreed to be with them at a charity concert in West Kilbride,  long before the election was called. The only reason that I can think for her comment is she knows her coat is on a shaky peg. The Conservatives in North Ayrshire and Arran are fighting a strong campaign and people who voted Remain or Leave, say NO to a second independence referendum or both are pledging support to me (including many Labour voters) to ensure that we get Brexit sorted and deny Nicola Sturgeon her independence referendum.  Jeremy Corbyn is happy and willing to promise Indyref2 in return for the keys to Number 10. Is that really a risk worth taking?
I fought this seat in 2017 and slashed the SNP majority from 13,573 to just 3,633. This truly is a two-horse race and the stakes have never been higher.
Let's turn to Arran matters.
No-one in the SNP run Scottish Government has been properly held to account over:
The failed CAP IT system which couldn't pay our farmers.
The competent delivery of ferry services to the islands.
Undue criticism of our farmers when it comes to meeting climate change targets.
The investment in rural services with reduced Council budgets.
I will support our plan for a new farmer's support scheme which meets Scotland's needs, designed and backed by a Conservative majority government, pledged to match the current annual budget available to farmers, in every year of the next Parliament so that, by finally getting a Brexit deal agreed, our farmers, producers and crofters will have certainty for the future.
I recognise the importance of affordable housing to the island's future.
I will fight tooth and nail to support our thriving tourism industry on which so many local jobs depend, and which can only be achieved through proper connectivity, decent transport links and reliable ferries.
The failure to complete the Glen Sannox for the Arran run at Ferguso'ns at Port Glasgow is an absolute disgrace – shocking even! The action by the SNP government to fail to give you a timescale for the completion of the ferry is unacceptable to the island community, dependent on aging vessels.  I support Scottish Conservative MSPs in their call for a public enquiry into the provision of ferries in Scotland. I will take a close personal interest in this on-going saga and support the island in its demand for a comfortable and reliable ferry service.
In this general election, I am standing to be your voice at Westminster. A voice which works with the UK government, not against it.
Cameron Gilmore
Scottish Labour Party
I'd like to start by thanking Arran CVS for the opportunity to come over and attend the election hustings in the Brodick Hall. It was a really positive experience and I'm glad that we had a constructive discussion about our different policies for the forthcoming Election.
It was a disappointment, yet, not particularly a surprise that the Tories and Liberal Democrats made the decision to abstain from attending the debate. I feel that the Party in power of our country should be present to justify their policies and decisions in the face of appropriate scrutiny, however, this is not only being avoided locally, but nationally as well as we see Boris Johnson duck out of debates.
Arran isn't just a beautiful part of our Constituency- it is a vital part. The tourism trade lies at the heart of our local economy and the goods sold from the Island; it's cheese, beer, aromatics and whisky, to name only a few, play a massive role in our exports.
At a political level, it is our duty to ensure that the Island is able to thrive and able to function.
We all know the housing challenges Arran faces. There are not enough social or affordable homes, the average house price is through the roof and there is an increasing market for Holiday Lets which has made things even more difficult for locals.
Our Labour-led council built the first council houses on the island for a generation and they have been working with the Housing Trust to realise their ambitions.
This however, is only a start. Our Manifesto outlines an ambitious social house building programme for Scotland- we are targeting the building of 12'000 eco-friendly social and council homes a year for ten years.
This will be paid for from our National Transformation Fund, with Scotland receiving £32 Billion. £10 billion will be used for Social House Building and £6 billion is to be used to tackle Fuel Poverty by retrofitting every home in Scotland- whether privately or publicly owned.
This will help to drastically cut out carbon emissions and help people save money on their energy bills.
At the debate, I spoke at length about my personal reasons for running. I worked in the Gig Economy for years and understand the inequality which this creates inherently by its design.
If you look at the example of Auchrannie in Arran- there we have an excellent example of a good employer. They have invested in staff accommodation, secured living wage accreditation and made the decision to convert to employee ownership.
We need to make sure this example is followed elsewhere. We will introduce a Living Wage of £10 p/h for workers of all ages and ban exploitative Zero-Hours Contracts.
We will also introduce free, high quality Broadband, to help the Self-Employed and ensure our Islands are connected and stay competitive.
As your MP, I will fight for these transformative policies which can bring so much to our Constituency. We need to use this opportunity to remove the Tories after 9 years of failure and elect a Government with the vision and the desire to instil real change.
Accept no half measures for Arran. Vote Labour.
David Nairn
Scottish Green Party
David Nairn is the Scottish Greens candidate for North Ayrshire and Arran. He is asking for your vote to Demand Climate Action as only party that has a realistic proposition for tackling the climate emergency and rising global temperatures. David is a marine ecologist and involved with monitoring the marine life with the Clyde Marine Mammal Project. Arran residents and anyone working in outdoor environment will be sensitive to our changing weather patterns with conspicuous changes in temperature, rainfall and snow cover. This is causing significant shifts in the growing, breeding and migration seasons, as well as species abundance and diversity. Higher river flows are leading to flood risk and sea level rise contributing to coastal flooding. Reducing emissions of greenhouse gasses by 80% by 2030 is a key to Scottish Greens manifesto and climate change strategy and Scottish Green New Deal.
The social and environmental protections achieved in the EU are now in the hands of a chaotic Conservative government openly calling for a bonfire of regulation that risks lives. We need a Green voice to fight for these protections, backed by a Green vision to strengthen and deepen them for the future. We must co-operate with our European neighbours and why the Scottish Greens stand firmly against Brexit. The Scottish Greens support independence for Scotland and the right of the people of Scotland to decide their future. But while Scotland is part of the UK, we have a duty and right to try to extend this democracy. Devolution of powers must continue. We will fight for more powers over tax, social security, employment, migration and energy to be devolved to the Scottish Parliament, local councils, rural and island communities.
The current economic system has brought us to the brink of climate collapse, while stagnating wages and job insecurity have left millions in poverty. The Green parties of the UK are offering a Green New Deal that will tackle the climate emergency by accelerating the transition to a zero-carbon economy, create 200,000 good quality secure jobs in Scotland and improve the wellbeing and build a fairer and equal society. The Green New Deal cannot be delivered by the private sector alone. We will rebuild the public sector to work alongside a well-regulated private sector to deliver a transformational programme. We will end the scandal of working poverty by abolishing exploitative zero-hours contacts, upholding employment and trade union rights and closing the gender pay gap. Those who do the same work deserve the same wages, regardless of age.
Health, social care, education, housing and many aspects of transport are already devolved to the Scottish Parliament where Green MSPs are continually pushing the minority Scottish Government to go further, creating a better Scotland through bolder parliament. A vote for Scottish Greens is not just for emergency action and a healthier planet but also a vote for a fairer and more inclusive society, with rebuilt public services and sustainable transport for all. A Just Society and Green future for Scotland.
Louise Young, the Scottish Liberal Democrats candidate was invited to submit a statement for inclusion in this article but did not respond to either the Arran Banner or the office of the Scottish Liberal Democrats.
The following statement was submitted by the party's Edinburgh office and not the candidate herself.
A vote for the Liberal Democrats is a vote to stop Brexit, stop another divisive independence referendum, focus on local issues and build a brighter future for Scotland in the United Kingdom.
Politics starts at home. Liberal Democrats want to focus on the issues that matter to local people. We want to make sure communities voices are heard when it comes to new planning developments, changes to the bus service or closures to bank branches.
But what is at stake in this election is more of the same or a fresh choice for the future in our new leader Jo Swinson who is a stark contrast to Jeremy Corbyn and Boris Johnson who are stuck in the past.
We are aiming high in this election. We have a once in a generation opportunity to reshape our politics and give hope to the millions of people who want a fairer, brighter future.
Both the Conservatives and Labour have failed time and again to build a better future. We beat the old parties in Scotland in the European elections, and we intend to do the same again this month.
We've seen the chaos and uncertainty that Brexit has brought. Why on earth would the SNP want to start that all over again with independence, which would mean borders and checks between Scotland and the rest of the UK?
This General Election is about the direction of our country for the next generation. The Liberal Democrats have an ambitious plan to change the future of our country, where every person, every community and our planet can thrive.
Brexit has caused economic pain and uncertainty from Caithness to Cornwall and prevented us from tackling the real issues facing our country. That's why we are committed to stopping Brexit and using the £50 billion Remain Bonus to invest in our public services and tackle inequality.
In government, Liberal Democrats will invest in education and provide the money for the Scottish Government to recruit more great teachers, so that every child achieves their potential. Our Liberal Democrat vision is for Scottish schools to be the best again.
We are also committed to transforming mental health services so that mental health is treated with the same urgency as physical health.
Scottish Liberal Democrats have led the campaign for better mental health services in Scotland. At the moment children wait up to 2 years for the treatment they desperately need and services are hundreds of staff short. The SNP were 15 months late with their flagship strategy, delaying critical decisions and investment.
We want to see new mental health staff in all schools, GPs, A&E and police stations. We persuaded the SNP to make this investment, but their current level of commitment doesn't come
Rather than ploughing on with a damaging exit from the European Union or breaking up the UK with independence, Liberal Democrats want to deliver a brighter future for all of us.
Patricia Gibson, SNP NO_B49election01
David Rocks, Conservative  NO_B49election02
Cameron Gilmore, Labour  NO_B49election03
David Nairn, Greens NO_B49election04
The candidates who attended the election hustings in Brodick last week NO_B49election05
The audience listen to the hustings in Brodick Hall. NO_B49election06
Louise Young, Scottish Liberal Democrats. NO_B49election07