Arran Banner letters – week 49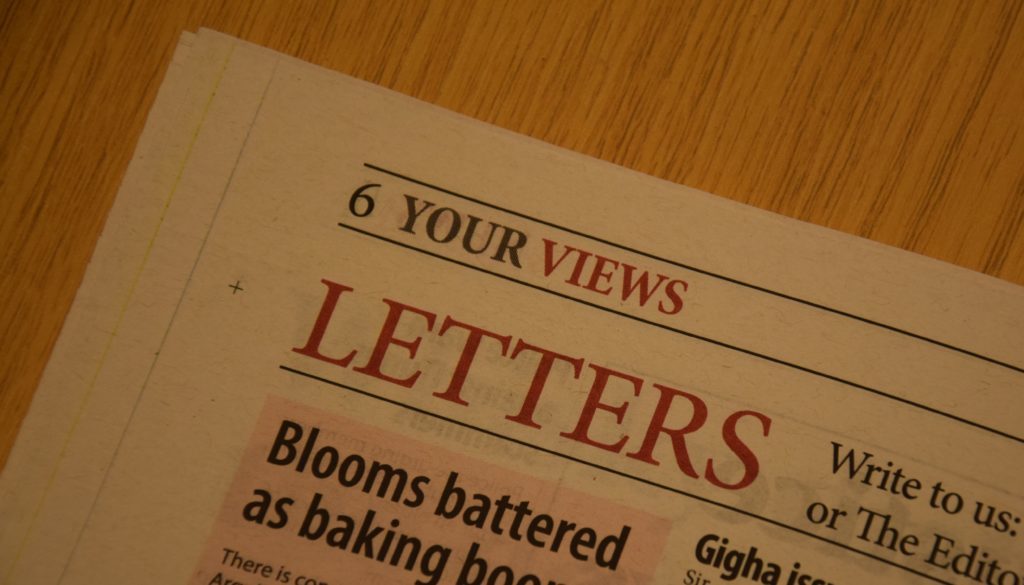 Want to read more?
We value our content and our journalists, so to get full access to all your local news updated 7-days-a-week – PLUS an e-edition of the Arran Banner – subscribe today for as little as 48 pence per week.
Subscribe Now
Arran the big picture
Sir,
Further to Malcolm Kerr's 'Tooth and nail opposition' letter published
in last week's Banner about the proposed Imachar Point slipway, the purpose and role of Arran's National Forest Estate, which extends to marginally over 25 per cent of the entire island's 43,000 hectares, should be better understood by residents and planners.
To go some way to help join the dots, where others are leaving a
vacuum of 'no news and no responsible engagement', a website and
mailing list called Imachar Group at www.imachargroup.com has been set
up by those concerned about Imachar. To give just one piece of valid
information for example, the following statement was made by one of
the three eminent climate experts, assembled to talk sense once the
political point scoring had subsided during the recent Channel 4
'leaders debate' discussing the climate crisis.
Nathalie Seddon, an ecologist and evolutionary biologist and now
Professor of Biodiversity at Oxford University, said: 'Tree planting,
other monoculture, big commercial plantations are not going to save
us; we need to restore our peatlands, our natural ecosystems; we need
to protect what we've got, restore what we've lost and we need to do
careful tree planting, the right species in the right places.'
Unless our public servants take a more mature approach to where public
opinion can quickly go, fuelled in many cases by a younger and better
connected generation, who are increasingly aware that previous
generations have been somewhat asleep at the wheel, once Arran is
fully subjected to mass forestry felling, the reputations of both
people, and once much cherished places, may well soon both be in
tatters.
Yours,
The Imachar Group team
More objections
Sir,
I write to provide some additional and up to date information regarding the Scottish Salmon Company's (SSC's) proposal for a new salmon farm off Millstone Point.
Firstly, there are now a total of 265 submissions in response to the planning application, comprising 22 in support and 243 objections.
Secondly, in spite of the deadline for submissions having passed at the end of September, SSC's 'consultant' – ARCUS- has made a submission in which it attempts to undermine the detailed and substantial submission made by the Community Council on behalf of the residents of Arran.
I believe that ARCUS, in addition to riding roughshod over the planning process by lodging its patronising and spurious commentary, is compounding the failings of it's own 'Environmental Impact Assessment'.  These extend to many aspects of its 'expert' (sic) submission but most notably on the topic of migratory salmon within the Clyde Estuary, which Scottish Natural Heritage has now deemed to be a critical element of any planning evaluation, requiring a delay in the planning decision in order that SSC and its 'expert' advisors now demonstrate that there will be NO deleterious impact on our indigenous salmon and sea trout.
Finally, I urge the planning committee to take careful note of the quantity and quality of objections submitted, in which the range of scientific, aesthetic and economic factors has been amply considered, in the context of the latest planning regulations, and which contrast sharply with the highly questionable claims and quality submitted by SSC and its associates.
Yours,
Fiona Clarke
Shiskine
Cull points
Sir,
In response to the reason given by the trustees of ACLI for a deer cull on the community land, we, the undersigned, make the following points:
1. The community were given no say in the decision. Residents whose homes border the land were not consulted and were shocked to have a deer shot in broad daylight within yards of their homes.
2. The argument about Lyme disease does not hold up. Not all ticks carry Lyme disease and a tick has to feed on its host for between 36 and 48 hours before Lyme disease can be transmitted, providing the tick carries Lyme disease in the first place. Education on ticks should be a priority for everyone, not just those using the community land. Checks should be made after access to the land and people taught how to safely remove ticks.
3. We believe the decision to kill deer on land belonging to the community is wrong and we are afraid is going to alienate people who, in the past, supported the project.
Yours,
Gill Gregory, Peter Neill, Anne Roberts, Amy Wedge, Sharon Wedge,
Whiting Bay.
Young enterprise
Sir,
There is no doubt that the schools listed in the recently published top 10 secondary state schools league in Scotland are all excellent – doing a great job in helping young people prepare for life.
Whilst this league table is determined by the proportion of students at Scottish state secondary schools achieving five or more Higher passes in 2018 and the proportions gaining five or more National 5 qualifications and two or more Advanced Highers this, in my view, is not the only measure of success by which we should rate achievement.
Each school has a different starting point regarding the demographics and the harsh realities that the students and their families might face.
I believe young people learn in many different ways and so many of them are developing the Meta Skills for life and work through non-traditional learning methodologies- both in and out of curriculum.
The recent credit rating of our Company Programme at SCQF level 6, in the main which is extra-curricular, could see up to 1,000 students gain a qualification in enterprise not recognised in the above figures.
Let us all be cognisant of not just qualifications but the wider forms of learning that our young people experience and the benefits that this brings to businesses of the future.
Yours,
Geoff Leask,
Chief Executive,
Young Enterprise Scotland (YES),
Glasgow.