Arran Banner letters – week 48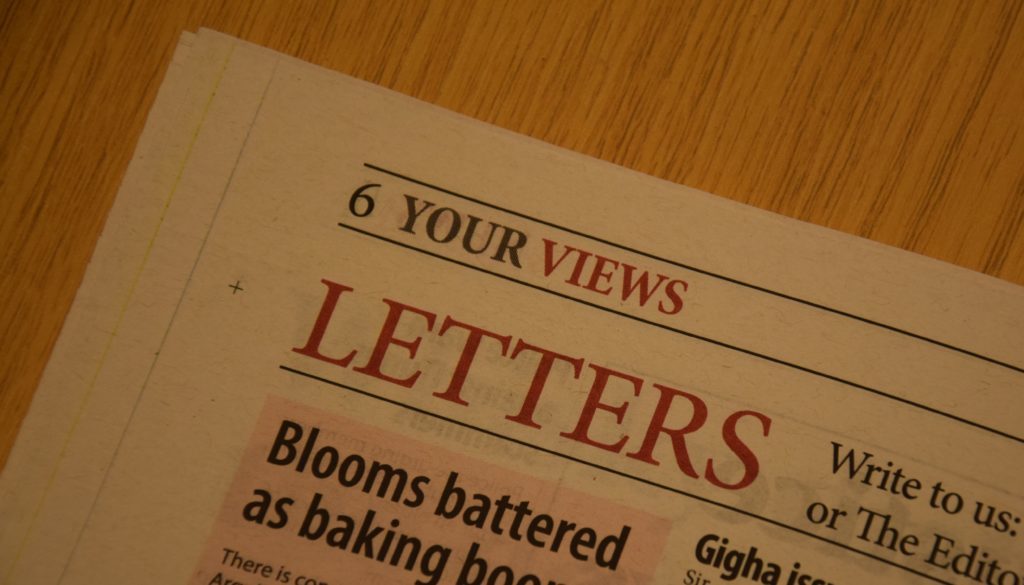 Want to read more?
We value our content and our journalists, so to get full access to all your local news updated 7-days-a-week – PLUS an e-edition of the Arran Banner – subscribe today for as little as 48 pence per week.
Subscribe Now
Tooth and nail opposition
Sir,
We are indebted to you for a headline and 28 column inches on the proposed forestry slipway at Imachar (Arran Banner, November 23).
The Troon Tug Company and Tarbert-based RDS Forrestry Ltd are seeking to build a slipway at the iconic Imachar Rocks beauty spot.
I appreciate the need for a safe and effective slip for forestry extraction on the west coast. I strongly advocate business on Arran diversifying outside tourism. Imachar, however, is simply the wrong place.
The Arran coastline's special charm derives from its geological diversity, from the way in which the road alternately leaves and joins the shore, and from the unspoiled stretches between villages.
While a formal Coastal Way is a relatively new concept, the Arran coast has been used for exercise, recreation and relaxation since Victorian times, and has few equals in Scotland, maybe in Europe.
On Arran, residential development is restricted to villages. It therefore is ironic that unspoiled coastal segments are now being targeted just because they are 'remote'.
We are now threatened with the destruction of one of Arran's top scenic sites, while continuing to fight the fish factory at Laggan. And we already have untreated distillery waste pumped into the Kilbrannan Sound at Lenimore, because it is 'in a location removed from settlement, and other built development'.
By the way, the photo of Imachar, managed to portray a fantastic gem of our geological heritage as a cross between the Brodick coup and the burial of Pompeii.
So, Troon Tug Company, don't rely too much on whatever advice the planners give you. They have been wrong before. You should have asked the community first. Expect tooth and nail opposition.
Yours,
Malcolm Kerr,
Brodick.
Well balanced
Sir,
I thought that last week's article on deer culling was pretty well balanced, the culling of wild creatures is an emotive subject and needs careful thought as well as firm action when required.
Declaring an interest, I have been a supporter of ACLI since its inception although not involved in its organisation.
It is a long-term project and like a lot of government supported projects it was funded well at the beginning but was expected to be self funding after a fairly short period.
The problem that ACLI has had with deer over the last two years is about their habit of coming down the hill and trashing the allotments and eating any trees and bushes that are not very well protected. They have not so far knocked over my beehives.
I have no idea how much it would cost to to keep deer out of the whole parcel of land but I believe the trustees that they simply cannot afford it. Also, keeping deer out of one parcel of land sends them to another.
There is another problem. Lyme disease can be a serious infection and deer are vectors of the ticks which inject the bacteria into the blood of humans who are unfortunate enough to pick them up as they walk through land where deer (and sheep) have grazed. It is a bacterial disease which if diagnosed early is treatable without any long term effects. However if left untreated for reasons of neglect or misdiagnosis, the long term effects are serious and the longer it takes to diagnose the condition the worse the long therm effects are.
The condition is relatively rare but its seriousness means that it must be an important factor in any decision to cull deer.
Yours,
Dr John M Cruickshank,
Whiting Bay.
Never forgotten
Sir,
After reading the moving and heartfelt letter from your correspondent Mr Rory Cowan (Arran Banner  November  16) regarding the war memorial services held on the island I felt that I must comment.
Having been a regular visitor to your enchanted island for many years, until age and infirmity have put a stop to long distance driving, I vividly remember the number of war memorials dotted around the island and the large number of names engraved on them. So many from such a small population, and I suspect, mostly volunteers. In addition to the individual names there are the historical Scottish regiments to which they belonged – many no longer in existence. May these brave men never be forgotten.
Thank you Rory for putting the views of so many of us so eloquently.
Yours,
Jack Hollick (ex RAF),
West Midlands.
Quiz winner
Sir,
May I, through the Arran Banner, thank Arran Active, Book and Card Centre, Mara, Rosaburn Museum and Stags Restaurant for selling our quizzes and to all who supported us.
Of the 14 correct entries, the winner, drawn at our November meeting, was Linne MacLeod from Bernera, Isle of Lewis.
Yours,
Elma Stevenson,
Corrie and Sannox SWI.
Fish farm meeting
Sir,
North Ayrshire Council planning committee had been due to consider the application by the Scottish Salmon Company (SSC) for an extensive fish farm off Arran's presently pristine north east coast on December 4.
However, I understand application has now been postponed to the NAC planning committee meeting on January 22 at the request of the applicant and Scottish Natural Heritage. The committee meeting is from 2pm to 4pm and is open to the public.
The SSC proposal is for 20 salmon cages each 120 metres in circumference. Much has been made by the applicant of the generation of employment in the island community which presently sometimes struggles to find employees in other industries and businesses. Indeed, for example, North Ayrshire Council has a shortage of labour at its waste and recycling unit in Market Road, Brodick.
SSC states it is 'committed to Scottish provenance'. The SSC already has multiple sites in Scottish waters but it is hardly Scottish. Although the SSC is registered as a Scottish company its parent company is registered in Jersey but listed on the Oslo stock exchange. There can be added to that the fact that a significant shareholding is held by P/F Bakkafrost a company based in the Faroe Islands. Its principal owners are Oddvar Jacobsen and her son Regin who together hold nearly 20 per cent of the shares. Bakkafrost has 3,000 different shareholders from 22 countries. So much for the claim of Scottishness.
On the merits of the application it is worth the planning committee noting that a ban has been introduced by the Danish government on the introduction of new fish farms in its waters. The purpose of the ban is the protection of the marine environment.
The committee should also not forget the input from the Norwegian Institute for Nature Research who drew attention to the likelihood of sea lice from farmed salmon affecting the wild salmon population.
In 2018 four SSC farms failed to control farmed salmon sea lice leading to the receipt of warning letters from Marine Scotland.
There is also concern from campaigners that the release of untreated waste and chemicals fed to the farmed salmon will be detrimental to all forms of marine life.
Hopefully, all of the above will be seriously taken into account in the decision making process by the planning committee.
Yours,
Jamie Gilmour,
Brodick.
Opened out
Sir,
The closure of the Giants' Graves track for repairs is bad news. But the reason – that so many visitors have been using it – is good news.
When I first visited the monument in the early 1970s, it was a bitter disappointment – hidden deep in the forest, encroached on by conifers, devoid of context. Now the trees have been cleared, it is spectacular. You can at last appreciate why its builders chose this difficult site—visible for miles across Arran, down the Firth of Clyde, from Holy Island and even from the Dun Fionn area.
Carn Ban too has been opened out, revealing its spectacular site – though trees still obscure the view to Goatfell. And sadly the sculptured stones at Stronach, once in sight of Brodick Bay and Dun Fionn, remain darkly obscured by conifers.
The Forestry Commission's utter vandalism in cutting these important monuments off from their context within the landscape and other monuments is dispiriting. Let us hope that, in replanting, they do not do exactly the same again.
Yours,
Eamonn Butler,
Lamlash.
Foodbank donations
Sir,
Arran Foodbank, which is run by Arran Churches Together, has received generous donations this year and will be able to use some of this money to purchase luxury items such as boxes of biscuits, selection boxes and Christmas puddings. This money is also used to pay for heating fuel for those in need.
We would be grateful for donations of basic items to help us make up Christmas bags which will be delivered to those in need.These items can be left in the big Co-op foodbank basket or in the vestibule of Brodick Church which is always open.
The foodbank is available to anyone who finds themselves in need of help, this may be temporary or long term. It is situated in the vestibule of Brodick Church.
Thank you to all who support the Arran Foodbank, it makes a big difference to the individuals and families who use it.
Basic items required: tinned meat and fish; tinned/packet soup; tinned fruit; tinned/packet puddings; sugar; long life milk; tinned vegetables; tinned baked beans and spaghetti.
We have plenty of the following – dried pasta; pasta sauces and tinned tomatoes.
Yours,
The Arran Foodbank Team