Arran Banner letters – week 44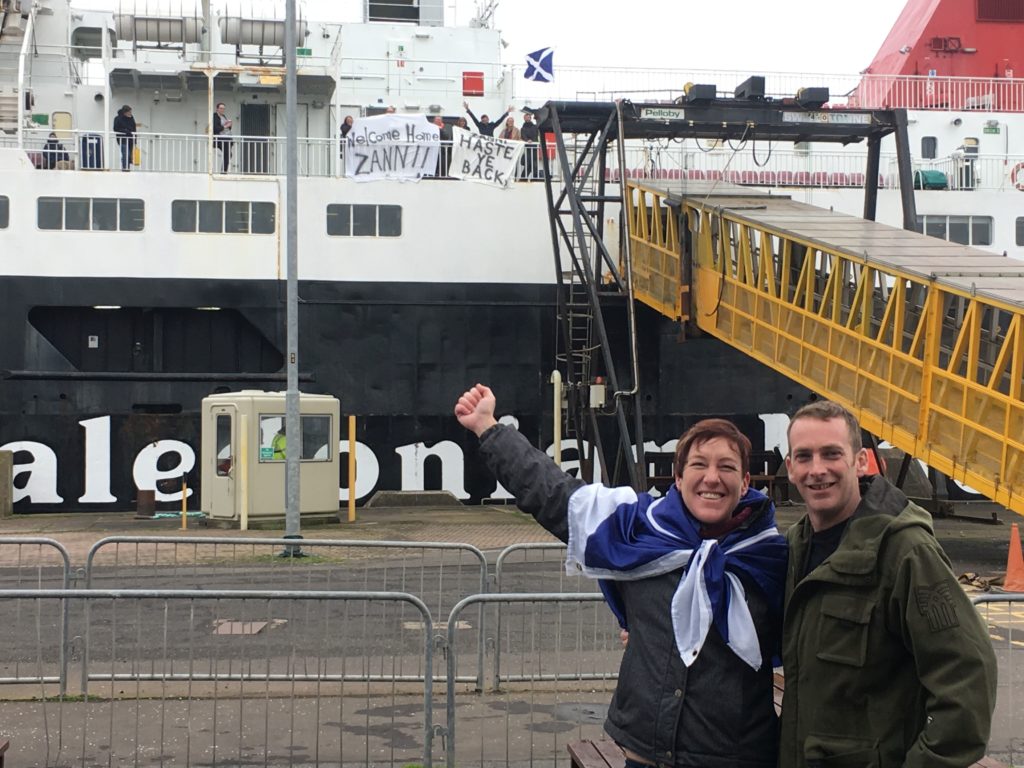 Want to read more?
We value our content and our journalists, so to get full access to all your local news updated 7-days-a-week – PLUS an e-edition of the Arran Banner – subscribe today for as little as 48 pence per week.
Subscribe Now
Wonderful community
Sir,
This Monday was our last day at Brodick Post Office – we feel so grateful and privileged to have been of service to this wonderful community on Arran over the past 12 years. We have been lucky enough to have served some of the best customers anyone could wish for, many of whom we are proud to call our friends.
We wish Tom and Claire all the best in taking on the Post Office – we know they will take excellent care of you. Thank you for your kind messages and best wishes for the future, and an especially big thank you for your support and loyalty over the years. We won't forget you! All the very best.
Yours,
Cams and Lorraine Campbell,
Brodick Post Office.
Sense of belonging
Sir,
Returning to the shores of Arran has had a profound effect – to have been welcomed back with such open arms and enthusiasm brings with it a true sense of belonging. I am ever grateful to be a part of a community that leaves behind prejudice and sees someone for who they are and not where they come from.
A special thanks for the generous donations which greatly helped to cover the cost of flights, solicitor fees, to Patricia Gibson MP who continues to support myself and her constituents in a time when so much uncertainty surrounds this great country.
I look forward to being a part of building a Scotland with our own hands, own minds and continue demonstrating a true strength of spirit within the Scottish people.
Yours,
Lizanne Zietsman,
Corrie.
Second operator
Sir,
Above his bizarre ad hominem, your correspondent last week called for 'full nationalisation' as the solution to our ferry problems. But we already have full nationalisation. CalMac, the major operator of West Coast ferries and ferry services, is owned by the Scottish government. CMAL, which owns the ships, ports, harbours and other ferry infrastructure, is owned by the Scottish government. Ferguson Marine, which builds the ships, will soon be owned by the Scottish government – apparently without any public inquiry into the cost of this move.
We can only admire the staff who try to make this set-up work, when it has left them with an outdated and overstretched fleet and the inevitable disruptions that result. The Arran crossing is by far the busiest and could easily support a second operator, bringing in new ideas and options. That is surely worth a try.
Yours,
Eamonn Butler,
Lamlash.
Looking for Mary
Sir,
I was delighted that my photo of my collies was in the Arran Banner last week, and since then I had a lovely message on Facebook messenger from a lady called Mary in New Zealand, who reads the paper online.
Mary wished to know if we had friends in common in the Shedden brothers who came to Arran in the late fifties. Unfortunately Mary's message disappeared from my phone before I could reply. I would not wish Mary to think I was ignoring her and if she could contact me again, I would be delighted to have a chat. Thank you!
Yours,
Marilyn Shedden,
Muasdale.
Carers award
Sir,
We'd like to invite your readers to nominate a deserving carer who will be in with the chance of going on a free holiday, while the person they care for comes on a free break with us, Revitalise, through our brand-new Grace Award for Caring.
There are approximately 7.3 million carers in the UK, many among your readers, and this award has been created to recognise and reward those partners, relatives and friends who spend their lives selflessly devoted to caring for their loved ones.
I work for Revitalise – an amazing charity that creates holidays for disabled people and carers at three fully accessible holiday centres in the UK. The centres are located in Chigwell in Essex, Southampton and Southport.
Carers save the economy £132bn per year, which is more than the NHS budget. The Grace Award for Caring was named not only because it takes grace to care for someone, also because it takes grace to accept care from someone.
That's why we're showing our support for carers across the UK, calling for people to nominate a carer they know who truly deserves a break.
The campaign is being fronted by television presenter and tennis champion, Sue Barker OBE, who has said: 'I am thrilled to be launching this award with Revitalise to give carers the opportunity to go on a well-deserved break while those that they care for enjoy a free holiday with Revitalise. I'm really looking forward to rewarding deserving carers in the UK with the time off they need to relax and recharge.'
To nominate a carer please visit: www.revitalise.org.uk/graceawards or call: 0303 303 0145. Thank you.
Yours,
Abby Kessock-Philip,
Revitalise.
Brodick
Most amused
Sir,
I was most amused with the news item in last week's 20 years ago page of the Banner. It would seem there were objections to the enlargement of Auchrannie back then. I wonder what Arran would look like now if they had been successful.
Funny how so little really changes, here in the land of NIMBY.
Yours,
Nigel Walker,
Brodick