Arran Banner letters – week 43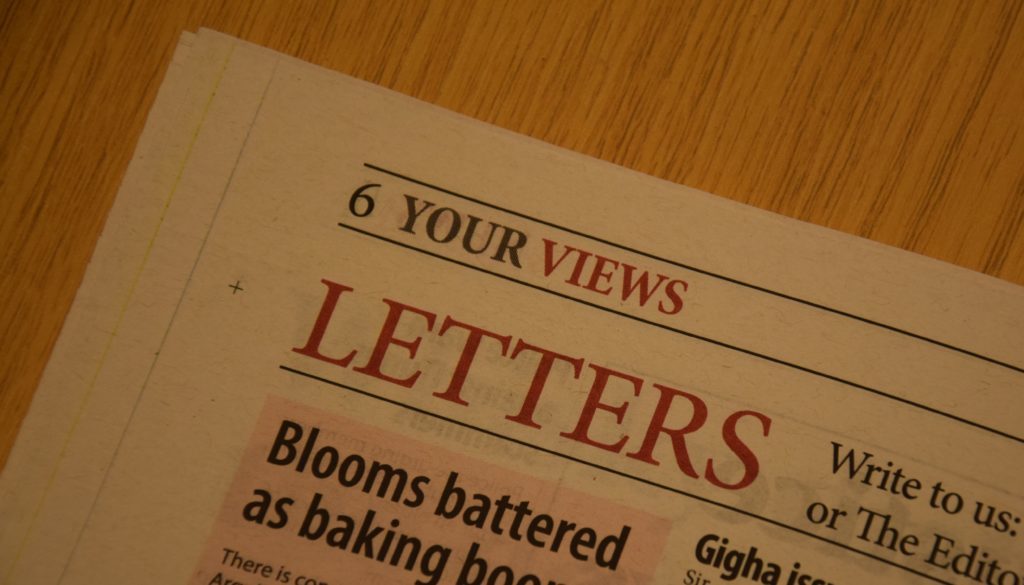 Want to read more?
We value our content and our journalists, so to get full access to all your local news updated 7-days-a-week – PLUS an e-edition of the Arran Banner – subscribe today for as little as 48 pence per week.
Subscribe Now
Furture of dairying
Sir,
Further to your recent article regarding the future of dairying on Arran, (Arran Banner October 12) I thought I would like to provide some additional information for Banner readers.
Firstly, we would like to thank the hard-working Arran dairy farmers who, since the advent of our pasteurisation dairy in 1978, have provided our company with Arran milk. These dairy farms have always been an integral part of Arran's economy, providing jobs for their direct employees and supporting jobs in the wider community including Arran Dairies, Bellevue Cheese Company, Torrylin Creamery, the many lorry drivers, trades and other service providers. Along with other farmers they manage the land, allowing locals and visitors to enjoy the mixed landscape Arran has to offer.
Most recently there have been two dairy farms on Arran. The Reids at Clauchlands in Lamlash who won many local and national awards and produced the majority of the milk used on Arran; we thank Alex, Nan, Stuart and Anne for their support and hard work and wish them success in their new ventures.
The Murchies at Tigheanfraoch in Blackwaterfoot are another multi-generational dairy family who produce quality Arran milk; their dairy herd can be seen in the fields at the crossroads in Blackwaterfoot. We are delighted to be working with them to secure the future of dairying on Arran.
Initially Tigheanfraoch milk will be used for the production of Arran Ice Cream and Bellevue Cheese; these products are sold locally, nationally and internationally through Taste of Arran. We have begun to look at options to restart the supply of fresh Arran milk. It was only five years ago that we stopped bottling fresh milk but it seems with the current climate of consumers being keen to source local products with known provenance that the time is right to bring it back.
With grateful thanks to all who continue to support us.
Yours,
Alastair Dobson,
Arran Dairies and Taste of Arran.
Wonderful experience
Sir,
I am two thirds through the book Arran Travels, Treasure and Tales by Ian McMurdo which I purchased on Arran earlier this month. Being an Arran lover, my wife and I have visited your magical island for the last 29 years, I find that of all the books I have on Arran this is by far the most readable and entertaining. In it Ian describes the locals as being welcoming and friendly. Let me tell you of my experiences over our two-week visit.
The moment we step on to Arran a feeling of peace and calm permeates us. Arriving on Saturday 28 September we made out way to Prospect Hill Studio (where we have stayed for the last 13 years). The following morning Stuart Scott noticed I had a flat tyre. He helped me change the wheel for the spare, and suggested that we pay a visit to John Thompson's Garage in Lamlash, where a very obliging mechanic sorted out our problem and refitted the original wheel.
Being self-catering we usually have our mid-day meal at Little Rock Café in Brodick. Although it was a year since we had last visited the café, we were immediately recognised and welcomed (with open arms) by Lauren. During the course of our visits we spoke with other members of the staff (Jess, and Ola) who were equally welcoming and friendly. We spoke with Ailie the owner, commenting on what helpful and welcoming staff she had. She also remembered us from previous visits.
We tended to take our evening meals at Crofters Bar/Bistro in Brodick and got into conversation with Ealana Boyle who manages the establishment. (I had purchased a CD of the Arran Junior Choir from the Arcas Shop and noticed that she was one of the soloists!) Once again, the welcome was wonderful and we were made to feel that we weren't just customers.
We always bring our Chocolate Labrador on holiday with us and she managed to eat something on Dougarie beach which didn't agree with her. This necessitated a visit to the local Vet ((Charlotte Clough) When I rang to book an appointment, the response was no problem just bring her in and we will fit her in between regular appointments. Charlotte gave her a thorough examination and prescribed her medication which would solve the problem. An immediate and helpful response to what might have been a big problem.
The following day I had the misfortune to have a flat tyre (on the same wheel as previously) and by the time I had noticed the steering was dragging and found a safe place to pull off the road the wall of the tyre was shredded. I had stopped half way between Brodick and Lamlash. and it was beginning to get dark and was raining quite heavily. Wheel bolts put on by garages are usually impossible to loosen by hand tool, so I flagged down a passing van driver and explained the situation to him. He tried to contact various garages, but his signal was too weak so he said he would go down to Brodick and get a signal there. He returned about ten minutes later to say he had been unable to raise any help. Another example of the helpfulness and friendliness of the locals in him stopping and trying to contact a garage. I called in at John Thompson's Lamlash garage the following morning and they not only had a tyre of the correct size, but they broke off from a job they were doing to fit it for me.
We left the garage and visited the Lagg Distillery to purchase a couple of bottles of their 10-year-old malt for a friend who had previously been on Arran and had run short of supplies. Whilst at the distillery we had a meal, and the waiter inadvertently brought the wrong toasted sandwiches. He apologised profusely and said he would return with the correct ones. The manager obviously saw what had happened and came across to say that he would give us a complimentary coffee to round off the meal. I went to purchase two coffees and two sweets and took out some money to pay for them, only to be told that all of them were "on the house." Another fine gesture with customer service!
The same evening, we had booked a meal at Stags Pavilion Lochranza. We were welcomed with open arms by Valerie (we have dined here on our previous visits to Arran – in fact last year she sorted out for us a visit to the Mull of Kintyre) We had intended to visit Gigha on Thursday 10 October but after Valerie consulted her phone she told us that it was highly probable that the ferries would not be running due to high winds, which is what it turned out to be. What a customer service – not only superb meals but tourist information par excellence!
Our last full day on the island we usually spend purchasing gifts for friends and relatives. At some point this includes about fifty pounds worth of preserves, oatcakes and cheeses from the Arran Cheese Shop in Duchess Court, and a couple of cases of Arran Blonde from Cladach Brewery. Despite the fact we arrived at the brewery just after closing time a very kindly gentleman let me into the shop and carried the cases of Arran Blonde to my car.
Yours,
Malcolm and Dorothy Bentley,
West Yorkshire.
Full nationalisation
Sir,
The letter (Arran Banner October 19) arguing the need to revitalise our ferries by full scale privatisation and competition overlooks the complete failure of such policies.
Enterprises competing for customers on a lifeline ferry route, can only result in to a race to the bottom with the most basic of vessels, crewed by poorly paid and motivated staff, driving each other out of business in their search for the largest profit they can squeeze. What we really need is an end to austerity and the release of decent funding for investment and proper planning in all aspects of our service, taking account of the views and experiences of the real experts – the trade union organised staff and users of the route, as well as the technicians and designers. That would enable reinvestment of income beyond costs back into the service and its staff, rather than the pockets of shareholders.
Nothing other than full nationalisation of the services and shipyards can achieve this – with an end to the tendering based on cost reduction that blights CalMac and other vital public infrastructure. You need look no further than the railways to see what a mess privatisation and competition has brought us all.
Nothing personal but I somehow doubt that 'Eamonn Butler, Lamlash' will accept this. I strongly suspect that he is, after all, the London based director of the Adam Smith Institute and author of books that celebrate the arch free-market economists Hayek and Friedman, whose ideas motivated Margaret Thatcher as well as her friend, the murderous Chilean fascist dictator, Pinochet.
Yours,
Colin Turbett.
Shiskine.
Heartfelt thanks
Sir,
I write to say thank you to all the mourners who came along to my wife's sad funeral at Whiting Bay Church last week and also to say thank you for the retiring collection which raised more than £570 for ArCaS.
I also wish to particularly thank Dr Gaw and all the members of the medical centre, also Dr Mcleod and his team at Crosshouse Cancer Centre who all offered such help and sympathy. It was so heartening to have the very many people come up and shake my hand or give me a hug and I am sure the community spirit is alive and well on Arran. May I please include Mrs Barr and her team as well as the NAC graveyard and admin staff who take such good care of Kilbride and other cemetries.
Finally I would like to thank Elizabeth for her service and it seems that the congregation appreciated the suspicions of Margaret's mother, Mrs Binnie (the then primary school teacher at Whiting Bay), as to the suitability of the young tearaway Bobby Haddow of Point House but had to give in with good grace. It could be thought that the matter ended there as Bobby Haddow (now Bob) walked hand in hand in matrimony down the aisle of the same church as we were in but not so!
Fast forward to last week when a very miserable Bob Haddow is trying to screw up the courage to go through his wife's apparel accumulated over 80 years. Some items went to ArCaS but others in the wood burner. It was as I was sorting them into their respective piles that I felt something hard in a small sock and to my surprise there was £1,000 in old paper notes. Sadly I fear my tearaway image is now well and truly punctured.
Thank you again Elizabeth and thank you readers for all of your cards, phone calls, hugs and handshakes.
Yours,
Bob Haddow,
Kings Cross.