Arran Banner Letters – week 39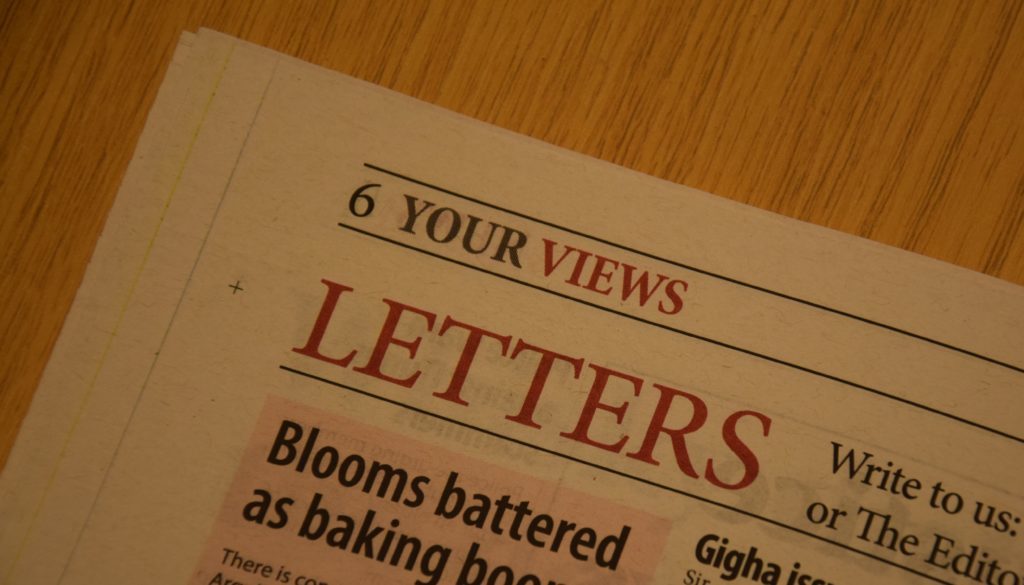 Want to read more?
We value our content and our journalists, so to get full access to all your local news updated 7-days-a-week – PLUS an e-edition of the Arran Banner – subscribe today for as little as 48 pence per week.
Subscribe Now
Opinions matter
Sir,
Subsequent to you publishing my letter last week, I have been pleasantly surprised by the number of people, many previously unknown to me, who have contacted me, or stopped me in the street, to say that they agreed with the sentiments of my letter. What worries me is that while there is a well orchestrated campaign objecting to the proposed fish farm on the northeast coast of Arran, those in favour of its development, and the employment prospects which it offers, are not encouraged to write to the Planning Committee. As comments on the application have to be in by Monday 30th September, anyone, from either side, wishing to make their views known to the Planning Committee, will need to tabulate their views this weekend, probably by email. The North Ayrshire website is not hard to navigate. I urge readers in favour of this development to make their opinions known to their councillors and to the NAC Planning Committee.
Yours,
Tommy Gilmore,
Brodick
Global phenomena
Sir
At the end of last week we witnessed a global phenomena led by a single schoolgirl-Greta Thunberg-demanding action from those in authority to make decisions which will protect the environment for her's and future generations. In a world plagued by challenging news of environmental degradation and with the inevitable linkage to profit and vested interests, it is heartening to witness the inspiration and leadership demonstrated by one young woman on behalf of her generation and those to come.
Which leads us to local matters and our own responsibilities to ensure that decisions are taken which safeguard the spectacular place that we live for residents and visitors now and into the future. As featured in last weeks Banner, a significant number of people, representing a cross section of our whole community, elected to let their feet do the talking-concrete action to demonstrate their rejection of the proposed despoiling of the wildest part of coast on Arran and North Ayrshire. We are fortunate to live in a country blessed with wild beauty and a decision making system that allows us the chance to have our say on how that should be protected.
We also live in a country where developers must make their case with as much transparency as they dare. The 'Scottish' Salmon Company, registered in Jersey, aspires to generate £10s of millions for its share-holders, by farming up to 5000 tonnes of salmon off our NE Shore. The result will be untreated excrement and urine, equivalent to at least 15,000 people, being put directly into a shoreline where unprotected from easterly winds we can expect fish farm detritus on beaches from Corrie to Lochranza; a massive injection of sea-lice likely to decimate what remains of our wild salmon and sea-trout population and the wholesale intrusion to wilderness seeking humans and wildlife of 20 cages and associated boats, pontoons and feeding systems.
But what of the economic case? We know that the Island attracts in excess of 400,000 visitors a year delivering more than £60m of revenue which supports very significant round the year employment, in addition to seasonal employment, as well as providing the basis for support of the Island's essential public, health and infrastructure services. What is the likely economic impact of undermining the reputation of the island as a clean, wild and beautiful location by association with the proposed environmental intrusion and pollution? Just 5% loss of opportunity would amount to £3,000,000/annum – which by comparison to the mention of 10 jobs-equivalent to £250,000/annum-looks to be a deal firmly weighed in favour of the Jersey registered owners!
If you share the concerns of those who tramped out to Millstone Point, or draw inspiration from the unselfish actions of one young woman, then please make your objections known to North Ayshire Council by Monday September 30th
Yours,
Rob Cowieson
Whiting Bay
Goatfell signs
Sir,
I think that Henry Murdo's support for a signpost on Goatfell (Arran Banner 21 Sept) will be unsuccessful. Apart from being a bad idea, I doubt if the National Trust for Scotland would agree with its placement.
Several years ago when I was climbing on A'Chir I noticed a very weathered and indistinct red arrow painted on a rock. The purpose of this arrow which was painted there by (I understand) Arran Mountan Rescue was to direct climbers to the correct route. So many climbers were going the wrong way and then having to be rescued that it was thought that a small painted arrow would protect the climbers as well as removing the need for the Mountain Rescue to carry out a rescue. The National Trust for Scotland however regarded this as vandalism and said that the graffiti should not be renewed as it weathered. If a small arrow was not permitted than I suggest a sign would fare no better.
Yours,
Kenny Walker
Dunblane
Diabetes campaign
Sir,
Over 24,000 people in Ayrshire and Arran have been diagnosed with diabetes.  It is a relentless condition which requires careful management every day to reduce the risk of dangerous complications including stroke, kidney failure, lower limb amputations and sight loss.
It's no wonder that the day-to-day demands of living with diabetes can feel like a constant struggle.  In fact, in a recent survey seven out of 10 people admitted to feeling overwhelmed by the condition but, of those that sought additional support, three quarters were unable to access it.
Diabetes Scotland is campaigning for better access to emotional and psychological support for people living with diabetes.  We believe it should be a routine part of diabetes care provided by NHS Scotland and available to everyone living with the condition across Scotland.
We're calling on people affected by diabetes to support our 'It's Missing' campaign by contacting their MSP and let them know that mental health support is too often missing from diabetes care.  Visit www.diabetes.org.uk/missing for further information and to sign up for campaign updates.
If any readers would like to share their experience of diabetes and mental health, help us campaign or find out more, please drop me a line on Rupert.Pigot@diabetes.org.uk or call 0141 245 6380.
Yours,
Rupert Pigot
Diabetes Scotland