Salmon protesters prove their point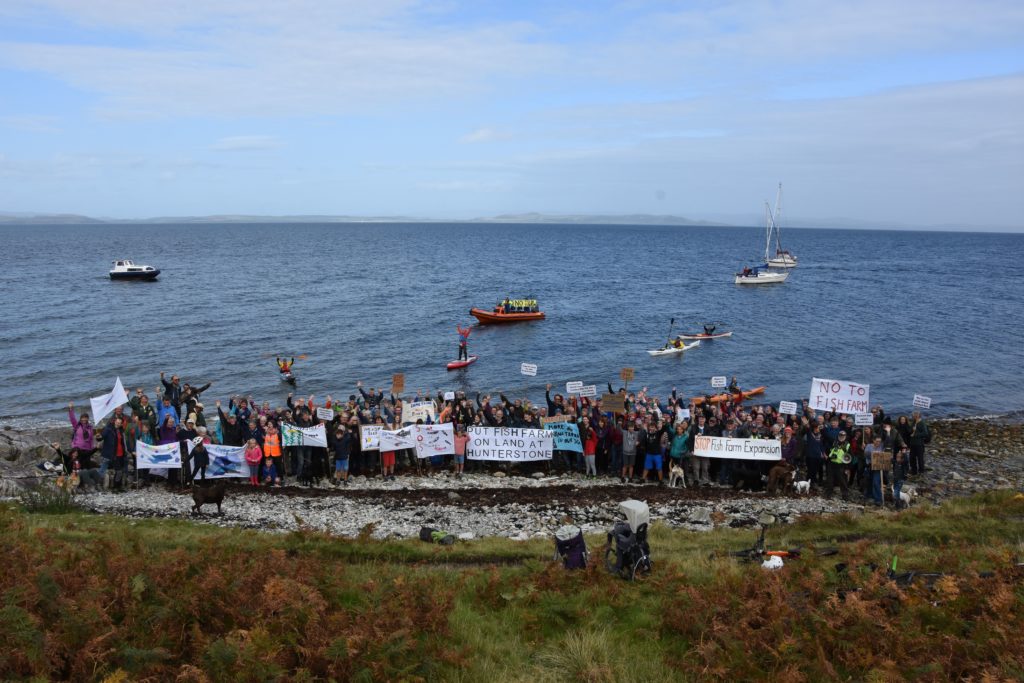 Want to read more?
We value our content and our journalists, so to get full access to all your local news updated 7-days-a-week – PLUS an e-edition of the Arran Banner – subscribe today for as little as 48 pence per week.
Subscribe Now
Sub-heading: More than 200 turn up to oppose fish farm
Pg 2/3 heading: Arran community show their determined opposition
Words and pictures by Colin Smeeton
One of Arran's biggest protests in recent years was held on Sunday as the public made their objections clear to a proposal for a big new fish farm on the island.
The protest on Sunday was staged on the site of the proposal by the Scottish Salmon Company (SSC) at Millstone Point on the north east coast which involved a long trek by more than 2oo people involved, with organisers were delighted with the turnout.
The Lets make a (Millstone) Point event, hosted by Community of Arran Seabed Trust (COAST), was aimed at highlighting the extent of the proposed fish farm which will cover an area the size of 33 football fields with each of the proposed 20 pens alone measuring 120m in circumference.
A huge cross-section of residents from all villages on Arran, aged from eight-months to over 80-years old, showed the extent of their resolve by walking to the site – a return trip of more than seven kilometres along a coastal path – where they joined hands along the shore of Millstone Point in an effort to help illustrate the distance that the development would extend along the shore.
As well as lining the shore to show how the development would visually impact upon one kilometre of shoreline in the undeveloped area, protesters formed a huge circle to help people visualise the size of a single pen – 20 of which have been proposed for the development.
Adding her voice of opposition to the plans, Cal Major, who completed a world record stand up paddle board expedition from Land's End to John O'Groats, joined the walkers and a flotilla of boats, ribs and kayaks and paddle boarders who added their protest from the water.
Karen Penny, a long distance walker who is currently undertaking a 19,000 mile coastal walking challenge around the coast of Britain and Ireland, also added her support by joining the protesters during her short visit to Arran, see separate story.
COAST chairman, Russ Cheshire said: 'I was deeply moved that a large part of the Arran community showed their determined opposition to the Scottish Salmon Company's proposed development. The final count of attendees exceeded 200 people who gave up half their weekend at short notice; people who ranged in age from just months old to over 80, with varying ability to cover the 3.5 kilometres each way from North Sannox to Millstone Point and back.
'People using sticks to walk, people on bicycles and in various forms of watercraft – nearly all made their way to the site's northern limit, and all did far more than sign a petition. They showed real community spirit in wishing to protect a largely undisturbed part of Arran from the ravages of the salmon industry, many brushing aside real personal suffering to be present. I am honoured to be able to play a part in helping everyone make their views known.
'If our political representatives, and those who wish to promote Arran in various ways, do not take note of this level of support for the rejection of these plans, I can only presume that there is some ulterior reason why a company which has been put up for sale by its largest shareholder should be given carte blanche to despoil the seas around this beautiful island.
'But the work goes on; formal written or electronic objections must be lodged with North Ayrshire Council planners by the end of Monday September 30; but councillors, MSPs, MPs and cabinet cecretaries can all be informed about the community's opinion before and after that date. We at COAST in conjunction with other groups and concerned individuals continue to analyse the planning proposal  – so far there is little in the more than 900 pages which commends this development.'
Sunday's protest is part of a larger campaign by COAST who oppose all open water caged salmon farms in Scottish waters, preferring a move to on-land containment farming which, while more costly for fish farmers, can eliminate environmental damage.
The almost unprecedented amount of opposition evident at the event follows the 914 page planning application by the SSC to obtain permission for the development which has been described by some as a 'mega-farm' at a time when salmon farming has become a particularly polarising subject. This is not only on Arran, but across the country, following a number of high profile exposés on the industry and damaging comments from high profile figures, including the well-respected Sir David Attenborough.
The main concerns for opponents of open sea farming centre on chemical pollution, environmental damage from faeces and uneaten food, fish and animal welfare, along with disease, the potential affects on wild salmon and the un-sustainability of the industry.
The planning application is scheduled to be considered by the council's planning committee towards the end of the year and public comments, both objecting to and supporting the application, can be made until Monday September 30, both online via the North Ayrshire Council planning website or by writing to Planning, North Ayrshire Council, Cunninghame House, Irvine, KA12 8EE.
See also letters pages 8 and 9.
Pg 1 pix
More than 200 protesters gathered at the North Sannox car park prior to visiting the proposed site. 01_B38coast01
Protesters join hands to demonstrate the size of a single 120m in circumference fish pen. Photograph by James Appleton. No_B38coast10
Pg 2/3 pix
Cal Major, centre, adds her voice to those of the protesters. 01_B38coast02
A young protester on a unicycle shows off her banner. 01_B38coast03
A long line of protesters make their way along the coastal path towards Millstone Point. 01_B38coast04
Enjoying a well-deserved rest, protesters catch their breath and take in the scenic views. 01_B38coast05
Protesters make their feeling clear with a number of placards and banners. 01_B38coast06
A number of young children show off their banners that they created. 01_B38coast07
More than 200 people joined a number of kayakers, paddle boarders and sea vessels to voice their opposition to a fish farm development at Millstone Point. 01_B38coast08
In an attempt at illustrating the length that the proposed development will run along the coast 200 people cover only a quarter of the distance. 01_B38coast09
Protesters join hands to demonstrate the size of a single 120m in circumference fish pen. Photograph by James Appleton. No_B38coast10
Protesters line the length of the bay illustrating a small portion of the shoreline than will directly overlook the proposed development. Photograph by James Appleton. No_B38coast11