Arran Banner letters – week 38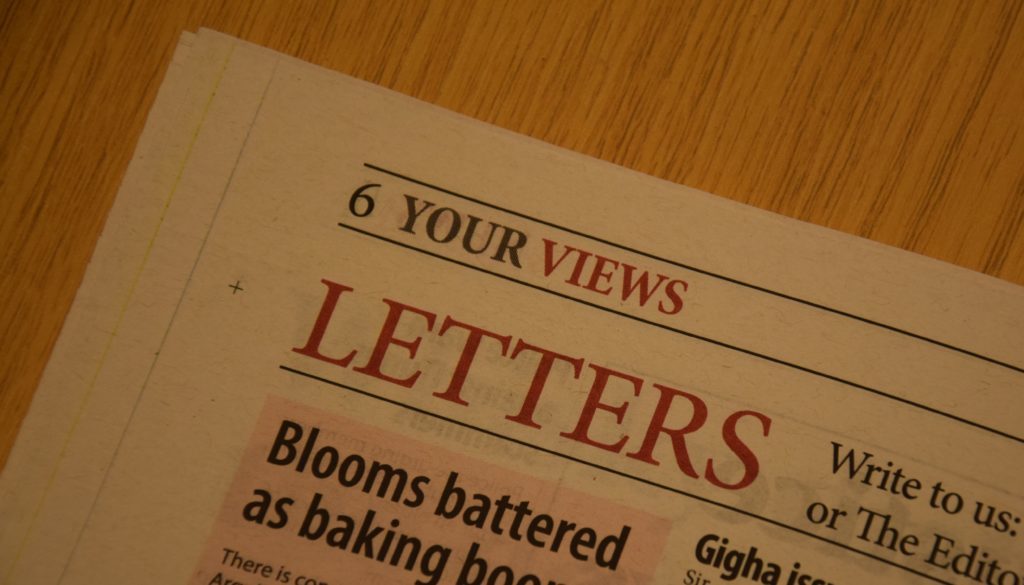 Want to read more?
We value our content and our journalists, so to get full access to all your local news updated 7-days-a-week – PLUS an e-edition of the Arran Banner – subscribe today for as little as 48 pence per week.
Subscribe Now
Selfish attitude
Sir,
There is, no doubt, a lot of room for improvement in fish farming practice. However, it is surely most unfair for Nimbys on Arran to directly attack the fish farm in Lamlash and the people who are employed working on it.
The venomous and militant protests at the Brodick Highland Games, and at public meetings, the latter as reported in the Banner, are over the top. The fish farm has been in Lamlash Bay for over 30 years, which is a lot longer than many of the protesters will have been resident on the island.
From the point of view of your average tourist, the fish farm does nothing to demean the unique picturesque qualities of Lamlash Bay and the majestic and monolithic splendour of Holy Isle. Judging by the number of bathers around the Old Pier this summer, the bathing qualities of the seawater are not off-putting either. I can understand people diving in the area of the fish farm may find pollution, but this is a very small percentage of visitors to the island and does not affect your average tourist.
Regarding the proposed new fish farm on the north-east coast of Arran, surely it is to be welcomed that somebody has at last found a use for what has been, since the 18th century salt pans, a fairly derelict and unused piece of shoreline. It is difficult to see how the salmon pens, if they are no higher out the water than the ones in Lamlash, could provide anything other than a reference point for hikers on the coastal path. The proposed fish farm would not detract from the views across to Bute, Inchmarnock and the Cumbraes.
Underneath the fish farm, of course, there is bound to be detritus, but only divers would see this and it is surely up to the Scottish Government to tighten up the regulations on a national scale, rather than for local planning bodies to attempt their own regulation and so negate and disallow a legitimate source of island employment.
It is worth remembering that for most of last century, up till 1998, the Glasgow sludge boats dropped one and a half million tons of sewage sludge annually off the Garroch Head, and this in a drop zone only a few miles away across the Clyde. Two of the surprising findings of the regular monitoring of these two drop sites have been firstly, how quickly the sites return to normal, and secondly, the limited geographic area that the effects of the sewage drop spread out to.
The current orchestrated and vociferous campaign against the fish farm has parallels with both of the 1990s campaigns against the Lochranza Distillery and the Auchrannie Spa. It costs protesters nothing to protest. People retire to the island because it is a nice quiet place and they don't want any further development. This is a selfish attitude and certainly of negative consequence to the future development of the island and the provision of jobs for its resident younger population.
Yours,
Tommy Gilmore, 
Brodick.
Vipers bite back 
Sir,
Last month I wrote in detail (Arran Banner August 17) about the proposed fish farm at Millstone Point. There is one further consideration that deserves attention and that is corporate responsibility.
Is the company proposing this industrial farming off the north coast of Arran fit for purpose in its track record of looking after the fish it rears, its husbandry?  Data releases on dead and dying fish in cages, desperate measures to keep them alive and farms rife with diseases suggest otherwise.
All intensive farming introduces heightened risk of transmission of disease and parasitic growth that require active intervention to contain: The more crowded the conditions the greater the risk. Just look at the recent track record of this company. You don't need to look any further than Lamlash Bay and St Molios fish farm. SEPA tells us the level of morts, dead fish, recovered from the cages increased from month to month from early in the year to reach 44 tonnes by May and 37 tonnes in June. Numerous visits by service vessels suggested possible issues lingering from a previous year. A biologically active chemical was even used immediately prior to harvesting and possibly other chemicals were used too. Horrendous smells followed trucks passing through Lamlash to the ferry.
Looking further afield up into Loch Fyne earlier this year and the company was recorded removing what appeared to be the entire fish content, already dead, from one of their farms following a toxic plankton bloom event probably in part driven by nitrogen and phosphorus nutrients from fish farm wastes promoting toxic plankton growth in the surrounding waters. Further details are yet to be released.  Even further afield we see this company trying to contain and even hide from public scrutiny disease and infestation disasters again in recent times. Loch Roag in the Outer Hebrides has become a name synonymous with appalling husbandry in salmon fish farms to levels considered to be an example of extreme animal cruelty. Pictures of grossly infested and deformed fish emerged and eventually the entire fish crop of dead fish was dumped in an excavated pit.
Also in recent times data released by SEPA points to a crisis at another of the company's fish farms called Maaey off Benbecula, a new farm only recently stocked for the first time and afflicted by apparently difficult to control levels of, we are told, pancreatic disease. The astonishing tonnage of dead fish reported, 287 tonnes in June suggests something is going badly wrong generally with this industry.
Then we read in the company's planning application they intend to stock the North Arran farm at a very high density of fish exceeding RSPCA welfare standards clearly to maximise profits most likely at the expense of proper animal husbandry and increased risk of repeating disaster events reported elsewhere. I leave you to draw your own conclusions and by the way we are told this company and its senior officers keep on winning business best practice prizes.
Yours,
John Campbell,
Lamlash.
Bridge too far
Sir,
With Boris Johnston's idea of a bridge between  Scotland and Ireland being in the news, I write to your beautiful island to explain how the forward thinking and dynamic business community of Arran can be part of this massive infrastructure project.
The plan mentioned in the mainstream media is for a bridge from near Bangor to Portpatrick, but a cursory glance at the map shows that the shortest crossing is between Torr and the Mull of Kintyre. This shorter option has been dismissed as the Kintyre peninsula has poor transport links.
This is where there is a fantastic opportunity for Arran. Build the bridge to Kintyre, a few miles of road to Carradale, then another bridge over to Balliekine, a tunnel under Goatfell, then a third majestic span from Corrie to West Kilbride.
As well as the many construction jobs, there would be long term gains to the economy servicing the needs of truck drivers and tourists. The tunnel under Goatfell could have an elevator in an vertical air shaft to the summit, making the dream of a Michelin starred restaurant with views to seven islands a reality.
The tunnel will also reveal the fascinating geology of the extinct volcano, drawing even more students to the island.  The rock removed would be used to make the island bigger, or fill in an unnecessary valley or two.
My plan has three times as many bridges as Boris's, therefore I am three times as good and clever.
Yours,
Neil McDonald,
Glasgow.
Signs support
Sir,
With regard to Colin Guthrie's letter of September 6 in which he made suggestions about having signs on Goatfell for safely directing people from the summit, I would like to lend my support to that idea as too many walkers have been injured through taking the wrong path.
I know the sentiments regarding signs as being unsightly and a distraction from the wildness of the area, but I don't think this should stand in the way of anything that will help save people's lives.
Yours,
Henry Murdo,
Corriegills.
Helping Owen
Sir,
We would just like to say a big thank you for posting us a copy of our grandson's challenge in the newspaper, Arran Banner August 31. It means a lot to have a copy and we can also get a copy to Age Concern here in Colchester, and to his family.
We would also like to take this opportunity to thank everyone, Isle of Arran folk and others, who helped Owen on his way. We hope to visit your lovely isle soon.
Yours,
Carol and John Gosling,
Colchester.
Learn by doing
Sir,
As chief executive of Scotland's leading enterprise charity there is no doubt in my mind that our greatest national asset is our young people and Young Enterprise Scotland (YES) is celebrating a key milestone this year to assist S5 and S6 pupils to become more employable.
YES believes that young people 'learn by doing' and our Company Programme for 2019/20 is now open for registration.  It is a vocational education scheme where schools put forward a team of students to create and run their own company for a year.
This provides the opportunity to learn business skills together with inspiring resilience, confidence, problem-solving and teamwork.
YES has always known the value of its Company Programme and the benefit it provides. However, this year through a jointly funded collaboration between the Scottish Government and the Scottish Credit and Qualifications Framework Partnership (SCQFP) our flagship programme is now credited as the equivalent of a Higher.
This credit rating is a game changer for YES, the schools which will get recognition for the young people's qualification and most importantly for the young people themselves, as they prepare to thrive in the world of work.
I urge all secondary schools in Scotland and the families and guardians of S5 and S6 pupils to consider the benefits of participation, particularly now the Company Programme has achieved national qualification status.
Yours,
Geoff Leask,
Chief executive,
Young Enterprise Scotland (YES),
Glasgow.