Arran Banner letters – Week 36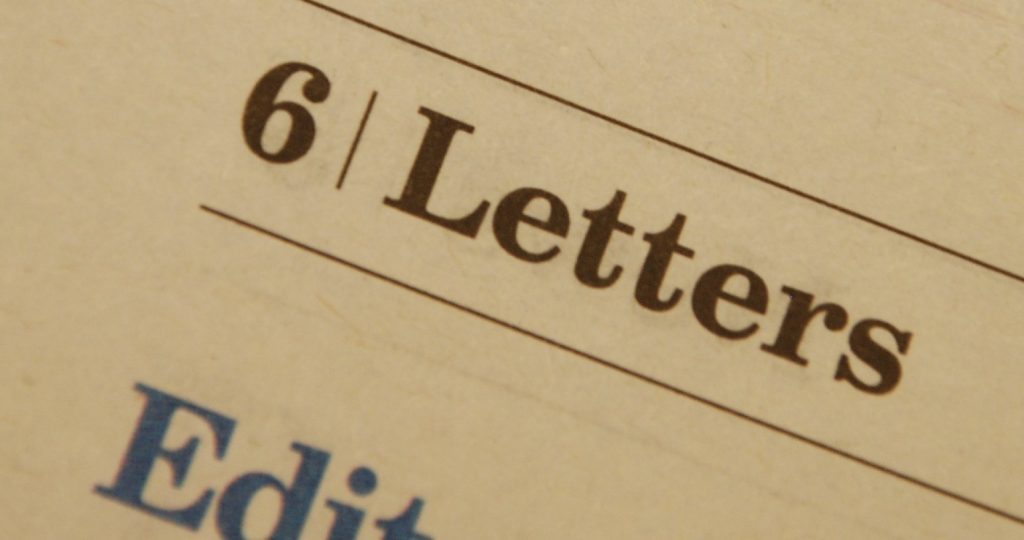 Want to read more?
We value our content and our journalists, so to get full access to all your local news updated 7-days-a-week – PLUS an e-edition of the Arran Banner – subscribe today for as little as 48 pence per week.
Subscribe Now
Voice your views
Sir,
Would it be OK to site a huge US style intensive factory farm raising poultry or pigs in either Glen Rosa or Glen Sannox? I think not!
Then why would it be OK to site a mega, open-cage salmon farm off Millstone Point along the north east of Arran; an area of wild coastal scenic beauty? The proposal is for a near automated salmon feedlot discharging some 2000 tonnes of untreated excrement mixed with treatment chemicals each year.
Tourism on our island depends on our scenery and environment, that's what people clearly state in VisitArran surveys. Over the past few decades I know of many dedicated individuals, businesses and organisations who have spent an enormous amount of their time and effort building Arran's image of a beautiful island, whose residents and visitors alike care for its environment and place enormous value on their surroundings, whether that be terrestrial or marine. As many businesses know to their cost reputation can be lost overnight with the wrong headlines or TripAdvisor reviews.
I have spent over two decades supported by dozens of our community volunteers to protect the seas around Arran from overfishing and pollution.  A huge amount of time has been devoted to research, education and understanding that what's in and under the sea is no longer 'out of sight and therefore out of mind'. Our island does not end at the beach but continues into many fascinating habitats along our coastal fringe. Surely we have moved on from using our sea as an open sewer?
The only way to persuade North Ayrshire planners that this planning application isn't welcome is to write to them or post your comments on their website before 30th September, further information on how to do this can be found at arrancoast.com website.
Please act now to voice your views about this specific development.
Yours,
Howard Wood OBE
Co-founder Community of Arran Seabed Trust
Simple sign
Sir,
The climbing of Goatfell is a wonderful activity for  visitors and Arran residents alike.
When I  retired here a few years ago I used to climb it with a regularity bordering on the psychiatric and I really believed I knew it inside out. Then one winter, when mist had descended over it's top , I managed to descend into the wrong valley and was lucky to get home in one piece. Then last year a sensible and fit relative made the same error and took ten hours to return in a tattered and exhausted state.
I understand from conversations with Mountain Rescue members that a significant number of rescues happen because walkers get confused about which way to descend Goatfell especially in cloudy weather. To the west of the peak are the Goatfell Slabs and descent there is invariably fatal.
The danger of a wrong direction of descent of Goatfell, coupled with the relative mountaineering inexperience of many Arran visitors , makes this mountain more dangerous than most. I therefore suggest that there should be a simple metal sign at the top indicating the way to find the well made path that everyone uses to ascend.
The National Trust have constructed and maintained an excellent path enabling climbers with varying mountaineering skills to climb Goatfell. Would it not be a welcome lifesaver to have such a simple metal sign at the top to indicate the safe descent to Brodick?
I would be very interested to hear the views of the National Trust owners, who have the responsibility of administering Goatfell, and also the views of the Arran Mountain Rescue Team.
Yours,
Colin Guthrie
Brodick
Workboats apology
Sir,
In my letter published in The Banner two weeks ago I incorrectly suggested Arran Workboats simply fitted out previously manufactured hulls but in fact I now understand they build the entire craft from scratch with rubberised materials offering a unique and tailor-made product for the hull.  I thus owe the company an apology for misrepresenting their product line.
Yours,
John Campbell
Lamlash
Private enterprise
Sir,
I am writing to express my empathy with the Arran islanders in their frustration with ferry operation that is called a 'service' by CalMac and to encourage the community to seek a an independent competitor.
I recently had the experience of travelling from Perthshire towards Ardrossan for a ferry only to be advised by CalMac, as I was crossing the Clyde in Glasgow, that it was cancelled and later sailings that day and the next day were fully booked.
Apart from abandoning  a long booked holiday, the only recourse was to set off on a 120 mile trip up Loch Lomondside, via Inverary to Claonaig in the hope that the ferry to Lochranza was still running.. if not we would be marooned on Kintyre. Thankfully it was running.
Today it was announced that the independent ferry company, Pentland Ferries, who operate between the mainland and Orkney, are about to take delivery of their brand new custom designed catamaran that has been built in Vietnam for £14m. This to replace their current vessel and is testament to what an independent operator can achieve. The new vessel will carry 430 passengers, 12 articulated lorries and 54 cars (or up to 98 cars if fewer lorries).
After starting the service in 2001 with ex CalMac ships, Andrew Banks and family invested in their first catamaran in 2008. This ship was chosen to suit the needs of the crossing. It has been a great success and operates in direct competition to the CalMac type operation, NorthLink Ferries, out of Scrabster with traditional single hulled vessels and large crews.. The Andrew Banks has claimed that if he had been given the same subsidies that NorthernLink received, he could have provided the service free of charge.
For a description of how an independent operator can succeed in the face of concerted establishment opposition, I recommend the book Pentland Hero by Roy Pederson.
Surely somewhere there is another entrepreneur who could emulate this.. possibly by operating a Troon to Lamlash route which would be far less subject to cancellation by anything other than a light breeze that we seem to suffer from at present,
Yours,
Ian A Brown,
Blairgowrie.
Banana logic
Sir,
In last week's Banner (30.8.19) Alistair McIntosh critiques my friend Dr Eamonn Butler (Banner 24.8.19). Mr McIntosh wrote that 'competition' and tendering of ferries 'butters no parsnips'.
To torture Alistair's analogy, he is comparing apples with oranges and ending up with banana logic. To say an alternative to CalMac via tendering would result in the worst of London Crossrail locomotive problems being visited upon Arran ferries is pear-shaped reasoning.
The facts are clear. The existing competition to CalMac is Western Ferries and Pentland Ferries. The private ferry companies receive NO operating subsidy and NO capital freebies to build their ships. Whereas CalMac are gifted £100m every year to operate a 'lifeline' ferry service and an extra £97m plus £40m to build ships that are becalmed in a sea of rusty promises, fake wooden wheelhouses and even rustier hulks. Meanwhile, both competitors/private ferry companies are based in their local communities and offer a safe, efficient and proven reliable service.
Currently, CalMac/CMAL are in a quagmire of Edinburgh's finest gardyloo. The quango par excellence, Transport Scotland et al, just don't listen to Arran islanders. Worse, Scottish Transport ministers fail to examine the best parts of Western Ferries and Pentland Ferries and study those lessons the political class are so fond of promising to learn. Transport Scotland fail to apply the best protocols from private ferry companies to improve the State operator for the benefit of islanders.
I do agree with Alistair's narrative in that the current tendering process is a charade. When we tendered for the Campbeltown-Ballycastle route several years ago, that feckless exercise cost us £12,480 in paperwork, bona fides and professional fees. Ironically our bid was rejected specifically because we proposed an 'Ayrshire variant' which was outside the EU tender specification. To their credit, the Scottish Government did, eventually put an Ardrossan to Campbeltown ferry on service a few years later. But the general ferry competition tendering process is an utter, malfunctioning nightmare and deterrent to any remedial competition. So Arran and all the other islanders suffer.
The problem right now is that a private ferry company is blocked by cost and questionable triumvirate of state aid packages in stymying embryonic and innovative ferry services between Ardrossan and Brodick. A bureaucratic masterstroke is the introduction of Road Equivalent Tariff (RET). Pentland Ferries are suffering existentially as they receive no RET state aid, whilst Northlink Ferries receive several subsidies including one to cover RET.
What is unforgivable, is that CalMac and the string-pullers at Transport Scotland effectively block private operators such as Western Ferries/Pentland Ferries or even an Arran island based ferry company through grotesque distortion of state aid. So Arran islanders have to put up with a dreadful Soviet business model ferry service. Or perchance ask Derek Mackay the Transport Minister to get a grip and sort out the current ferry disruption to Arran. When do we have to pay CalMac's next billion pounds subsidy and how much worse will the service become? Or would it conceivably be better to pay NO subsidy to CalMac. This would encourage private ferry companies. Arran needs a better service and it can be provided for less money. But not with the old guard at Holyrood. Aye, the logic of bananas is alive and well at Holyrood.
Yours,
Russ McLean,
Scotslion Ferries Ltd.
Arran observations
Sir,
I have just returned from another glorious week of enjoying Arran and everything that it has to offer.  I offer some observations from my experience as a long time visitor to Arran.  The new distillery at Lagg is a wonderful building and the staff are a credit to it.  In particular the young lady on reception who insisted on carrying my tray of drinks up the stairs to the upper viewing area.  Damn do I look that old!  A wonderful asset for the island and I hope it goes from strength to strength.
The castle is open again and in my opinion well worth the wait. The new games area adjacent to the shop certainly had my grandchildren going especially the horse racing game and they spent many hours in the adventure playground.  I do have some sympathy with last weeks correspondent who bemoaned the relocation of the coffee facilities in front of the castle but at least I managed a can of Irn Brew and an empire biscuit so all is not lost.  But overall another great asset and lovely to see it back in action.
It was sad to see the cheese factory at Kilmory closed.  I did manage to buy some five blocks of the last production from Arran Provision.  It's a unique and flavoursome cheese which I understand has recently won awards.  What a loss both to the island and the people who worked there.  What a shame production could not have been switched to a modern warehouse type building on the site of the new distillery and with better promotion I feel there must be massive potential for sales.  Sadly I am not wealthy enough to do anything about it so I will make the most of every morsel I have left.
Arran has probably never had as many eating places as it has now and I cannot single any out but local delights such as cheese and haggis toasties, banana cake and tartiflette all went down well.
One of the things I noticed this year was the significant number of camper vans on the island.  I did see some selfish parking, for example at Kildonan where the little car park which would hold five cars nose in was occupied by one camper side on.  I was also saddened to see the green areas in front of the Corrie cottages occupied and the usually wild and remote are to the North of Machrie was beginning to resemble a caravan park!  I wonder if the boom in this type of accommodation will be a good or bad thing for the island?
And in closing myself and my family managed to survive the ferry lottery although travelling on Friday August 9 and 16 many didn't.  I would like to thank the crew of the Catriona for braving the sea conditions on the 9:30am sailing from Lochranza for getting my daughter and young family back to the mainland when it would have been easy not to sail.
A great week again and I must now be patient until we return in November.
Yours,
Michael Smith
North Shields