Arran Banner letters – week 35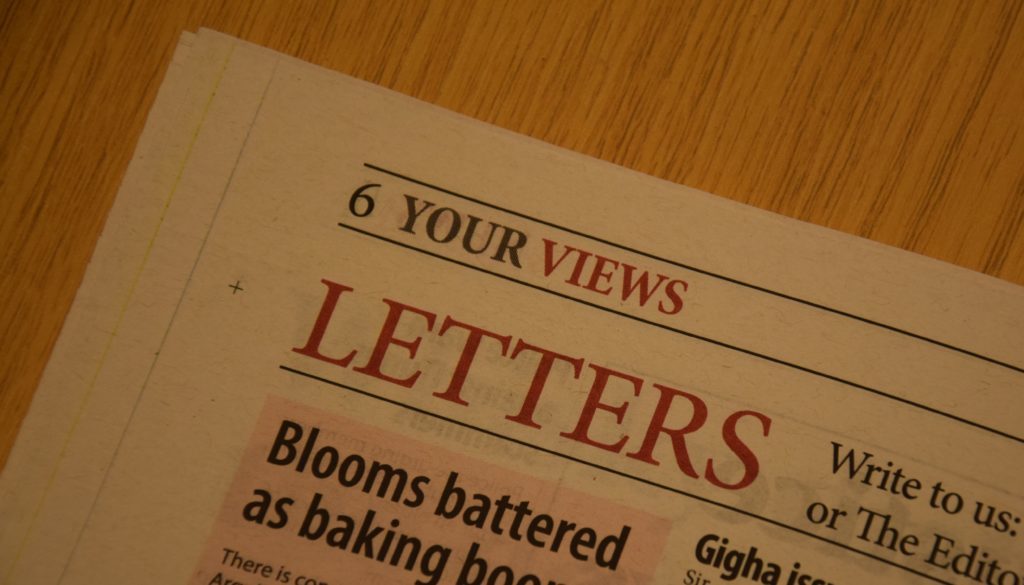 Want to read more?
We value our content and our journalists, so to get full access to all your local news updated 7-days-a-week – PLUS an e-edition of the Arran Banner – subscribe today for as little as 48 pence per week.
Subscribe Now
Summer ceilidhs
Sir,
Once again Brodick Improvements Committee has held ceilidhs every Wednesday evening throughout the school holidays.
As chairman I would like to thank the indefatigable Arrranach Ceilidh Band and the callers, Ali Paul and Chris Trail, our hallkeepers Brian and Wyllie, Liz and others at the Big Co for their continued support, together with all the local businesses and individuals who generously contributed prizes for our weekly raffle.
A big personal thank you from me to our loyal committee members who turn up week after week to support the events.
It has been a great pleasure to see folk turn up on a dreich evening, drookit and miserable on very wet nights and three hours later to see them leave with a beaming smile, after dancing for three hours, offering their thanks to us for giving them an enjoyable time and saying they look forward to seeing us next year.
This year's guests have been truly international.  To add to the Scots/English mix we have had  visitors from France, China, Spain, Holland, Germany, the USA and Australia.
Well done everyone.
Yours,
Harry Davidson,
Chairman,
Brodick Improvements Committee.
Foreign invasion
Sir,
Even devout Brexiteers have no way of stopping ever increasing numbers of two particular foreigners invading our shores, establishing themselves quickly, and then multiplying so that local services are overwhelmed and cannot cope. They are not even from Europe and so the EU can't be blamed – though I'm sure Brexiteers will try!
I refer of course to Japanese Knotweed (JK) and Himalayan Balsam (HB). There seems to have been an alarming increase in these insidious invaders but I'm not aware of anyone seriously tackling the problem. Like global warming, are we going to wait until it is too late to act?  By then any solutions will cost vastly more time and resources.
My understanding of JK (the one with heart shaped leaves) is that it does need specialists to eradicate it, and where I've seen this done it has been successful. However a stop/start approach is allowing other areas to become infested in the interim.
On the other hand HB (more slender leaves) can easily be pulled out of the ground, and if done before the seeds set, can be stopped in its tracks, with a little patience and determination.
I should mention here how satisfying it is to uproot one of these.  It reminds me of when as a child one can waggle a loose tooth. You need to try it yourself to understand and see just how easy it is.
So this is a 'call to arms' to help stop some of our island's invaders, and get to the root of the problem, by tackling your own local area/beach and reclaiming them.
If you decide to use a spade then you can claim to be 'digging for victory' in this war, though it really does only need a tug!
Yours,
David Lang,
Cordon.
Trust's opinion
Severin Carrell's article in The Guardian, 'Heritage body objects to plans for big salmon farm off Hebridean isle', has highlighted a growing disconnect in Scotland of salmon aquaculture, communities and ecosystems.
Once again MOWI, a multinational salmon aquaculture company is aiming to raise 2,500 tonnes of salmon, this time around Canna, and discharge untreated faeces and other waste equivalent to a town of over 30,000 (Dumfries or Lichfield) into pristine, protected marine inshore waters.
All around the west of Scotland similar applications are being submitted to planners, and indeed just last week, Scottish Salmon Company (a company not Scottish at all in investment terms) has put in for a huge farm to be located aside the unspoilt coast of North Arran, with untreated waste of faeces, and food of 20,000 tonnes per year, equivalent to the waste of a town of 14,000 – 2.5 times the resident Arran population – being put untreated into the inshore marine environment; and that is before chemicals are added to feed or used in 'bath treatments' to control parasites and disease.
Already the Clyde has 16 operational salmon farms which have emitted, over time, enormous waste tonnages of copper, zinc, nitrogen, phosphorus and organic carbon into the waters of Loch Fyne and other marine waters in the Clyde. The accumulative impacts of so much waste are increased plankton blooms, enormous turnover of 'morts', dead fish in the cages, and big increases in sealice and disease problems.
There are plans too for another four farms in the Clyde: around Bute, Ardentinny, Little and Great Cumbrae. This klondiking behaviour, whilst they can before tighter regulation, of companies seeking to maximise profits for the short term benefit of shareholders, mostly abroad, sacrificing the ecosystems, the wild salmon of the west of Scotland, interfering with cetaceans, basking sharks and seal habitats, using the 'commons' in a way that is destructive to inshore fisheries, tourism and communities, is being permitted by the statutory authorities despite protests from communities up and down the west coast, and islands.
So hurrah for The National Trust for Scotland's stance on objecting to the development in the sea off Canna.  The value of the marine environment and ecosystem services is difficult to put into the strictly capitalist economic model for each proposed salmon aquaculture farm, but economics, economics, economics, the mantra of these companies,  without looking at the community and real sustainability, which includes the salmon feed carbon footprint, is not in the long term interest of us all. Just by moving the farm out from sheltered sea lochs is no answer to pollution and disruption of ecosystems; it just spreads the waste and chemicals further with potential long term impacts for us all.
Yours,
Sally Campbell,
Lamlash.
Competition question
Sir,
The Adam Smith Institute says that competition is the silver bullet that will make our ferries better, in last week's Arran Banner letters page.
How do they work this one out? Tendering hasn't done much for the buses or trains has it? Serco won the contract to run the sleeper. How is that going? Badly – according to all reports.
For me the deeper problem is that our engineering has fallen by the wayside. Whether it's the ferries up here or Crossrail down there nothing seems to go smoothly. We need to develop the right people to do the job. It seems there is no relation at all between writing an essay to win a tender and actually building something.
Let's invest in our young people and make things here in Scotland. Tom Tracey's letter saying we should do more locally is spot on. Get on with doing the job in hand and stop the paper chase of tendering. Competition gives a charade of activity but butters no parsnips.
Yours,
Alistair McIntosh,
Lamlash
Engineering competence
Sir,
The letter from Dr Eamonn Butler last week advances the favourite, some would say only prescription of 'free market' economics and that is to introduce more competition, in this case into the CMAL ferry procurement process.
The diagnosis leading to this solution is presumably that a cheaper bid will be a better bid, wherever in the world the build would take place and wherever the jobs and downstream value are exported.  I would have thought that the rather tight spread, from £93m to £99m of the seven bids received from across Europe suggests strongly that the solution will not come from spreading the net even wider but maybe from taking a closer look at the technical competence of the design and build contractors and in particular their engineering design competence.
It is quite possible that FMEL could have built the Glen Sannox on time and budget if given a detailed design to work from.  It is unreasonable to expect a shipbuilder especially a very small shipbuilder to carry the overhead of naval architects and other engineering design staff, unless the company has a guaranteed flow of work.  Taking on a fixed price contract for a vessel type with which they had no experience was always going to be a painful experience for FMEL and this much was obvious at day one.
The traditional way to avoid this problem is for the design to be executed before any construction takes place, it is so much easier and cheaper to modify a digital design drawing than cutting lumps out of or welding bits on to a hull. The ship should have been designed by an independent naval architect(s) and engineering designers possibly with construction input from FMEL to produce an optimum design.   Having a competent design prior to construction award is the only way that the budgeted price and timescale can be achieved.
For any engineering artefact the only way that a client will get the desired end result is to make sure that the design is performed by competent and experienced engineering personnel prior to construction commencing. No amount of accountancy or legal or economic or political scrutiny will produce the desired result if the design is inadequate or in this case didn't exist in any substantive form .
The answer is not to invite bids from even more shipyards in other countries, the answer is to ensure we have the engineering competence to build class leading ships on budget and the only way to make them class leading is to make them technologically competitive and this can only be done by technologists with the appropriate skills.
Yours,
Donald McNicol,
Kings Cross.
Concert thanks
Sir,
I would like to thank everyone who made the concert at St Bride's Church, Lochranza such a success last Thursday evening.
This is the third ARCO and 'Friends' concert held in our church and again was extremely well supported despite being a horribly wet night!
I am grateful to ARCO for organising this event and helping to raise the wonderful sum of £824 towards our much needed church funds.  Thanks must also go to the audience who gave so generously showing their appreciation for a wonderful evening.
Bill Scott,
Lochranza.
Atlas sold out
Sir,
In 2014 the Arran Natural History Society produced the first bird atlas for the island. One thousand copies were printed but the society has now no copies left.
Some outlets round the island have a few copies. For example the Harbourview in Blackwaterfoot has six copies still for sale. Other outlets have sold out.
My thanks again to all who helped with this successful publication.
Yours,
Jim Cassels,
Arran Bird Recorder,
Kilpatrick.