Arran Banner letters – week 34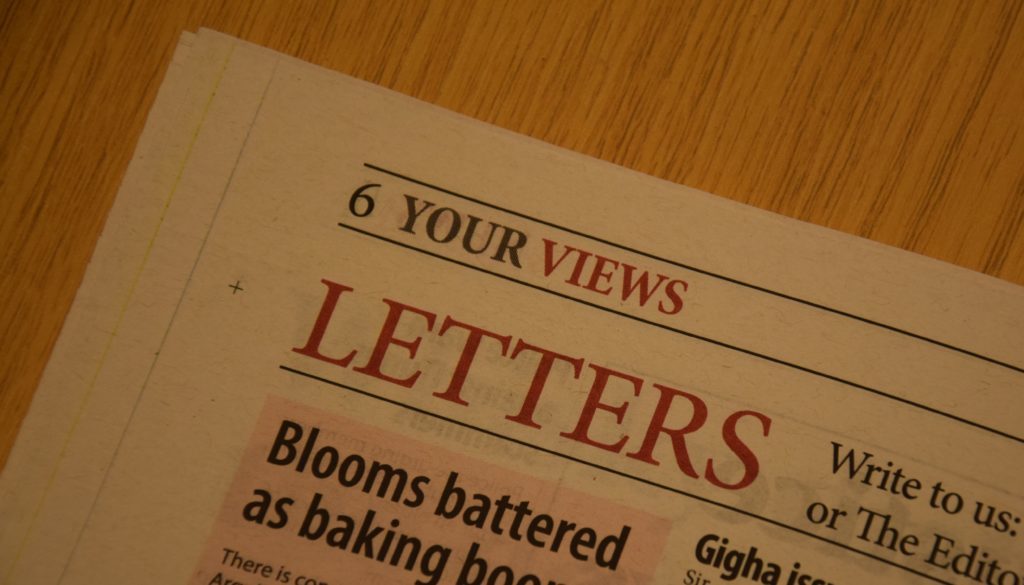 Want to read more?
We value our content and our journalists, so to get full access to all your local news updated 7-days-a-week – PLUS an e-edition of the Arran Banner – subscribe today for as little as 48 pence per week.
Subscribe Now
Brand Arran
Sir,
Arran makes the difference: Amid all the bad news about our inability to build ferries, manage our steel companies or run our own trains, there was a heartening reminder in last week's Banner, that on Arran at least, people still make stuff.
Iain Monteith saw the demand for strong reliable workboats, used his engineering and fabrication skills to make them and market them and now they are being sold across the country and exported beyond it.  The company employees highly skilled local people directly as well as in the supply chain.
Also, the article on Paterson of Arran, another company working away quietly, making world class products. Add to this Arran Aromatics, our two distilleries, our brewery, our chocolate maker, Taste of Arran, our forestry, farming, quarrying, construction, transport, electricity generation and a raft of small arts and crafts companies and we have a very good manufacturing/production base, with the Arran brand at its centre.
Not suggesting we take over British Steel, build ferries or run the trains but if the people that produce things and employ people on this island wanted to, they probably could. It would be good to hear more from them.
Yours,
Tom Tracey
Brodick
Fact not fiction
Sir,
I refer to the letter from J M Campbell in the Arran Banner dated 17th August, 2019.
Mr Campbell has never set foot on Arran Workboats premises nor has he had any insight into our boat building procedure and yet he deems himself qualified to comment on our business. The facts he stated in his letter are not only blatant untruths but he is inciting mischief by his false reports against our products and tendering process obviously with the intent to discredit our company's reputation and integrity.
Had Mr Campbell been in our workshop during the last 10 years, he would know that all our boats are built entirely from scratch in our Arran workshop, including the hull, which Mr Campbell refers to as the 'shell'. Our calculations and designs have been passed by CE Proof and have build certificates issued by HPI Verification Services. Getting to the position we are now in has involved a huge amount of work and considerable investment. All our component parts are designed in-house and cut out on our CNC routers. The boats are fabricated on jigs and rotating spits, all designed and manufactured in-house. The long term employees who build the boats are all certified by The Welding Institute (TWI). The finished boats are coded by the MCA and the coding has to be renewed every year.
Mr Campbell has done everyone who works here and everyone involved in the knock-on effect a great disservice with his totally fictitious assertions about our company. One of our key selling points is that the boats are built from scratch and can be customised to suit the customer's requirements. Every contract we have won has been put out to tender.
In fact, anyone who would be interested should purchase an excellent little DVD called 'Welcome to Whiting Bay' (cost £10). In it, they can see for themselves how the boats are built plus many other talks and anecdotes of our village.
Thank you Mr Campbell for giving us the opportunity to share with our community the wonderful work carried out by our hard working and dedicated team at Arran Workboats Ltd.
Yours,
Iain and Sandra Monteith,
Directors,
Arran Workboats Ltd.
No merit
Sir,
I feel obliged to write to correct some misinformation contained in Mr Monteith's letter to the Banner last week on the subject of the proposed fish farm. He asserts that the Lochranza open meeting was a farce and that people did not have the opportunity to be better informed. Perhaps he was not at the meeting, but he is undoubtedly unaware of what actually transpired.
Firstly I am not a campaign leader simply a representative of our local community association. We had encouraged our members to come along to learn more about the proposal, and had invited them to attend at a specific time so that their comments could not be watered down, as happened subsequently with the strictly controlled and contained, small numbers allowed at the Brodick consultation.
On arrival at the hall, we were delighted to learn that Craig Anderson, chief executive officer of the Scottish Salmon Company was present.  Our association formally invited him to give a brief presentation to the assembled company as to why this fish farm development was a good thing, and perhaps answer a few questions from concerned residents. Much to our surprise he absolutely and steadfastly refused our invitation.
We considered the matter further and came to the rapid conclusion that if the head of the company was unable to speak in favour of the proposition, that there could be no merit in the proposal for a fish farm and no point in remaining at the event.
Further we do not complain about being ill informed as it is difficult not to be, with the extensive and largely unsupportive media coverage this industry has received of late.
Now that the planning application has been received at NAC, our community association urge all, of whatever opinion, to read the application, and respond individually to NAC with copies to both of our Arran based councillors who sit on the planning committee.
Scottish salmon is apparently Scotland's biggest food export. Despite a recent independent report to the Scottish government stating that fish farm expansion should be halted, further development is being allowed. We should all think carefully as to whether trashing our marine environment and endangering wild fish stocks is a price worth paying for limited economic development.
As has been decided with fracking, we urgently need a moratorium on further expansion of the industry. This would provide an opportunity to reassess the environmental impact in terms of pollution, toxic chemical use, and wild fish endangerment. It would identify whether open cage fish farming is sustainable in its present form and also determine what further measures are required in terms of industry inspection and regulation. We must also have reassurance about fish husbandry, given the huge numbers of casualties, something which is totally unacceptable to many. Future generations are unlikely to forgive us for accepting significant environmental damage for short term economic prosperity.
Yours,
Robert Cumming
Secretary,
Lochranza and Catacol Community Association.
Show thanks
Sir,
While chair of Arran Farmers Society (AFS) I would sincerely like to thank the sponsors, the raffle prize donors and the many volunteers for their support of the Arran Agricultural Show on Wednesday August 7. The show wouldn't function without the support of these people.
Next year will be the 184th Arran Show – one of the longest running agricultural shows in Scotland. It will take place on August 6 when AFS hope, with your help again, to celebrate another successful show and another contribution to Arran's ongoing festival of summer events all so well recorded in the Arran Banner.
Yours,
Margie Currie,
Blackwaterfoot.
Ferry meddling
Sir,
The old Ferguson Shipbuilders was almost certainly forced to close by the same problems that have plagued our Naval and commercial shipbuilding for a generation: customers' unrealistic technical aspirations, design creep, under-appreciation of the complexities and poor project control.
Now its successor, Ferguson Marine has suffered the same fate – except that now the complexities are even greater: the new type of ferries Ferguson Marine was asked to build, running on diesel or liquefied gas, are untested in operation anywhere in the world.
CalMac (the ferry operator) and CMAL (provider of the ships and ports) are both Scottish government owned and have already cost taxpayers £1bn over eight years. The cost of nationalising the last ferry builder on the Clyde seems likely to rise from a predicted £130m nine months ago to £200m+ now.
The Glen Sannox was supposed to be serving Arran last year; it looks unlikely that the problems will be fixed fast enough to get it into service even next year. Meanwhile, island residents, businesses and visitors have to endure the delays, cancellations and squalor that come with an over-stretched and clapped-out fleet.
The recent renewing CalMac's monopoly on the Ardrossan-Brodick route now looks pretty sick. A dose of competition would focus minds and bring in new ideas and capital. New providers might even buy ferries that actually work, from proven ferry builders, rather than waste taxpayers' money on untested ideas so that politicians can signal their 'green' virtues. That is why it is sad that the Scottish government's only answer to the problem is yet more meddling control by the same bureaucrats who have already messed things up so spectacularly.
Yours,
Dr Eamonn Butler
Director,
Adam Smith Institute,
London.