Arran Banner Golf – week 31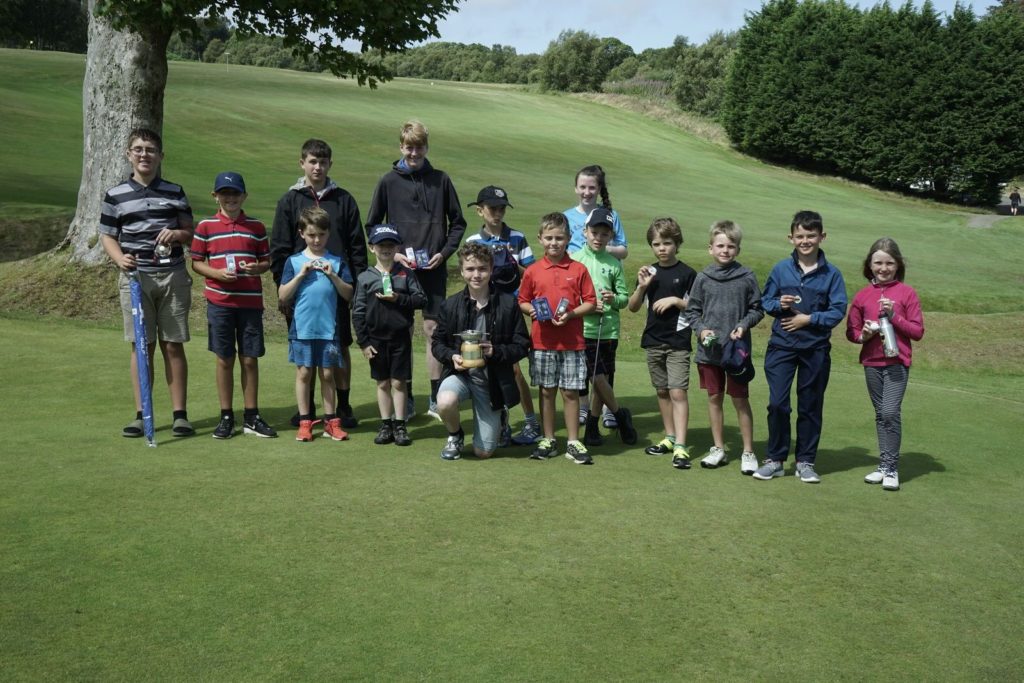 Want to read more?
We value our content and our journalists, so to get full access to all your local news updated 7-days-a-week – PLUS an e-edition of the Arran Banner – subscribe today for as little as 48 pence per week.
Subscribe Now
Whiting Bay Golf Club
Wednesday July 24, Jim Pirie Quaich, 34 played and the CSS stayed at 63 (36 points). 1 Ben McGregor 11, 39pts, ACB, 2 Murray Foggo 6, 39pts, 3 David Brookens 12, 37pts. Magic twos, Murray Foggo, Alan Foggo and Neil Richardson.
Sunday July 28, Nestor's Jug, Yellow tees, 5 played, CSS 61 (38 pts). 1 David Hadden 26, 50pts, 2 Colin Nisbet 13, 39pts. Nestor's Jug, White tees, 12 played, CSS 64 (35pts). 1 Stan Rainey 12, 41pts, 2 David Blair 15, 36pts, ACB, 3 Stuart McGregor 13, 36pts. Magic twos, Stan Rainey, Murray Foggo and Markus Kroner.
Monday July 22, Junior Open Championship. Following a well established tradition of the grown-ups open at the weekend, on Monday the course was handed over to the youngsters for their annual open. It's a fun event for juniors of all ages and the girls enjoy the event just as much as the boys. Unfortunately Brian and Elaine Adair could not be with players this year but Alan and Jill Foggo proved more than capable substitutes, the competition being organised and run impeccably. The weather was again kind and there were, as usual, various formats designed to suit the different age groups. With spot prizes for long drives and other parts of the game all players take something from the game as well some happy memories of a fine days golf but as well as all that, the winner of this year's Junior Open Championship is Cameron Stewart from Lamlash. Congratulations to him.
Thanks once again to the Adair/Foggo clan for their generous and unwavering support of this event which is, after all, the future of the game and the club. Thanks also to the small army of members and friends who helped the players on the course and assisted in so many other ways to make the 2019 Junior such a success.
Saturday July 27, Ladies Open, 15 Hole Stableford. Most were very lucky with the weather but later golfers got rather wet. The Club was delighted to have a field of 44 ladies and appreciate the support of country members, visitors and other island lady golfers.
Brenda Rankin was leading the scoreboard for most of the day with an excellent 33 points but the last and wettest player, Elizabeth Kelso matched her score and had the better inward half, so took the trophy. Proving to all fair-weather golfers that rain is no barrier to good golf. Congratulations to Elizabeth and all the winners. 1 Elizabeth Kelso 21, 33, ACB, 2 Brenda Rankin (36) – 33, 3 Isobel McDonald 20, 31, 4 Lynda Blair 23, 30, ACB. Hole prizes, 1 Susan Butchard, 2 Ellie Adair, 3 Ruth Hardy, 4 Lesley Wood, 5 Lynda Blair, 6 Elizabeth Kelso, 7 Joyce Wells, 11Jenni Turnbull, 12 Elizabeth Kelso, 13 Ellie Adair, 14 Ann May, 15 Susan Butchard, 16 Morag Cruickshank, 17 Anne McVicar, 18 Susan Butchard. Most effort, Margaret McCulloch. Magic twos, Margaret Auld at 4th, Ann May at 4th. Lucky Dip, Fran Hadden.
There are lots of people to thank:  Stewart and Osborne Solicitors who once again,  for the umpteenth year,  gave us a very generous donation: Doreen Mainds of the Tartan Tablet Company who was unable to play, but donated lots of her delicious tablet which was very much appreciated and enjoyed.Everybody including businesses who kindly donated hole prizes and raffle prizes. We are so lucky to have such generous members and supporters.The course is in fantastic condition thanks to the hard work of Stuart and Corrie so thank you very much to them.
Thanks also to John, Nancy, Corey, Jenni and Jamie behind the bar who worked so hard all day keeping us fed and suitably hydrated and have helped in so many other ways. Nothing is ever too much trouble.
Thanks to Christine and Doug for painting the boards yet again, to David and Fraser who very kindly laid out the markers on the course, to Mary in the starters box. (Where else would you get such a cheery welcome?) Howard for growing plants to decorate the clubhouse and the Shiskine ladies for bringing in the boards.
Thanks also to the dream team of Jean, Margaret, Tricia and  Lynda. Without them the Open would not happen. Finally thanks to everyone who participated, we raised over £800 for the club.
Fixtures: Sunday August 4, Medal. Wednesday August 7, McNicol Cup. Sunday August 11, Aitken Rosebowl Foursomes.
Brodick Golf Club
Tuesday May 28, 9 Hole Stableford. Winner Margaret Bryce, runner up Liz Lawrie. Coronation Foursomes. Winners Carole Stewart and Fiona Henderson, BIH, runners up Susan Butchard and Isobel Macdonald 29pts.
Tuesday June 4, 9 Hole Stableford, CSS 68. Winner Gege Kroner, 17pts, runner up Brenda Livingstone 15pts. May Medal (postponed), winner Ann May 74-6=68, runner up Susan Butchard,82-11=71.
Tuesday June 25, Centenary Quaich, CSS 67. Winner Nina Morgan 98-36=62, runner up Susan Butchard 76-10=66. Well done Nina, winning her first competition. I am sure there will be many more.
Tuesday July 2, July Medal, CSS 69. Division 1 winner Ann May 76-6=70. Division 2 Gege Kroner 90-21=69. Welcome back to 18 holes Gege.
Tuesday July 16, 9 Hole Stableford, winner Trish Martin 18pts, runner up Jean Robertson 16pts. Wright Trophy, CSS 69. Winner Moira Small 37pts, runner up Margaret Roxburgh 36pts. Both Moira and Margaret reduced their handicaps, well done girls.
Corrie Golf Club
Wednesday July 24, Fairs Cup. 1 G Andrew 69-10=59, 2 A Napier 74-10=64, 3 L Hartley 80-15=65, scratch. Magic twos, A Smith but not the magic one.
Saturday July 27, Summer Cup. 1 J McGovern 75-14=61, 2 R Logan 69-6=63, scratch. Magic twos, Marvin Elliot who wins the pot. The Club Championship Final
was contested by Euan McKinnon and Donald Logan. This scribe was unable to attend but I am told (by Donald) that the game was played in good spirit with both players scoring a few 2two's and lots of threes with the outcome a win for Euan.
Fixtures: Saturday August 3, 18 Hole Sweep, ballots at 9am and 2pm. Sunday August 4, Archie Hunter Cup, juniors, 2pm start. Wednesday August 8, 18 Hole Sweep and Magic 2's, ballot at 5.30pm.
Lamlash Golf Club
Thursday July 25, Summer Cup, CSS 65. 1 Robert Calder  71-11=60,  2 Scott Campbell  81-16=65, 3 Jim Young  83-17=66, BIH, 4 Colin Richardson 82-16=66, BIH over Neil Stewart. Best scratch, Neil Stewart 71, BIH over R Calder. Magic twos, Calum Rae at 13th,  Neil Stewart at 4th and 14th, Neil Young at 16th.
Friday July 28, Summer Stableford, CSS 63, 37pts to Stableford. 1 Andy Smith  38pts, 2 Serge El Adm  33pts, BIH over G Andrew and I Bremner. Best scratch, Ian Bremner 26pts. Magic twos, Allan Winship at 4th. Hole in one, Andy Smith at 14th. Well done Andy on his second hole in one in his golfing career and for scooping the twos accumulator.
Monday July 29, The Glenkiln Rosebowl, Bronze Championship was between Alison Heron and Ruth Hardy. Alison was trying to win for the third time but Ruth played extremely well with very few mistakes to win six and five.
Fixtures: Friday August 2, Open Practice Day and Dan Crawford Salver (Lifeboat Day), make up own groups and see starter for times. Saturday August 3, Lamlash open round one, Sunday August 4, Lamlash open round two. The Open has reached its full complement of players  – good luck to everyone taking part !
Arran Golfers Association
Fixtures: Friday August 9, Monday August 12, Friday August 16, Champion of Champions at Lamlash Golf Club, all at 5.30pm. Whiting Bay, Danny Head v Champion, Ewan McKinnon, Brodick, Ross Duncan v Lochranza Castle, contender unknown, Lamlash, Todd Jameson v Machrie Bay, Hamish Bannatyne, Shiskine, Jack McNally v Corrie, Donald Logan.
Shiskine Golf Club
Wednesday July 24, Gents 18 Hole Medal. 1st class: 1 Alan Stewart 71-10=61, 2 P Betley 75-10=65, 3 C Watson 81-10=71. 2nd class: 1 C Laing 88-18=70, 2 W McNally 92-15=77, 3 R Betley 114-28=86.
Machrie Bay Golf Club
Tuesday August 6, Peter Sutton/Lady Mary, tee off 12.30pm/5.30pm.
Whiting Bay Ladies Open podium party comprising Lynda Blair, Isobel Macdonald and winner Elizabeth Kelso with organiser Lesley Wood. No_B31golf01
All of the young participants in the Whiting Bay Junior Open. No_B31golf02
Junior Open champion Cameron Stewart receives his trophy from organiser Alan Foggo. No_B31golf03
Winner of the Glenkiln Rosebowl at Lamlash was Ruth Hardy with runner up Alison Heron. No_B31golf04