Arran Banner letters – week 28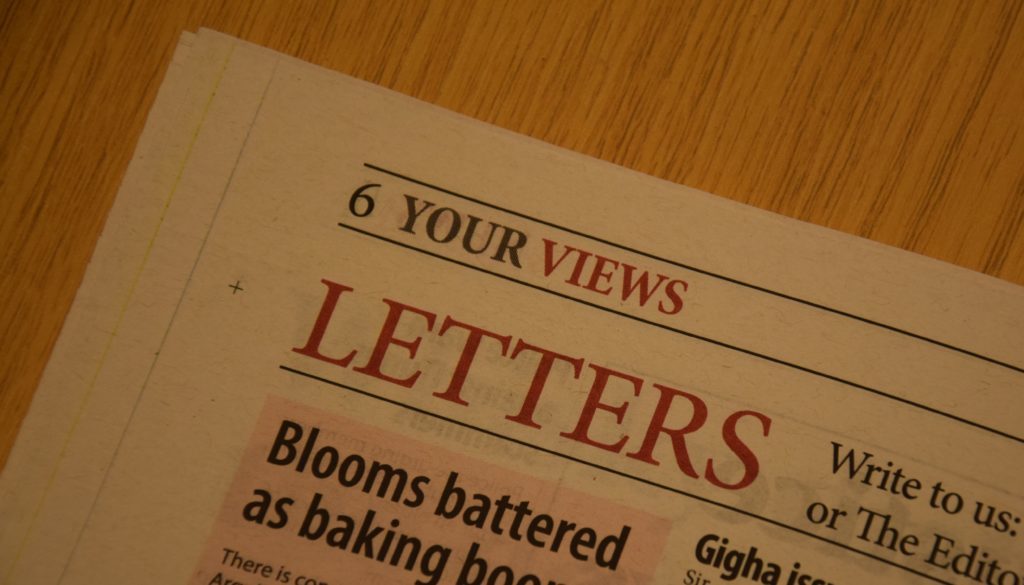 Want to read more?
We value our content and our journalists, so to get full access to all your local news updated 7-days-a-week – PLUS an e-edition of the Arran Banner – subscribe today for as little as 48 pence per week.
Subscribe Now
All welcome
Sir,
Having just visited Arran, and the exceptional Sandwich Station in Lochranza, I was saddened to hear that Lizanne has been forced to leave the country due to the UK's immigration rules.
Her's is one distressing story amongst many. Across Scotland thousands of people are living in insecurity, in fear of being separated from their loved ones and communities and facing deportation due to this inhumane immigration system.
The vast majority have to face the racism built into our system. Almost none have any support, save for a handful of volunteers from organisation like The Unity Centre in Glasgow who support some of the most vulnerable as they navigate the system.
Scotland needs a humane and compassionate immigration policy that welcomes everyone who wants to come and make their home in Scotland.
Not only is this the right thing to do. It is in Scotland's interest as we face static population growth. Communities like Arran are aware of the difficulties that stagnant population growth can cause – Arran's population is lower now than it was 300 years ago. This is unsustainable, particularly as we face an ageing population.
Let us show the world that Scotland welcomes all it's citizens with open arms. Let us support all those currently struggling against the UK's immigration system. And let us ensure that no more families have to face the heartache that the Malpas' currently face.
Yours,
Ed Pybus
Tighnabruaich
Geopark opinion
Sir,
I am contacting you as a geography student at York St John University currently conducting dissertation research into the effects of the new geopark status on the Isle of Arran. Geoparks were created to promote areas with geological diversity as well as raise awareness of local geology and increase economic development. These things form the basis of my research.
In order to gather data for my research, I am looking to collect information from businesses on the island about their opinions of the geopark and about any effects they may have noticed. This will be carried out in the form of online surveys. Having visited the island previously on several occasions I am interested to see what has changed since I last visited. In order to make this beneficial to you, I am willing to keep in contact and share the results of my study with you should you wish to use it for your own benefit. This will most likely come in the form of a short summary of my findings.
Should you wish to participate, email abigail.brook-pett@yorksj.ac.uk and I can provide a link to the survey which can be found at https://forms.gle/ji6FKkT6eDBwHMgS8
I ask that you provide an email address as instructed in order for me to identify your data should you wish to withdraw. All data will be kept anonymous in the final dissertation. You may withdraw from the study at any time up until September 30, 2019 and any information provided up until that point will not be used in the research.
If you have any questions about anything I have mentioned please feel free email me. I appreciate you taking the time to read this and I hope to hear a response soon.
Yours,
Abigail Brook-Petty
York St John University
Castles' ghosts
Sir,
Regarding your story on 'Ghostly goings on at the castle' in last week's Arran Banner, it is OK if some people want to be scared and are prepared to pay for it. All power to the resident ghosts.
Perhaps the Grey Lady and her spectral companions should get in training by first haunting the North Ayrshire parking enforcement officers when they first arrive in Brodick with their cameras and ticket issuing machines? Just the castle wall to drift through and then a wee trip across the bay shouldn't give them any problem eh?
Yours,
Tony D'Arcy,
London.
Fishing permit
Sir,
I recall that Blackwaterfoot Angling Association had the fishing on the Blackwater river and also on Loch Cnoc an Loch in the hills above Shiskine. You used to  be able to buy a day ticket, or to join the association. I would like to contact the association to buy a permit to fish the Loch. Can any of your readers put me in touch with them please?
Yours,
Graham Ross
grahamross47@gmail.com