Arran Banner letters – week 27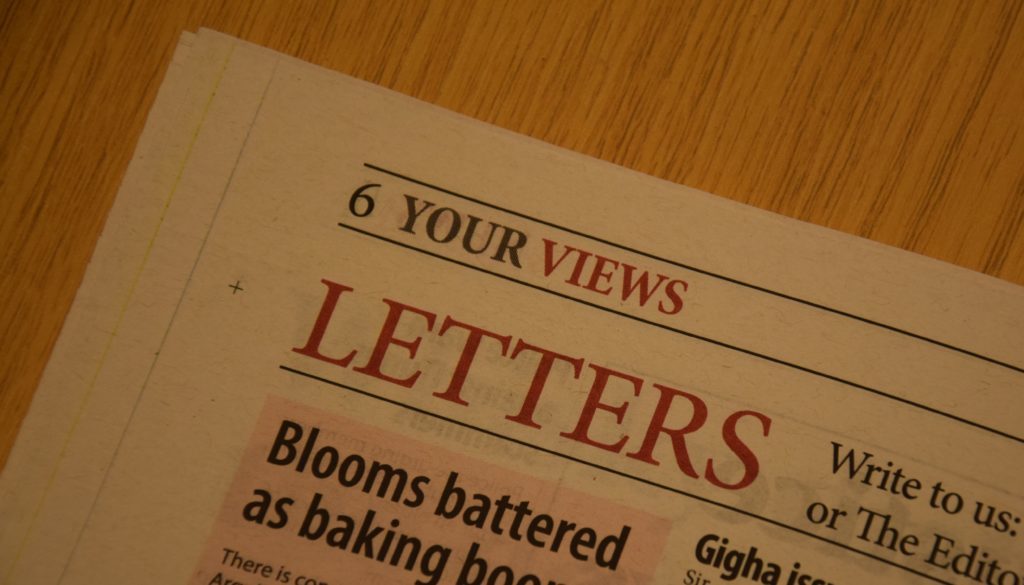 Want to read more?
We value our content and our journalists, so to get full access to all your local news updated 7-days-a-week – PLUS an e-edition of the Arran Banner – subscribe today for as little as 48 pence per week.
Subscribe Now
Long term parking
Sir,
Although I can understand why parking charges might be necessary from some perspectives in Brodick, there is another aspect that also needs to be considered and that is there needs to be a supply of long term parking.
At the moment if you live outside Corrie, Brodick, Lamlash, Whiting Bay and Blackwaterfoot you cannot always get home by public transport when you arrive by ferry at Brodick.  I stay at Kildonan and I am OK if I am on the 18.00 ferry, but only if it is on time, but if I am on the 7.20pm then there is no bus to get home.
The cost of a taxi is prohibitive so the only answer is to leave your car in Brodick.
The ferry terminal parking is for short stay only and if the front has parking meters then where do we go, I doubt one will be able to feed the meter for a week's holiday even if one wanted to.
Organising travel around the ferries presents enough issues of logistics without subsequently getting a hefty bill for parking or having to pay for a very expensive taxi to get you home.
I also think that if the personnel checking that each car has a parking ticket comes from the mainland there would be no financial benefit to NAC as the income would get used up in salaries and transport costs.
Yours,
Chris Brown,
Kildonan.
Relevant history
Sir,
The section of this newspaper 'Arran Banner 20 Years Ago' is an important weekly feature. It is timely to mention that 190 years ago this summer 86 former Arran crofters, inhabitants of Sannox displaced by the Clearances, arrived in Québec City aboard The Caledonia (Alastair Gemmell, Discovering Arran, p.86). They were received in North America as immigrants to start a new life in Canada. Thank you for helping to keep history alive and relevant.
Yours,
Arno Loessner,
Kings Cross.
Retirement thanks
Sir,
I would like to thank everyone who made donations to mark my retirement after 31 years as a social worker on Arran. I was overwhelmed by the kindness and generosity shown, with over £850 being received. This will be shared between Art in Mind and Arran Youth Foundations, two organisations that I know make a positive difference to members of this community.
Yours,
Diana Turbett,
Shiskine.
Neatness obsession
Sir,
Gorgeous day today! I was surrounded by a host of brilliant yellow wild flowers and so many bees doing due diligence as they gathered nectar from one flower then another. Fascinating how each bee was specialising in only one species – for one bee it was hawkbit for another clover for another tormentil. I just was so glad we leave the grass with all the wildflowers growing freely around the house.
The beauty was not to last. First the angry noise of the strimmer; next the poisonous fumes of half-burnt petrol. Both totally inescapable.
After three hours it ceased. I came out of my house into the sunshine. Only the lingering smell of petrol fumes and the less than pleasant smell of mashed up grass. And a field that had been vibrant green now a dead looking pale yellow.
I went with my rake to clear the debris from the edge of the track between my house and the next. It was a small strip and it did not take long. However to my horror amongst the remains of the grass were the remains of a slow worm – head and tail crudely strimmed off. I imagined its terror as the awful machine of its execution drew nearer and nearer. Did it try to flee at first until there seemed to be no escape?
If that is from one short strip of grass how many more are lying dead in the field strimmed at the same time? And how many thousands all over the island are slaughtered every summer all in the cause of grass being made to comply with the ideal of a golf course putting green?  I just wish people would wake up to what they are doing to nature with their obsession with neatness. Let the wildflowers and the beautiful grasses and the bees, butterflies and all God's little creatures flourish instead.
Yours,
Peter Finlay,
High Corrie.