Arran Banner letters – week 18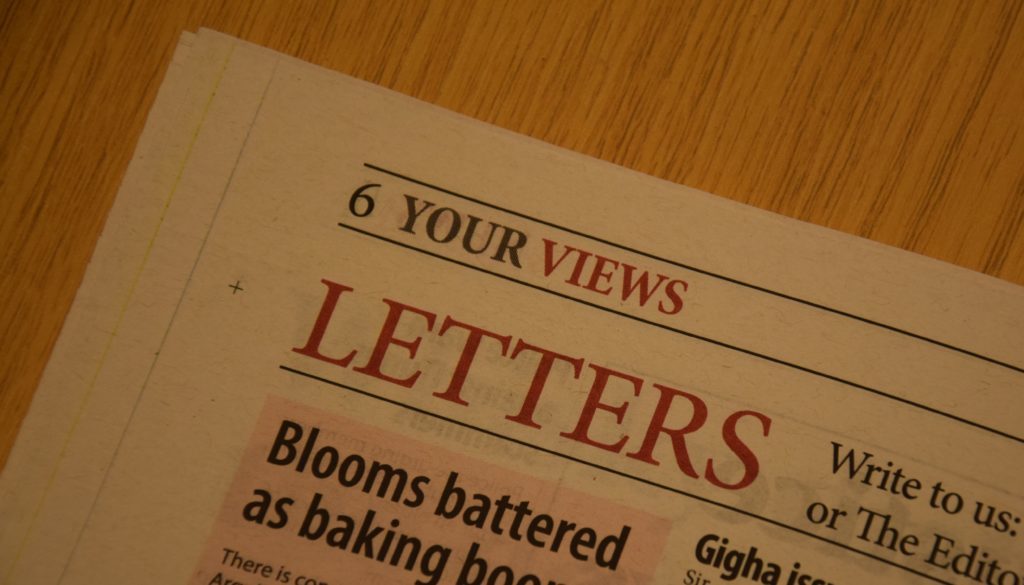 Want to read more?
We value our content and our journalists, so to get full access to all your local news updated 7-days-a-week – PLUS an e-edition of the Arran Banner – subscribe today for as little as 48 pence per week.
Subscribe Now
Second homes
Sir,
Your recent balanced coverage of the affordability of homes for young people, an issue which to my certain knowledge has bedevilled Arran for at least the last 50 years and probably longer, has now, unfortunately, been sensationalised in other media outlets. Their facile conclusion is that increasing numbers of holiday home owners have pushed prices beyond reach and are threatening the economic future of the island.
Nothing could be further from the truth. Inflated house prices are a national problem, arising from a complexity of issues, not least of which is a shortage of supply, development constraints, irresponsible lending, parental funding and irrational 'investment' concepts. Second-home owners, on the other hand, are vital components of Arran's growing economy.
Like many, our second home was recently designed, built, landscaped, equipped and partially furnished by sound Arran businesses with local employees, all of whom provided quality workmanship on time, at a fair price and duly received prompt payment. We continue to use local delivery and other services as required.
We regularly patronise local shops, tea rooms, restaurants, galleries, golf clubs, visitor attractions (the distillery, castle etc) and support local events, initiatives (COAST, the coastal path scheme) and village improvement schemes. Our guests do likewise.
On the other hand, we pay higher council taxes, avail ourselves of significantly fewer 'services' and have no vote. Some pensioners even have to  pay bus fares!
Councillor Cullinane is 'shocked' and plans to visit the island to investigate, though,sadly, his immediate response is to check council tax assessments. Hopefully, when he arrives, he will not suffer the indignity of needing to use one of the public toilets recently closed in a misguided NAC cost-cutting measure. His first finding should be the realisation that Arran and its tourism industry is quite different in nature to the mainland NAC constituency and thus requires different consideration. It beggars belief that it has taken NAC so long to address the issue of Arran's dangerous road surfaces, particularly when cycling and outdoor event tourism is booming, yet still fails to effect a dependable integrated ferry and rail transport service.
Hopefully, better informed after his visit, the senior councillor will return to the mainland inspired and determined to focus the power and financial support at his disposal on Arran's blossoming tourism industry with its job creation potential, rather than be distracted by an outbreak of xenophobia.
Yours,
Downie Brown,
Whiting Bay.
Terminal thoughts
Sir,
Following on from Bob Haddow's letter in the Banner last week, readers may like to know where our thinking about the Brodick terminal building is going. I hasten to add that the following ideas are solely my own and simply represent an architect's informal contribution to the overarching strategy currently being developed by the Ferry Action Group.
It is agreed by most residents that the new building is at best inconvenient and at worst, in particular the stairs, downright dangerous for the encumbered and less than able bodied. But it may not be fully appreciated that what we have is, in effect, a three storey building where the middle floor doesn't exist: the height is simply to get people up to the level of the walkway at 5.8 metres above ground level.
This results in long stairways up and down which are too steep. The inconvenience is worsened by two inadequate, because too small, lifts badly situated for arriving passengers.
I have had discussions with manufacturers and experts specialising in the vertical movement of people and, putting their ideas together with mine, we think a possible solution would be as follows :
1. Insert a new mezzanine floor accessed by four, larger lifts, two at each end of the building and two escalators. Each escalator would rise only 2.9 metres, the first to the mezzanine, the second to waiting room level. The lifts would then serve three floors rather than two and the stairs, equally, would stop at and start from the mezzanine.
2. The new mezzanine would provide a large retail space, possibly a café and overflow waiting area at busy times.
The advantages of this replanning are, that lifts of sensible sizes would be available to arriving passengers immediately at the end of the walkway, that two short escalators would enable one to be under maintenance whilst the other was working and that the profits from the retail operations could help to pay for them. Furthermore, escalators can be climbed even when not in use.
The existing stairs would be retained in their present positions but divided into two by landings giving access to the mezzanine. They would still be required for incoming passengers walking down and for emergencies and would continue to be the principal means of access whilst the major work was taking place.
The idea of a travelator was mooted, but this would be more expensive than escalators and would not be suitable for wheelchairs, which would use one of the new capacious lifts.
As ever, the problem would be cost. But if some such strategy was adopted it would form a one strand in a rope with which we, the residents on Arran, hope to choke CalMac, CMAL and Transport Scotland into submission and oblige them to listen to us.
Yours,
Ian Ferguson,
Lamlash.
Informed observer
Sir,
I have read various correspondence in the Arran Banner and the national press regarding the state  of the ferry service to Arran  and feel that I must comment as an informed observer.
Following my retirement I no longer rely on the ferry service as a resident or for business purposes. I qualify as an informed observer, through spending a lifetime travelling between Brodick and the mainland, spending six years commuting between Rothesay and Brodick and six years working in Ailsa Shipbuilding in Troon, wh0 were responsible for building a large proportion of the Caledonian MacBrayne  fleet.
From my personal experience and  I have seen the ferry operators make several major mistakes, which has contributed to the present chaos as follows: allowing the closure of Fairlie Pier as a ferry terminal; concentrating the ferry service on Ardrossan; allowing the closure of Ailsa Shipbuilding yard in Troon, in favour of Fergusons of Port Glasgow  a poorer equipped yard and much less suitable); following a policy of building bigger and less manoeuvrable vessels to fulfil the service; creating an unnecessary terminal at Brodick, ceasing an alternative service to Gourock.
I think the progress of the services provided by CalMac can be summed up by quoting a timetable which was recently republished. This timetable showed the journey time, in 1911,  from Brodick to Glasgow was 1 hour 50 minutes. Now, 108 years later, it is over 2 hours. Is this called progress?
Yours,
Derek Hall,
Lamlash.
Staff praised
Sir,
My husband and I would like to say how very grateful we were to CalMac Staff on Thursday evening when we arrived on the pier at Brodick in time for the last ferry, only to discover that our car had a puncture.
When I informed them of our predicament, all staff and fellow car drivers were very helpfu in particular Katy who first of all jumped into action and did the preliminary steps of the wheel change.
Once she was called away to load the boat, Gordie took over and completed the job – just in perfect time for us to drive on to the boat and complete our journey home. The CalMac gentleman in the office was also very helpful.
So often we hear of disgruntled passengers, but on this occasion it has to be full marks to the Brodick staff who simply informed us 'it was all part of the service'. Thank you.
Yours,
Alan and May Mordaunt,
Auchterarder.
Two issues
Sir,
The deliberations of the Ardrossan Harbour Taskforce Group lack transparency, and go largely unreported in terms of the travelling public. In considering Ardrossan, two issues are of vital importance to the future of our lifeline service.
Firstly, if the perfectly functional, and appropriate, Ardrossan terminal  building is to be unnecessarily replaced by a new build at large public expense, it is essential that lessons be learnt from the terminal at Brodick, which has received much criticism. There must be a wide passenger access system which is fit for purpose and not subject to continual breakdowns. Further, the problems of access and distance, as well as lifts and stairs, experienced by the disabled, elderly, and those with significant hand luggage or prams must not be repeated.
Secondly, island businesses, residents and frequent travellers alike, will not happily accept service reliability and resilience appearing only as a secondary consideration to the economic development of Ardrossan. Given the evident problem of the alignment of Brodick pier and inadequate swell protection, people are unlikely to take the advice and the assertions that all will be well from Task Groups, CMAL or CalMac.
The only credible advice will be public statements from route skippers, confirming that works undertaken will significantly improve access to above current levels, when the weather is difficult. Without this undertaking, from those who ultimately decide whether a boat will sail or not, the powers that be need to think again, in terms of types of vessel and ports, before further public funds are squandered without addressing the real issues of concern to us all.
We continue to welcome the public's input and advice, and urge anyone wishing to support our lobbying group to register in your local shop or online on our website www.arranferries.scot.
Yours,
Robert Cumming,
Arran  Ferry Action Group,
Steering Committee.
Spring Fair
Sir,
On behalf of the pupils, staff and parents of Pirnmill primary and early years class we would like to say thank you to everyone who contributed, in whatever way, to our Spring Fair.  We raised the grand total of £678.46.  The dismal weather did not stop our outdoor activities going ahead, children enjoyed gymnastics in Pirnmill village hall while visitors and locals ate delicious soup and sandwiches whilst listening to live Jazz Music.
We'd also like to thank the organisers of Lochranza Daffodil Tea for their donation to the school.  We look forward to seeing you all again next year.
Yours,
Staff and pupils,
Pirnmill School.