Arran Banner letters – week 16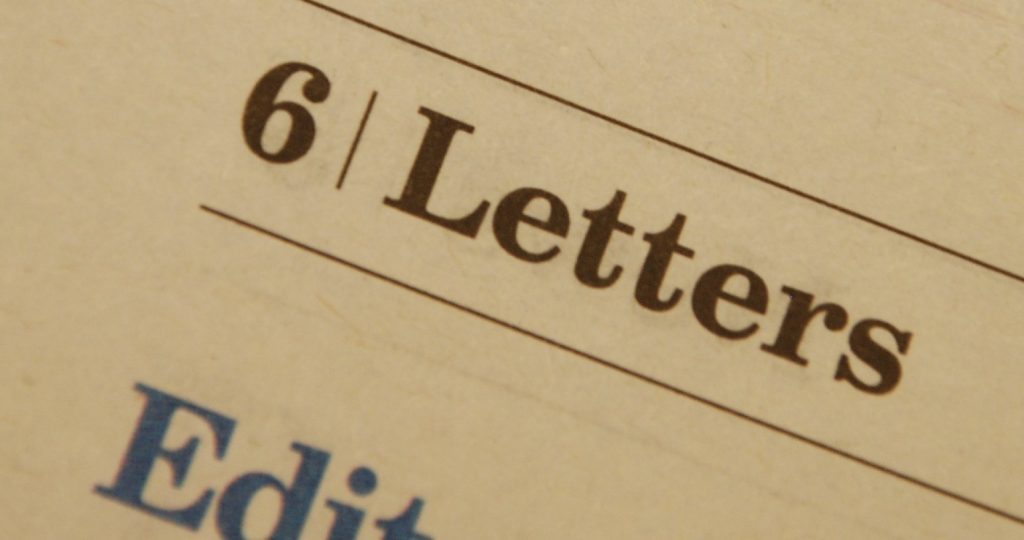 Want to read more?
We value our content and our journalists, so to get full access to all your local news updated 7-days-a-week – PLUS an e-edition of the Arran Banner – subscribe today for as little as 48 pence per week.
Subscribe Now
Action group needs support
Sir,
Further to the public meeting in Brodick Hall last week, we would like to extend our grateful thanks to the very many who attended and made such a positive contribution. The debate has very much confirmed the view that our ferry service and infrastructure are not fit for purpose, and that a fresh and more determined approach is required to demand action going forward.
We feel we have been given a clear mandate to progress matters, and a steering committee is now in place, and working hard to arrange an inaugural AGM.  This will formally constitute an elected new body as soon as practical, which can then begin to tackle the many problems, you the public, have identified.
One thing we clearly need however is your support. Without public opinion on our side, we cannot hope to influence and convince the powers that be that we are speaking with one voice as an island community. To this end, you will shortly have an opportunity in local shops and online, to record your support by adding your name to our list of supporters. Please consider signing up so we can act together to demand both a proper service, and an end to the poor investment decisions that are being made on our behalf.
Yours,
Gavin Fulton,
Steering committee chairman
Blacksmith wanted
Sir,
As many of your readers will know the Arran Heritage Museum at Rosaburn in Brodick has a wonderful working smiddy. In fact that was the first part of the museum when it opened to the public 40 years ago.
For many years the museum was able, fortunately, to have blacksmiths demonstrating their skills, from time to time, but sadly for the last few years it has not proved possible to find anyone to do this.
In this their 40th anniversary year they are very keen to have the smiddy, which is still in full working condition, hosting demonstrations again. Shoeing horses was one aspect of the work done there, but other iron work was also done on the forge.  So, if there is anyone out there with the requisite abilities who could volunteer to help out on a few occasions this summer, the museum would love to hear from them.
Simply ring up 01770 302636, write, or call in and leave your details at museum reception and someone from the museum will contact you.
Thank you.
Yours,
John Lauder
Brodick
Book of  ArCaS
Sir,
This year it is the 30th anniversary of the formal inception of ArCaS.  It has been a very interesting journey to bring us to the organisation we are now and many people have contributed to this.  I feel it is important not to lose this heritage and to this end, am writing a 'Book of ArCaS' documenting the activities since the start.
I have the formal documents e.g. minutes, accounts etc. but they give only a hint of the interesting times and events which make up ArCaS' history. I am particularly interested in hearing about the experiences of patients, carers and others who have used the ArCaS services. It is after all the human stories which make a work interesting.
Any comments or tales you would like to share with us, please send them to me via the contact button on our website, or letters can be sent to the Charity Shop at the pier with my name on.  In view of our policy of strict confidentiality, I don't expect you to put your name on it unless you absolutely wish to.
Thank you very much for your co-operation and I look forward to hearing from you.
Yours,
Elizabeth Ross
ArCaS treasurer
arcastreasurer@gmail.com
Flailing concern
Sir,
As a recent visitor to Arran I was shocked by the extent to which flailing of hedges and road side trees has been used alongside the island's roads and paths. Not only is this practice damaging to trees and wildlife it is visually intrusive and indicates a lack of concern for conservation and natural habitats.
The view of such damaged roadside verges is detrimental to the wonderful visual attraction of Arran to those who visit and live on the island. We walked up to the Glenashdale waterfall – a popular place for visitors – along what appeared like a war-zone with many damaged trees and hacked branches and stems left lying. Flailing is suitable for hedges and shrubs and a crude, damaging and indeed unnecessary means to cut back trees.
I understand that there is sometimes a need to cutback roadside vegetation for safety purposes but would suggest that in future this is done by more careful cutting and only in places where it is really necessary.
Yours,
Karen Clarke,
Edinburgh
Lost lives
Sir,
Members of His Majesty's armed forces who died in service between 1922 and 1939.
I write to enquire whether, among your readers, there is anyone who, in the period indicated above, lost a family members, friend or colleague serving in the armed services, or a fellow airman, sailor or soldier, and whose family and home were in Glasgow or Lanarkshire at the time of their death.
Since that time, of course, families may well have moved elsewhere.
This request for information is for the purpose of commemorating the deaths of those serving in the armed forces in the period 1922-1939. All informational provided will be treated in the fullest confidence both by myself and South Lanarkshire Council to whom the information will be conveyed and who will contact all respondents.
Should any reader wish to communicate with myself my contact details are below. Alternatively, he/she may wish to get in touch directly with the chief executive of South Lanarkshire Council by writing to the Council HQ, Almada Street, Hamilton ML3 1AA or by telephoning the council bereavement services there on 0303-123-1016.
Yours,
J E Allan (ex-RAMC),
94 Franklin Place,
Westwood,
East Kilbride,
G75 8LS.