Fish farm consultation descends into chaos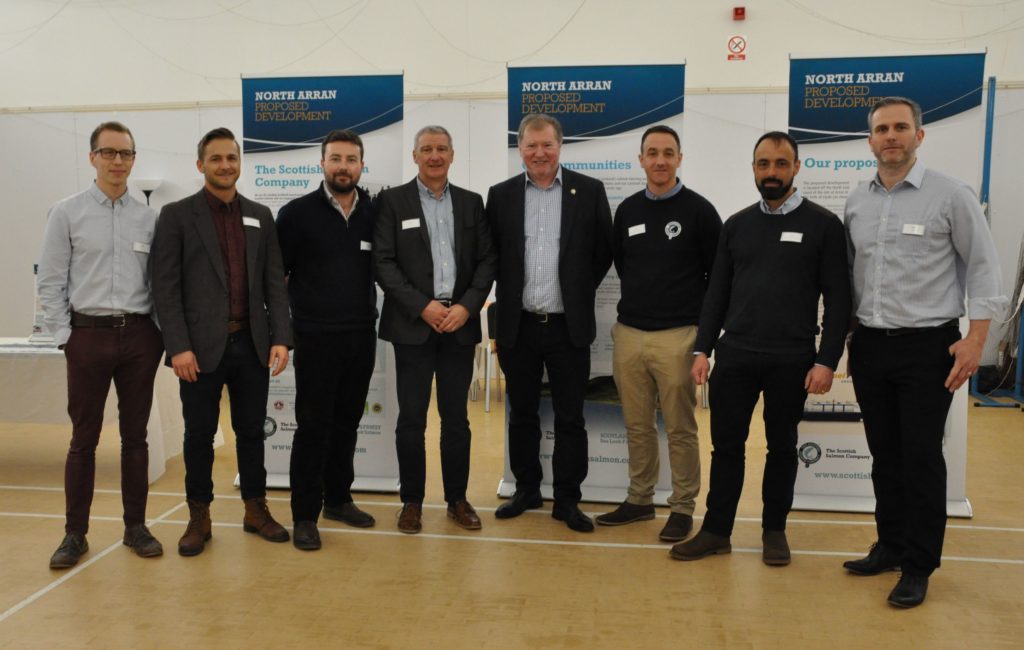 Want to read more?
We value our content and our journalists, so to get full access to all your local news updated 7-days-a-week – PLUS an e-edition of the Arran Banner – subscribe today for as little as 48 pence per week.
Subscribe Now
By Colin Smeeton
A planned community consultation on a proposed new fish farm descended into chaos earlier this week when protesters took over the event demanding a public meeting.
The consultation at the Lochranza and Catacol village hall on Tuesday was intended to inform the Arran community of the proposed plans by the Scottish Salmon Company (SSC) to develop a new fish farm on the north east coast of Arran near Millstone Point.
Under the proposal, which has yet to seek planning permission, the SSC hopes to construct 10, 120-metre fish pens, arranged in two rows of five, with a linked feed barge.
Inviting their business partners GaelForce Group – who are concerned with improving fish health and welfare,  Arcus – environmental planning and engineering consultants, and Imani – economic and development consultants, the 13 strong team joined SSC CEO Craig Anderson to answer any questions that might arise either ecologically, financially or regarding welfare concerns of the salmon themselves.
Mr Anderson said: 'What we hope to achieve here today is to get the real information out there to all Arran residents. We wish to share with the community exactly what we wish to achieve.'
Howeever, his hope was to be short-lived when just after 2pm a large group of around 150 people poured into the hall. The group comprised members and senior figures of the Community of Arran Seabed Trust (COAST) and representatives of the Lochranza and Catacol Community Association (LCCA) along with members of the public, not allied with either organisation.
COAST co-founder Howard Wood and director Paul Chandler joined the huge influx of people who filled the hall to capacity and made moving about in the restricted space difficult. Mr Robert Cumming of the LCCA, who had prior to the event requested a public presentation and a Q&A session but was refused, stood aloft and once again made a plea for a representative of the SSC to answer their questions.
Upon being told that the event was a public consultation and that a Q&A would not be forthcoming at this stage of the application the room erupted into loud jeering and booing and Mr Cumming once again addressed the crowd.
'This consultation is a statutory requirement and SSC have no intention of answering our questions or engaging with us so we have no need to be here,' said Mr Cumming encouraging the assembled group to walk out en-masse.
Many walked out in what one described as 'disgust at the failure to engage with the community' while a fair amount remained in the hall and spoke to the business partners to find out more about what they had intended to share with the community.
'It is the same old guff, we have heard it all before, what use is a community meeting if it is only one sided?' enquired a protestor dejectedly as she left the building.
The SSC operate over 60 sites across the West coast of Scotland. It is registered in Jersey, floated on the Norwegian stock exchange and the largest shareholder is held by an anonymous bank account held at the Swiss Stock exchange. They export 60 per cent of their produce to 26 countries around the world, focussing on North America and the Far East.
COAST oppose any open-cage fish farms in Scottish waters, they advocate for a transition to closed containment systems and alternative forms of sustainable aquaculture. Through their North Arran Salmon Farm Campaign they have vowed to continue lobbying both government and any other organisations to stop the expansion of open cage fish farms.
Putting their case forward: Craig Anderson SSC CEO (centre) and flanked on either side by, l to r, Nick Wright, Arcus ecologist, Martin Eichhorn, Imani economist, Andrew Parker, Imani economist, Stewart Graham GaelForce group,  Donnie Sinclair, SSC area manager, Dave Cockerill SSC biology director, Jamie Young Arcus.  01_B14ffarm01
Mr Robert Cumming of the Lochranza and Catacol Community Association addresses the crowd in the village hall calling for a Q&A session. 01_B14ffarm02
The looks on these faces express the mood of the event after learning that there would be no public presentation or Q&A session. 01_B14ffarm03
The Lochranza and Catacol village hall continues to fill with over 150 people attending the consultation. 01_B14ffarm04