Arran Banner letters – week 11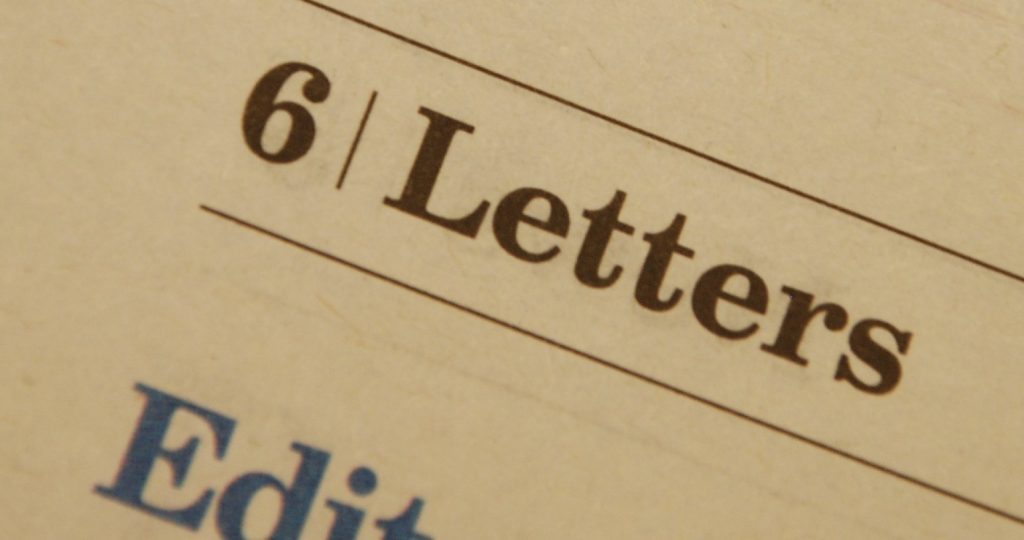 Want to read more?
We value our content and our journalists, so to get full access to all your local news updated 7-days-a-week – PLUS an e-edition of the Arran Banner – subscribe today for as little as 48 pence per week.
Subscribe Now
Foodbank appeal
Sir,
On behalf of all at Arran Churches Together a grateful thanks to the generosity of the members of Kildonan WRI for their donation of food items for the Foodbank brought to their February meeting at which Gregor Adamson gave his talk on the history of Arran whisky. Grateful thanks also to Arran Distillers who donated a bottle of 'Arran Water', for the raffle, the proceeds of which will be used to further the work of food distribution.
It couldn't have come at a better time. Despite the wonderful response by so many fellow islanders at Christmas time who donated so generously to our Christmas box appeal – allowing dozens of Arran residents in need of a bit of extra help to enjoy a much better festive period than would otherwise have been the case – currently the Foodbank is running desperately short, indeed has completely run out of certain essential items. These include long-life milk, jars of pasta sauces, cooking sauces such as sweet and sour for rice dishes, tinned fruit and vegetables, tinned meat and fish, cereals, cooking rice and tins of pudding rice and custard, tea and coffee.
It is wonderful that the Christian festival of Christmas still brings out the best in human kind, but three months on at the end of a long winter, the need to help many of our fellow islanders is perhaps now even greater, a fact flagged up by our partners at Social Services who are currently experiencing a high demand for assistance.
Your help would be very much appreciated and any food items can simply be left inside the front door of Brodick Church which is always open. It will make a huge difference. Thank you.
Yours,
Angus Adamson
Minister at Brodick Church
McLaren champion
Sir
When I read Mr MacArthur's letter in the Banner of Saturday March 9, I sat bolt upright with interest and was proud of the Banner to publish it.
In July last year, I sent in a letter to the Banner expressing concern on the Abode proposal and felt confident it would not be passed. I also mentioned about the good letters opposing the Abode proposal and the nervous fact that there is only one bidder for one of Arran's major site developments. My letter disappointingly did not stimulate responses.
However, Mr MacArthur's very good, bold and incisive letter could change all that. Is there a dark reason for the lack of responses and more importantly the lack of any other proposals for this prime site?  Of course, maybe I am in the dark if negotiations have already been sealed in favour of Abode, part of AA group. How wise it was to read of the maximum two storey clause but the single bidder has the strength to overrule?  Four stories high is so incongruous.
I have been saddened over these many months and praying for a champion. My limited knowledge of Arran affairs makes me rely on the good common sense of the Arran people. Can we get a harmonious, coastal friendly alternative.?  I hope so.
Yours,
Edward Jackson
Glasgow
Diabetic Support Group
Sir,
I don't think a week goes by without some section of the media raising concerns about the increase in the number of people who suffer with diabetes.
I should imagine that most people are aware that this illness can not only be life changing but life threatening as well.
The reverse of this of course if diagnosed early and with the right advice the condition can in fact be reversed.
Based on the basis that as much information that can be obtained can only be beneficial to everyone ,attempts are being made to set a diabetic support group here on the island.
Following recent advertising in all the surgeries and on social media it was surprising that out of nearly three hundred diabetics on the island only a handful  ( i.e about 5) indicated any interest in supporting such a group.
Setting up such a group is not a criticism of the work carried by the excellent medical team we have here on the island but would help them by getting extra support from the mainland in the way of speakers with a greater depth of knowledge .
Given sufficient interest the first step would be simply set up a meeting to discuss the pros and cons of such a group before hopefully moving on with its formation
Can I therefore ask anyone who is interested to get in touch with either Lorraine Hewie directly at ACVS ( 600611) or your local surgery who will pass on your interest.
Given sufficient support a venue and date together with a speaker will be arranged at the earliest opportunity.
Yours,
Peter Randell
Whiting Bay
RNLI fundraiser
Sir,
The Arran branch of the RNLI held its annual soup and sandwich lunch at the Kinloch Hotel on Monday March 4.  It was well attended as usual and raised the sum of £1112.  Many thanks to the Kinloch staff and Ran Robertson who entertained us all with local anecdotes and songs. Our president, Pat Adamson, organised this successful event as she has done year after year. Grateful thanks to all who supported us.
A new initiative for Arran was the introduction of the RNLI 5p pot collection.  Supporters are asked to fill little catering jam jars with 5p pieces and return them to us. Little Rock Cafe and the Auchrannie are saving their empty jars for us  which is a great help. Arran Active, Brodick  has very kindly agreed to receive the filled jars for us and also to give out empty jars.  The little pots are very attractive and we hope will appeal to all, even children on holiday
Yours,
Tricia Martin
Arran RNLI