Micro-businesses making the Arran economy tick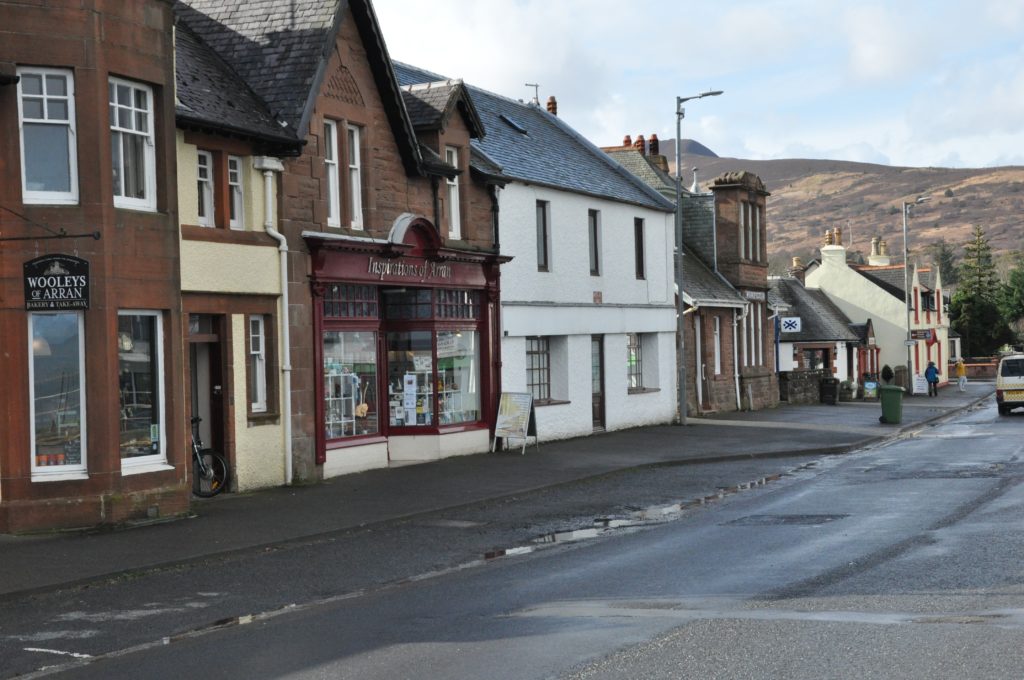 Want to read more?
We value our content and our journalists, so to get full access to all your local news updated 7-days-a-week – PLUS an e-edition of the Arran Banner – subscribe today for as little as 48 pence per week.
Subscribe Now
The full potential of Arran businesses is being significantly constrained by the lack of available, suitably qualified and skilled individuals, a new study has found.
The 2018 Arran Business Survey found businesses on the island have the capacity to employ an additional 107 people – up from 92 in the previous survey in 2016 –  if a source of trained and suitable staff was available.
When businesses were asked to confirm what factors were contributing to this lack of suitable candidates, 40 per cent identified a lack of affordable accommodation as a primary contributory factor.
Significantly, the survey found the  economy of Arran is heavily weighted towards micro-businesses with fewer than five employees. These businesses, generating less than £100,000, make up 56 per cent of Arran's total business numbers. Most of these are very small one- or two-person businesses, usually self-employed. However, 10 per cent were larger concerns, with an annual turnover of more than £1 million.
It also emerged in the survey that Brexit does not seriously concern businesses on Arran – although is said to have changed given the present uncertainty with only days to the leaving date. When questioned, only eight per cent of businesses said Brexit was a major obstacle, compared to the Scottish figure of 22 per cent.
Arran is currently experiencing a period of depopulation with a specific and noticeable drop in the percentage of the population under the age of 65. If unchallenged, this demographic trend has the potential to materially impact on the employee numbers that these employers can attract, with subsequent concerns over the level of service these businesses can provide to their customers.
An initial survey of businesses on Arran was undertaken in June/July 2016 by Arranshand Ltd to provide intelligence on how Arran's economy was performing compared to other North Ayrshire locations and identify any specific factors that were inhibiting economic growth.
This survey identified the lack of suitably qualified labour and the lack of affordable housing as significant inhibitors restricting economic growth.  The initial survey estimated that 92 full-time equivalent (FTE) posts were not being filled due to the lack of affordable housing.
A second was commissioned in late 2017, and undertaken again by Arranshand Ltd, in February/March 2018, to establish what changes had taken place in the local economy in the intervening 20-month period.
In all, 95 businesses responded using a mixture of online questionnaires, phone calls and face-to-face interviews.  This represents 38 per cent of all businesses on Arran registered with Companies House. The businesses which responded employ just over half of the total Arran workforce.
The majority of businesses, 54 per cent, who responded had been trading for more than five years – more than a quarter have been trading for more than 20 years. However, one in six were new businesses which also suggests a healthy start-up rate on the island.
The information identified by this survey will be shared with partners to assist with the drive and desire to ensure Arran remains a vibrant, diverse island that is home to many successful businesses.
Generally, businesses responded positively when asked about currently market conditions with 80 per cent reporting that turnover has stayed the same or increased over the past year.
Employee numbers have increased slightly over the past year with a one  per cent increase in employee numbers. However, 47 per cent of respondents indicated they had experienced labour shortages at some point over the past year.
Businesses on Arran are more outward looking that businesses in mainland North Ayrshire as 66 per cent of Arran businesses had sold goods or services to other UK countries, compared to a Scottish average of 44 per cent. When it comes to exporting outwith the UK, 49 per cent of Arran businesses had traded overseas compared to 16 per cent across Scotland as a whole.
Arran businesses are also more innovative than their mainland counterparts with more than double the Scottish average of businesses having undertaken a major re-engineering or developmental innovation in the past three years.
The 2017 survey quantified, for the first time, the lost opportunity to the Arran economy due to the lack of affordable housing for those who may wish to live and work on Arran.  The 2017 survey put this number at 92 and this figure has risen to 107 in the 2018 survey.
In response, North Ayrshire Council, in partnership with the Scottish Government and local housing associations, has worked collaboratively to develop plans that will seek to deliver more than 40 homes on Arran by the end of 2021 (see separate story).
In addition, the Arran Economic Group has been developing plans to introduce new housing types and tenures to the island and it is hoped further local and national support will be forthcoming to support these developments.
The ADT has just been informed that the Rural and Islands Housing Fund has agreed to fund the first part of the feasibility work for the three sites identified on Arran for housing. That means we are now starting and on schedule to address the affordable housing shortage on the island.
The survey concludes: 'Arran businesses have generally had a positive year and have demonstrated that they are behaving innovatively and developing their products and services for residents and visitors.
'In order to continue to support these businesses to grow, pressure must be maintained on funding bodies to ensure this positive opportunity is exploited to its full potential.'
Shore Road in Brodick houses many micro-businesses including gift shops, a baker's, ice -cream parlour and Chinese takeaway. 01_B10survey01
A clothes shop, estate agent, hairdresser and guest house on Shore Road. 01_B10survey02