Canadian visitors in search of their roots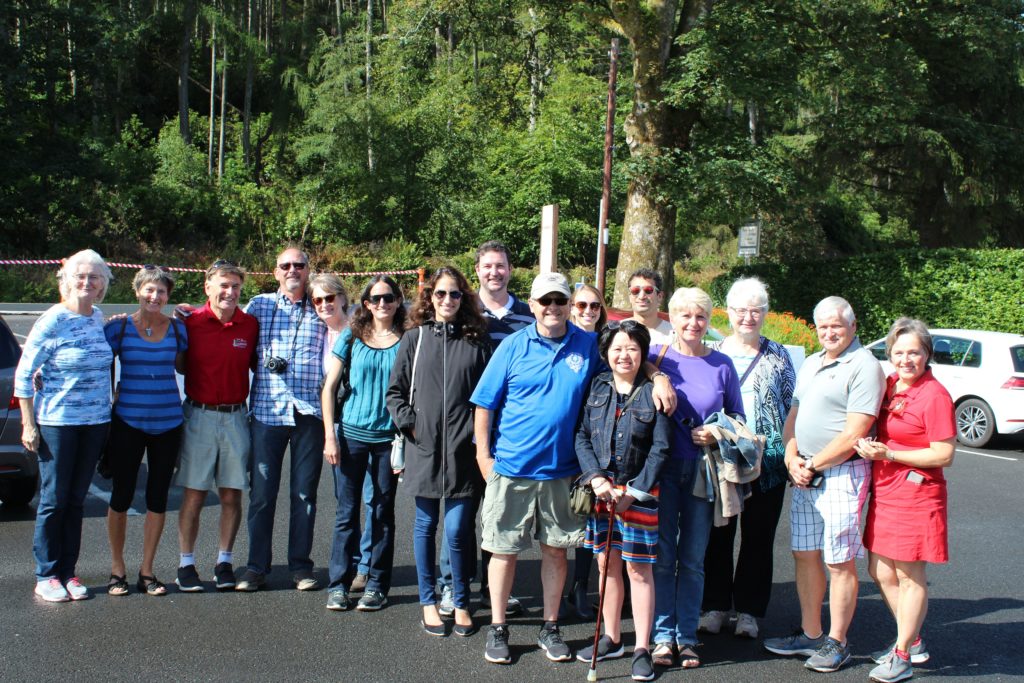 Want to read more?
We value our content and our journalists, so to get full access to all your local news updated 7-days-a-week – PLUS an e-edition of the Arran Banner – subscribe today for as little as 48 pence per week.
Subscribe Now
Standfirst
A few months ago a group from New Brunswick and the USA visited the Sannox Christian Centre which has built links with the descendants of the people who built and attended Sannox Church before they left for Canada. Fiona and George Hazel have been to visit them twice. A few years ago Ian and Mary Hamilton came to Arran as they wanted to re-dedicate their marriage in Sannox Church. This time it was a much bigger group visited and had  an amazing time. Here one of the group, Joan Savoie, who has done a lot of research into her family's links with Arran, tells of the visit.
Main copy
The trip to the Isle of Arran for 17 decedents of John Hamilton and Margaret Cumming took place in August 2018.  According to the Restigouche County, New Brunswick Census of 1851, John and Margaret arrived from the Isle of Arran in 1828.  Passed down through family history stories, it was often said that the family of five, John, Margaret and their three children James, Catherine and Ann, arrived on the brig Caledonia.
The trip to Arran was two years in the planning and on August 9, 2018, the decedents from across Canada and the United States, waited as a ferry sailed into the harbour at Ardrossan.  Looking towards the ferry, it soon became clear that the group would be boarding the Caledonian Isles which seemed fitting since their ancestors sailed from Arran on a brig of nearly the same name.
With most of the group staying at The Corrie Hotel in Corrie, it soon became apparent that Arran was very much like the northern shores of New Brunswick.  The beach with its rocky shore, looking across the blue water to the mountains, gave an image of New Brunswick looking over the Bay of Chaleur towards the mountains of the Gaspe Coast of Quebec.
There was a feeling of peace knowing that we were standing on the same soil as relatives three generations before.
Once we arrived on the island we were given first class treatment.  Our tour guides George and Fiona Hazel, from Sannox Christian Centre, started our tour with a visit to the Arran Heritage Museum where we were introduced to Margaret Wright.  Margaret had done her research on the line of John Hamilton and Margaret Cumming and helped fill in some gaps in the family's story.  The museum gave our group a glimpse into life as it was on the Arran during the time of our ancestors with how they lived and worked.   Names we all recognised were written all around us as we read the stories of the clearances and viewed the maps of our home in Canada.
Next stop was Lamlash, the place where our ancestors sailed away to a new land and a new life. Standing on the same ground gave us all a sense of belonging.  We felt we had been there – there was something familiar to us all as we stood by the Clearance Memorial that was unveiled in 1977 by a lady many of us knew growing up in Blacklands, New Brunswick – Mrs Myrtle (Cook) Maxwell.  We knew her story of that trip and the unveiling.  Standing on the mound that was still visible where Rev A MacKay preached as families boarded the Caledonia seemed surreal.  We felt the presence of our ancestors as we walked the grounds surrounding the memorial and wondered what they said to each other as they sailed away and looked back towards Arran knowing they would never see this land again.
From the memorial at Lamlash, George and Fiona took our group to the Lamlash cemetery where row upon row of Hamiltons could be seen.  The final resting place for Hamilton families going back into the early 1700's.  Names familiar to us all, John, Catherine, Margaret, James – names passed down through the generations from Arran to their new home in New Brunswick.
John Hamilton and his family may have sailed from Lamlash but they came from Kingscross, just a few miles away.  Visiting Kingscross was next for the group.  Walking down to the beach and dipping our hands in the water made us all feel close to the people who came before us.  The beach held a likeness to the beach in Blacklands and many of us commented on how our ancestors must have felt as they walked the beach in Blacklands and felt a familiarity with the land they had left behind.  The scenery at Kingscross had so much in common with that of the north shore of New Brunswick,that for a moment if one closed their eyes, it was easy to imagine we were still in New Brunswick and not miles across the Atlantic.
Our final destination of the day was theSannox Christian Centre, with a church that was built on land gifted by the Duke of Hamilton.  It was in this church that our ancestors would have worshiped and prayed and possibly gathered in service just before leaving their beloved Arran for a new life in a new land across the Atlantic.  Within the Sannox Church, many of us felt a spiritual presence, a place where we could slow down and listen and review the events of our day.
On our final day on Arran we joined together in Sannox Church to worship, singing in song and listening to scriptures giving us sense of peace and healing. The Sannox Christian Centre is more than just buildings that are being restored, it is a place that will once again offer 'blessing, healing and restoration and hope to all who come'. It was so exciting to hear of the plans to restore the church and build a new centre. The restoration of Dundarroch Cottage has been done to a very high standard, with four en suite bedrooms sleeping 9 to 10 people. It will be so good to see the church and manse restored and the new arts centre, seminar rooms and beehive chapel built.
Many of us said we will return – there is much more to see and do with learning about our past and who our ancestors were and how they lived before the clearances and their new life in a new country. The folks at Sannox Christian Centre have built strong links to our folks in New Brunswick and Quebec, joining the past to the present. We look forward to building on that with the people of Arran.
The group learn about The Clearances from Margaret Wright at the heritage museum. NO_B52church01
Two of the ladies at The Clearances memorial in Lamlash. NO_B52church02
Two of the group beside the Hamilton Coat of Arms on a gate at Brodick Castle. NO_B52church03
The group learn of their ancestors from Margaret Wright. NO_B52church04
Some of the visitors at Kingscross where their ancestors lived. NO_B52church05
Enjoying dinner at the Corrie Hotel. NO_B52church06
Taking a well earned rest in the Rosaburn Cafe. NO_B52church07
A  group photo after dinner at the Corrie Hotel. NO_B52church08
Ian and Sharon at a standing stone at Sannox Church. NO_B52church09
The group sets out on a tour of Arran. NO_B52church010