Anne is island champion again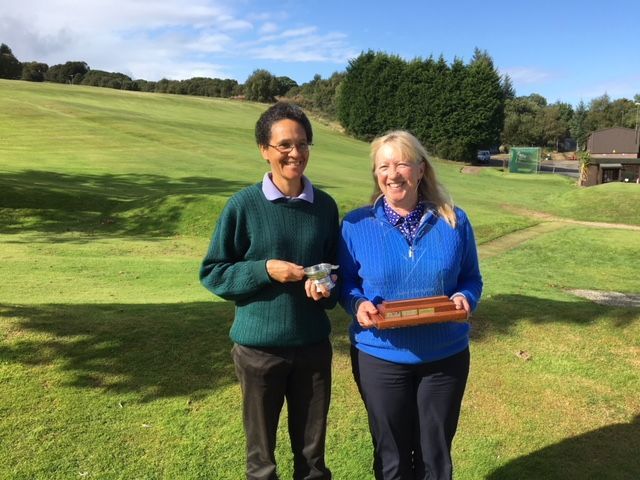 Want to read more?
We value our content and our journalists, so to get full access to all your local news updated 7-days-a-week – PLUS an e-edition of the Arran Banner – subscribe today for as little as 48 pence per week.
Subscribe Now
Arran Ladies Golf Union
Sunday September 9, ALGU Island Championship at Whiting Bay. After four hard fought rounds two competitors remained, Anne May of Brodick and Kema Genda of Machrie Bay. Both are past island champions and the small group of spectators were treated to a fine display of golf. In the end it was Anne who prevailed becoming Arran's island champion for the third year. Well done to all who played in the 2017/18 Championship.
Fixture: Saturday September 15, Cir Mhor Trophy at Machrie Bay, 12.30pm start.
Brodick Golf Club
Wednesday September 5, Summer Cup, last round. 31 played, CSS 63. 1 David McKinnon 72-14=58, 2 Brian Smith 74-15=59, 3 Matthew Keir 66-5=61. Scratch Matthew Keir 66.
Summer Cup, final. 1 Bruce Jenkins 308 (better 6th round), 2 Stuart Galloway 308, 3 Gordon Hendry and 4 Babbies MacNeil 312.  Scratch 1 Ewan McKinnon 328, 2 Matthew Keir 336, 4 Gordon Hendry 340. Jinty Trophy, number of twos, Bruce Jenkins 16, Jimmy Armit, Ewan McKinnon and Terry Raeside 8. Elliott Eclectic, Gordon Hendry 47, Bruce Jenkins, Matthew Keir and Ewan McKinnon 48.
Friday September 7, Kintyre Cup at Carradale GC, Stableford, 13 played. 1 Brian Smith 38pts, 2 Stuart Brodie 37pts, 3 Nicol Hume 36pts.
Sunday September 9, Brandon Qualifier, 15 played, CSS 67. 1 Stuart Galloway 78-15=63, 2 Bill Donaldson 85-16=69, 3 Donald McKinnie 82-10=72. Scratch Stuart Galloway 78.
Fixture: Sunday September 16, John Gemmell Shield, three club competition, enter on notice board or turn up at 8.30am or 12noon. Wednesday September 19, Wednesday Winter Cup, 12 hole stableford, at noon.
Machrie Bay Golf Club
Saturday September 8,Eddie Rankin. Machrie Bay V Corrie. Machrie won the cup for the 10th time to level the score with Corrie . Congratulations to David and the team for the condition of the course. Thanks also to the tearoom staff for the excellent soup and sandwiches.
Sweep. 1 Phil Betley 42pts, 2 Sandy Murray 41pts, 3 Ron Woods 36, BIH, over Reuben Betley. Magic twos, Sandy Murray.
Tuesday September 11, Captain's Day. Played as a two person scramble over 9 holes. 1 Marilyn Woods and Paul Emsley  23, 2 Hamish Bannatyne and Campbell Laing 25. Ladies nearest the pin at the 5th, Elizabeth Kelso. Ladies longest drive at the 6th, Kema Genda. Gents nearest the pin at the 2nd , Alastair MacDonald. Gents longest drive at the 7th, Phil Betley. The raffle raised £155. Thanks go to Kate and her staff for the lovely sandwiches and cake which was enjoyed by everyone .
Fixtures: Tuesday September 18, SGLU medal tee off at 12.30pm.
Whiting Bay Golf Club
Friday August 31, Ladies Glenashdale Stableford, 4 played, CSS 67. 1 Margaret Auld 29pts, 2 Jean Davidson 26pts.
Wednesday September 5, The Bannatyne Cup. A total of 21 people played in the Bannatyne Cup, a popular late season medal play trophy. CSS stayed at 63 and David Blair smashed that by four shots to win by three from Jamie Macpherson. 1 David Blair 16, 59, 2 Jamie Macpherson 5,62 ACB and lowest gross, 3 John Dick 15, 62, 4 Ryan Armstrong 9, 64. Magic twos Pete Towndrow @2nd, John Dick and Andy Martin @4th and Stan Rainey @7th.
Friday September 7, The Ladies Raymond Curtis Stableford, 5 played, CSS 67. 1 Margaret Auld 22, 25pts. 2 Jean Davidson 24, 23pts.
Sunday September 9, The Aitken Rosebowl. A total of 10 people played in the Aitken, the strokeplay foursomes which was rained off earlier in the year. The weather this time was kinder but a couple of heavy squalls had players rushing for the waterproofs and brollies at times. 1 Jamie Macpherson and Wolfi Kroner 10, 60, 2 John Dick and David Brookens 13, 66, 3 John Pennycott and Peter Towndrow 13, 72.
Fixtures: Saturday September 15, AGA Seniors Handicap, Shiskine GC, 1pm Sunday September 16, The Raymond Curtis Salver, Open, Stableford. Wednesday September 19, Stableford, Yellow tees.
Corrie Golf Club
Wednesday September 5, Medal and magic twos. 1 D Jeffrey 66-8=58 BIH and scratch, 2 D Logan 69-11=58 BIH, 3 G Andrew 68-10=58. Four twos but not the magic one.
Saturday September 8, Eddie Rankin Trophy played at Machrie GC. Congratulations to Phil Betley.
Fixtures: Saturday September 15, The Corrie Open, ballots at 9am and 2pm for those who do not already have tee times.
Lamlash Golf Club
Thursday September 6, Summer Cup, CSS 64. 1 Drew Wales 68-9=59, 2 Dougie MacFarlane 63-0=63, 3 Iain Murchie 70-6=64. Scratch, Dougie MacFarlane 63. Magic twos, Paul Jameson at 16th.
Fixtures: Sunday September 9, Scratch Cup Final, 9.30am and 12.30pm. Thursday September 13, Summer Stableford and Captain's Prize. Make up own games, see starter for times. Friday September 21, Seniors Open, yellow tees, Stableford.
Ladies Section: Wednesday September 5, Fleet 6, CSS 64, par 65, 8 played. 1 Sheena Murchie 79-15=64, 2 Yvonne Brothers 84-17=67, 3 Gay Mackay  93-25=68. Scratch Sheena 79.
Friday September 7, Away day. This year the venue for the away day was Louden Gowf at Galston. The majority of  the 12 strong party had not played there before which added to the interest of the day. Louden is a long flat course which provided the group with a very enjoyable and testing round. The lunch in the clubhouse was also much appreciated.
The competition is a stableford format with individual and team prizes. Winner of the away day trophy with 34 points was Kate McAdam, runner up was Ruth Hardy with 33 points and the winning team comprised Ellie Jones, Liz Sinclair and Ruth Hardy. The whole day was very successful aside from a two hour wait at Ardrossan for our jinxed ferry.
Shiskine Golf Club
Thursday September 6, Ladies 12 Hole Medal and Medal winners from last years final. 1 Fiona Henderson 53-8=45 (12 hole medal winner), 2 and scratch, BIH, Alice Anderson 53-7=46. 3 Jenni Turnbull 57-8=49. Alice wins voucher for winning Medal final.
Arran SWI Federation
Four ladies, Fiona Henderson and Alice Anderson, Rion Culpan and Pat Adamson, represented the Arran SWI Federation on Tuesday August 28 at Duff House Royal Golf Course in Banff in the National golf finals .
Runner up Kema Genda of Machrie Bay and winner Anne May of Brodick who competed for the ALGU Island Championship. No_B37golf01
Fiona  Henderson and Alice Anderson representing the Arran SWI Federation at Duff House Royal Golf Course in Banff in the National Golf  finals .No_B37golf02
Rion Culpan and Pat Adamson at the Duff House Royal Golf Course in Banff where they were part of a four strong team representing the Arran SWI Federation.  No_B37golf03