Don't blame us for ferry delays
Want to read more?
We value our content and our journalists, so to get full access to all your local news updated 7-days-a-week – PLUS an e-edition of the Arran Banner – subscribe today for as little as 48 pence per week.
Subscribe Now
By Colin Smeeton
Bosses at the Ferguson Marine yard put the blame on delays to the new Arran ferry squarely on the shoulders of their public paymasters Caledonian Maritme Assets Ltd (CMAL) when they faced the public last week.
The Clyde shipbuilders came to the island to answer questions about the  £48.5 million MV Glen Sannox, being built at their Port Glasgow shipyard,  at a public meeting at Brodick Hall attended by around 50 people.
There has been growing concern over delays which means the ferry will not now be delivered from the shipyard until the summer of next year and not in service on the Brodick to Ardrossan route until two months later after sea trials.
And the shipyard blamed an 'impasse' with CMAL for much of the delays combined with the fact that both the MV Glen Sannox, and a second ferry for the Uig Triangle are dual fuel prototype vessels which have never been built in the UK.
Chief executive officer Gerry Marshall, business development manager John Morgan and chief naval architect Chris Dunn chaired the meeting at what they described as an effort to clarify rampant speculation and to answer any questions or concerns that the audience might have.
Although Ferguson Marine was only created four years ago, Mr Morgan opened proceedings with an overview of the yard going as far back as 1790, when the 'Jessie' was the first recorded ship launch from the Newark yard, all the way to present day where they have since built over 350 vessels. After an informative overview of the company's abilities and commitments to shipbuilding on the Clyde – and their dedication to developing a future proof organisation with a strong focus on staff recruitment and skill building – he handed the microphone over to chief executive Gerry Marshall.
Mr Marshall, building on Mr Morgan's comment that Ferguson Marine had reached an impasse with CMAL – their customer – on costs and design of two vessels procured from them, he reiterated that the construction of MV Glen Sannox would continue and be delivered in the summer of 2019, but that there were issues that needed to be resolved by themselves and CMAL.
There followed a question from the audience when the Arran Ferry Commitee independent traveller representative, Mr Neil Arthur, asked for further detail on what these issues were – and whether there was any truth in the recent publicity saying that seating capacity on the MV Glen Sannox would need to be reduced – Mr Marshall said plainly and without obfuscation that the impasse was due to additional costs incurred in the building of the two vessels which all three representatives were keen to stress were prototypes. The impasse it was noted had been in place for more than a year and had placed significant pressure on their working capital and plans to diversify the business.
As an example of the ongoing additional costs, Mr Morgan made mention of the requested bulbous bow, which they questioned, but which has had to be replaced at their own expense. He also added that changes from CMAL regarding disabled access would affect the planned 1,000 person seating capacity which had originally been requested, and planned. A Freedom Of Information request has since clarified that seating will be reduced by 50 seats to allow for accessibility arrangements.
The Banner directed a question at Mr Marshall: 'The word impasse describes a situation where neither party can move forward, is there a strategy for resolving this and would you consider mediation?' The answer from Mr Marshall was simple, direct but short: 'We are still talking,' he said, and which was later followed up with: 'We have a good working relationship with CMAL.'
When pressed on why issues had arisen, Mr Marshall, with the input from Mr Dunn, explained that the vessels were prototypes and that many issues would only arise as they presented themselves through the build process. Mr Marshall intimated that it would of been nice if some of these issues had been dealt with in the early stage but they were confident that they could be addressed at a later stage.
Arran Community Council chairman Bill Calderwood, asking his second question for the evening, inquired as to whether there was a process whereby further slippage in the delivery timetable could be monitored and made available, to which Mr Marshall replied that they would endeavour to keep people informed.
Chief naval architect Chris Dunn fielded technical questions, in particular those about Liquid Natural Gas (LNG) and the efficiency of dual fuel engines. He also responded to the fact that one member of the audience mentioned a large change in appearance to the superstructure. This he said was owing to the removal of the funnels, to access the engine bay, but that they were there, in the shipyard, and would be replaced at a later stage.
When questioned on his confidence of delivery on the scheduled time of summer 2019, Mr Marshall reiterated that he was confident of this and added that they were 99.8 per cent complete with the fabrication stage.
After speaking of numerous changes and expensive redesigns since having signed the contract in October 2015, chief naval architect Mr Dunn ,when question on the efficiency of LNG engines, replied that they were as reliable and any other vessels but that they were more fuel efficient from an engineering standpoint. When questioned on the location of LNG holding tanks at either Ardrossan or Brodick and where the gas would be sourced, he said that this was not known to him and that it was not a decision within his remit. Adding only that the tanks would need to be filled approximately every week and a half.
When asked a question regarding the size of the MV Sannox and its suitability for Ardrossan Harbour, as it stands, Mr Dunn said that simulations showed that it was feasible, quickly adding that the simulator was so realistic that even he felt seasick on it.
Mr Marshall concluded the congenial meeting – once questions started to dry up – by reaffirming Ferguson Marine's commitment to delivering the vessel, by working towards a satisfactory resolution with CMAL in resolving their issues and crucially, coming to an agreement of costs.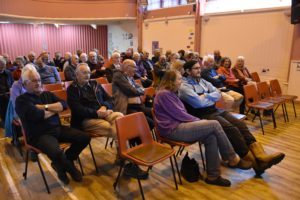 Business development manager John Morgan, chief executive officer Gerry Marshall and chief naval architect Chris Dunn of Ferguson Marine met with an Arran audience to talk about the delayed MV Glen Sannox. 01_B35ferguson01
A large audience attended the public meeting  in Brodick Hall. 01_B35ferguson02