Arran Banner golf – week 33
Want to read more?
We value our content and our journalists, so to get full access to all your local news updated 7-days-a-week – PLUS an e-edition of the Arran Banner – subscribe today for as little as 48 pence per week.
Subscribe Now
Whiting Bay Golf Club
Sunday August 5, The Lifeboat Stableford. A decent field of 18 played in the Lifeboat, the last of the charity support opens of 2018. Taking advantage of the benign course conditions, scoring was good and CSS went down to 62/37 Stableford points. 1 Craig Dewar 13, 37pts ACB, 2 Stan Rainey 11, 37 ACB, 3 Douglas Auld 19, 37, 4 Craig Simpson 9, 36. Magic twos came from Douglas Auld @4th, Colin Nisbet @7th and Stan Rainey @17th.
Sunday August 5, The RNLI Stableford. A total of four played in the ladies RNLI Stableford. CSS stayed at 64/36 points and there were no magic twos. 1 Lynda Blair 29, 37pts, 2 Fran Hadden 32, 33 ACB.
Wednesday August 8, The McNicol Cup. A total of 30 played in the McNicol, one of the oldest and most prestigious trophies. Conditions were good although a stiffening breeze later in the day may have contributed to the CSS going out to 65. Nicol Auld beat that comfortably to win on 62. 1 Nicol Auld 6, 62 and lowest gross, 2 Ryan Armstrong 9, 63, 3 Jamie Macpherson 6, 64, 4 Scott Murray 11, 65. Magic twos from Gus Macleod @2nd, Sandy Kelso @4th and Scott Murray @5th.
Wednesday August 8, The McNicola. A total of six played in the McNicola, the ladies answer to the McNicol, played as a Stableford. CSS stayed at 64/36 points and there were no Magic twos. 1 Elizabeth Rankin 29, 37pts, 2 Carol Simpson 22, 36, 3 Lynda Blair 26, 35.
Fixtures: Sunday August 19, Kilbride Challenge at Lamlash. Wednesday August 22, Summer Trophy. Saturday August 25, Fun Texas Scramble at 12noon. There is still time to join in, see Facebook and club website for full details.
Lamlash Golf Club
Thursday August 9, Summer Cup, CSS 66. 1 Drew Wales 72-9=63, 2 Andy Smith 83-16=67 BIH over, 3 Derek Harrison 89-22=67. Scratch, Peter Gossman 71. Magic twos Drew Wales and Allan Winship @16th, Iain Murchie @12th, Neil Young @17th.
Thursday August 9, Yellow Medal, CSS 62, Par 61. 1 Jim Gibson 76-12=64, 2 Allan Merry 75-8=67.
Sunday August 12, Hamilton Bowl Final Day, Bogey competition, CSS 65. 1 Alan Smith -1, 2 Andy Smith -4. Scratch, Graeme Andrew -11. Congratulations to the overall winner (best two scores), Alan Smith -5+-1=-6, better third round over, runner up, Allan Winship -5+-1=-6.
Fixtures: Friday August 17, AGA Champion of Champions final at Corrie at 5.30pm. Sunday August 19, Kilbride Challenge and Jamieson final, 9.30am and 12.30pm. Thursday August 23, Summer Cup and Jim Young Cup. Make up own games, see starter for times.
Shiskine Golf Club
Sunday July 29, Save the Children Texas Scramble. Despite very poor weather several teams braved the elements and helped to raise over £700. The committee would like to thank Shiskine Golf Club and all local businesses who supplied prizes and raffle prizes and anyone else who helped in any way. The winners were P and L Taylor and S and A Burden, runners up were the Dunn's. Junior longest drive and nearest the pin was Jack Dunn. Ladies' longest drive was Ghislaine Taylor, gents longest drive was Jonathan Dunn and gents nearest the pin was Greg Stark.
Corrie Golf Club
Saturday August 4, James Bunyan Trophy. 1 L Dickson 70-8=62 BIH, K Thorburn  83-21=62, W Paton 67-5=62 and scratch.
Wednesday August 8, Medal and magic twos. 1 R McLean 74-14=60 BIH, 2 G Andrew 70-10=60 and scratch. Magic twos, Rab Logan and Graeme Andrew, but not the magic one.
Saturday August 11, Joe McKenzie Trophy. 1 K Thorburn 84-21=63, 2 D Hayes 69-5=64 BIH and scratch. 3 D Logan 75-11=64, Magic twos, D Hayes, K Thorburn, J McConnachie and D Logan. A good run of recent form from Ken Thorburn continues with victory in this event in memory of a very popular past member.
Fixtures: Saturday August 18, Summer Cup, ballots at 9am and 2pm. Wednesday August 22, Medal and magic twos, ballot at 5pm.
Machrie Bay Golf Club
Wednesday August 14, Lady Mary, CSS 68, R/O. 1 Kema Genda 83-12=71. Peter Sutton, CSS 63. 1 Reuben Betley 86-28=58, 2 Brian Sherwood 76-16=60, 3 Campbell Laing 87-19=68. The standings for the Peter Sutton are as follows: Phil Betley 383, Hamish Bannatyne 383, Brian Sherwood 386, Reuben Betley 389, Campbell Laing 396, Alistair MacDonald 478. Who will win?
Fixtures: Tuesday August 21, Peter Sutton/Lady Mary final, tee off 12.30pm and 5.30pm. Tuesday August 28, Sweep, tee off 12.30pm. Lawson Cameron final, tee off 5.30pm.
Brodick Golf Club
Wednesday August 8, Summer Cup, 24 played, CSS 64. 1 Christopher MacNeil 84-23=61, 2 Stan Brothers 73-12=63 ACB, 3 Brian Smith 78-15=63. Scratch Greg McCrae 69.
Sunday August 12, Centenary Quaich, Stableford, 12 played, CSS 36 points. 1 Donald McKinnie 11, 39pts ACB, 2 John May 21, 39pts, 3 Stuart Brodie 16, 34pts.
Fixture: Sunday August 19, Captain's Prize, Stableford. Entry sheet or turn up prior to 10am on the day.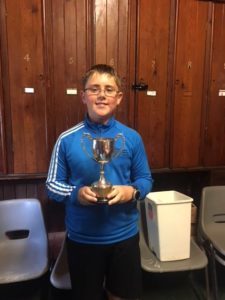 Ruairidh Scullion won the Archie Hunter cup in the Junior Open at Corrie. No_B33golf01
Graeme Andrew putts on the 9th green at Corrie Golf Club, closely watched by opponent Euan McKinnon during the semi finals of the AGU Champion of Champions competition. No_B33golf02