Ewan secures 11th club championship
Want to read more?
We value our content and our journalists, so to get full access to all your local news updated 7-days-a-week – PLUS an e-edition of the Arran Banner – subscribe today for as little as 48 pence per week.
Subscribe Now
Brodick Golf Club
Ewan McKinnon won the Club Championship for the 11th time when he beat Matt Keir two up in the final last Saturday and is now just one victory off tying with the record 12 of Stevie Bunyan.
The match, which was all square after a fairly average front nine, came to life as they headed for home. In very windy conditions, Matt's level par score for the back nine was excellent, but Ewan prevailed with birdies at the 11th, 12th and 18th, where he hit a 4 iron to three feet. Many compliments were paid to the greatly improved condition of the course.
In the semi-finals, the previous night, Ewan McKinnon beat Gordon Hendry and Matt Keir beat Greg McCrae.
Fixture: Saturday June 2 and Sunday June 3, Arran Open Championship.
Ladies Section: Friday May 25, Ladies Championship. Two sporting semi final matches played on Friday evening; one between Ann May and Kate McAdam, with Ann going through to the final; the other between Fiona Henderson and Susan Butchard, was littered with birdies and worthy of a final in itself. Fiona just pipped Susan at the 18th hole, to join Ann in the final.
A wonderful display of well wishing posters and silverware was on show in the clubhouse and shop, courtesy of Jackie and Graham. When Fiona and Ann arrived for the final on Saturday afternoon. Captain Dougie started the final and accompanied by caddies Kate and Susan the match was played on a lovely sunny day on a dry manicured course. The game progressed in the true spirit of golf, with Ann managing to retain the championship title. Fiona was unfortunate with at least four putts shaving the hole, the ball refusing to drop.
Fiona, a past Lady Champion, the first time, 42 years ago, demonstrated a remarkable achievement in reaching the final in 2018, still playing superb golf and maintaining a great competitive attitude.
Thank you to everyone who took the time to spectate, support and contribute to a wonderful Championship Day at Brodick Golf Club
Wednesday May 23, Summer Cup, 33 played, CSS 64. 1 Iain Sillars 78-15=63, 2 Christopher MacNeil 88-24=64, 3 David Hendry 78-13=65 ACB. Scratch Ewan McKinnon 67.
Sunday May 27, Sweep, 16 played, CSS 64. 1 John May 85-21=64 ACB, 2 Bill Donaldson 81-17=64, 3 Donald McKinnie 75-11=64. ScratchBob McCrae 75 ACB,
Fixtures: Saturday June 2 and Sunday June 3, Arran Open Championship Ladies: Tuesday June 5, medal and medal finals, ballots at 12.30pm and 4.45pm.
Lamlash Golf Club
Thursday May 24, Summer Cup, CSS 66. 1 Stuart Campbell 71-6=65, 2 Colin Richardson 83-16=67 BIH, 3 Iain Murchie 72-5=67. Scratch Stuart Campbell 71 BIH over Dougie MacFarlane. Magic twos Allan Colqhoun @ 4th, Ian Bremner @16th, Willie Currie @5th, Todd Jameson @13th.
Sunday May 27, Summer Stableford, CSS 65, 35pts to Stableford. 1 Paul Cowan 35pts, 2 Andy Smith 33pts, 3 Alistair Ferrier 32pts. Scratch, Paul Cowan 30pts. Magic twos Billy O'Connor @16th.
Fixtures: Sunday June 3, Hamilton Bowl round two, 8.30am, 9.30am and 12.30pm. Draw for local Thomson Cup. Thursday June 7, Summer Cup, make up own games, see starter for times.
Whiting Bay Golf Club
Friday May 25, Ladies Medal. A total of five ladies played in magnificent weather and conditions with a dry course making for fast greens and extra distance. 1 Tricia Tait 38pts, 28, 2 Jean Davidson 38pts, 25. Magic twos Jean Davidson @4th. Congratulations to both ladies who each had their handicap cut by one.
Friday May 25, Medal (Club Championship qualifier), 22 played, CSS 63. 1 John Pennycott 13, 63 ACB, 2 Jamie Macpherson 6, 63, 3 Andrew Martin 12, 64, 4 Corey Allan 7, 65. Lowest gross Danny Head 69. Magic twos Kevin McAleney @4th, Ryan Armstrong and David Morrison @7th, Corey Allan @ 14th.
Sunday May 27, McKelvie Cup round two. 24 played, CSS 63. 1 Kevin McAleney 12, 61, 2 Nicol Auld 5, 63 and lowest gross, 3 Wolfi Kroner 15, 64, 4 Paul Robson 15, 64. Magic twos Stuart Paterson @17th.
Fixtures: Friday June 1, postponed Smiddy Brae Stableford at 10am. Sunday June 3, Club Championship and JC Reid Trophy finals all day. Wednesday June 6, Summer Trophy.
Machrie Bay Golf Club
Ladies section: Tuesday May 29, CCQ round one, CSS 68, R/O. 1 E Kelso 98-21=77, 2 Piet Johnston 100-21=79, 3 Aileen Latona 104-23=81. Kema Kenda 97, Elizabeth Kelso 98, Piet Johnson 100, Jenni Turnbull 100, Aileen Latona 104.
Men: CCQ round one, CSS 66. 1 Hamish Bannatyne 72-6=66 BIH, 2 Ross Trail 84-18=66, 3 D Jeffrey 80-8=72. Hamish Bannatyne 72, Sandy Murray 79, David Jeffrey 80, Ross Trail 84, Willie Kelso 89, Donald Logan 90, Brian Sherwood 92, Alistair MacDonald 93, Colin Rutterford 94, Phil Betley 96, Campbell NR.
Fixtures: Saturday June 2, Duncan Sillars Cup and second round Gents Club Championship qualifier, 12.30pm tee off. Monday June 4, Gents quarter finals, 5.30pm tee off. Tuesday June 5, Ladies second round Club Championship and Peter Sutton, 12.30pm/5.30pm tee off. Thursday June 7, Quarter finals of Presidents cup, 5.30pm tee off.
Corrie Golf Club
Wednesday May 23, Medal and Magic twos. 1 J Adam 73-9=67 and scratch, 2 J McGovern 81-13=67. Magic twos Graeme Andrew @8th but not magic.
Fixtures: Saturday June 2, Medal, ballots at 9am and 2pm. Wednesday June 6, Wednesday Medal and Magic twos, ballot at 5pm.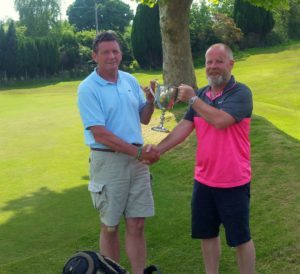 Champions at Brodick Golf Club, Ann May and Ewan McKinnon. No_B22golf01
Winner of the McKelvie Cup at Whiting Bay, Kevin McAleney receives the trophy from match secretary, Dave Hackett. No_B22golf02