Arran Banner letters
Want to read more?
We value our content and our journalists, so to get full access to all your local news updated 7-days-a-week – PLUS an e-edition of the Arran Banner – subscribe today for as little as 48 pence per week.
Subscribe Now
Challenging decisions
Sir,
In the year since I was elected to represent the people of Ardrossan and Arran, it has been a steep and challenging learning curve, culminating with the full meeting of North Ayrshire Council last week at which the budget for 2018/19 was agreed.
The main budget features were a tiny increase in the grant from the Scottish Government, increasing demand for social care, rising wages and inflation, and the Scottish Government is requiring councils to provide more services with insufficient money to fund them (in particular, early years learning).
In the weeks prior to the council meeting, most councillors spent days with council managers and colleagues exploring where savings could be found, how income could be increased and what was the most appropriate apportionment of money across the council's services. A big positive is the doubling of the road repair budget.
At the council meeting the Conservative councillors proposed that the budget prepared by the council officers should be adopted, and while other councillors mostly agreed, they proposed some changes.
A significant proposal from Labour administration was a 12.5 per cent increase in council tax. The Conservative group voted against this massive increase, as a tax on homes bears no relation to the ability to pay, would cause further damage to the economy, and many people had a 23 per cent increase last year.
The SNP government promised to review local taxation and link it to ability to pay. We are still waiting, and large increases of an outdated and unfair tax is not the way forward.
It was hugely disappointing that the SNP councillors voted to reduce North Ayrshire Council's proposed contribution for health and social care, which has been overspent for the past three years. Reducing the funding means that additional cuts to the service will be needed.
North Ayrshire Council's budget for 2018/19 does have challenging decisions that will become clearer as the weeks go on. However, North Ayrshire still has £331 million to spend, with which it provides a surprisingly large range of services in a (mostly) efficient manner. But where do we go from here?
As Councillor Gallagher said in last week's Banner, year after year the SNP Government has been cutting the proportion of its money it gives to councils. Add to this the increasing demand on social and health care caused by an increasingly aged population, councils will need to deliver services in new and creative ways – we need to be exploring these alternatives now, including how to pay for them.
Timothy Billings
Conservative and
Unionist Councillor
Ardrossan and Arran
Sir,
It is difficult to know how to respond to such a long, rambling, incoherent and repetitive letter as that from Labour councillor Alex Gallagher, published in the Banner last week.
Readers of the Largs and Millport Weekly News will be used to his embittered rantings. Sadly, they can now be read in the Arran Banner too!
He criticised me for supporting the SNP Government's budget, hardly a surprise, as no other party put forward a budget.
Cllr Gallagher claims that North Ayrshire Council's (NAC) grant from the SNP Government will increase by only £130,000 in cash from April 1, but cites no source for this figure. In fact, NAC's grant will rise by £6,285,000 (2.3 per cent) to a record £275,273,000 a higher increase than the UK
Treasury deflator of 1.56 per cent used across the UK and accepted by all political parties as a measure of inflation in the public sector. The source of these figures is the independent Scottish Parliament Information Centre (SPICe).
I was amused at Cllr Gallagher having a pop at the SNP Government's nine year council tax freeze, from 2008-2017, a response to Labour increasing council tax by 75 per cent in the decade before the SNP came into office.
Why amused? Because four weeks after denouncing the freeze in the Largs and Millport Weekly News Cllr Gallagher backed it in the same paper and then denied he ever opposed it!
Islanders may now be aware that Labour at NAC on February 28 proposed a 12.5 per cent council tax increase for all council tax payers, which was voted down by opposition councillors.
At that same meeting, Labour failed to stop an SNP motion calling for a police investigation into how Labour saddled NAC with a £380 million debt for the construction of four schools, including Arran High School, that cost only £80 million when built a decade ago.
This debt currently costs the council tax payers of North Ayrshire more than £13 million a year, a figure that will rise steadily until 2037. Labour's financial incompetence is clear for all to see.
Kenneth Gibson MSP
Cunninghame North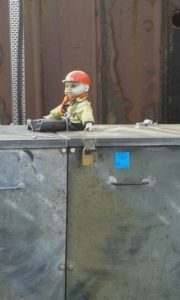 New position wanted
Sir,
I have followed the trials and tribulations of the new ferry facilities at Brodick and it now appears that the opening is imminent.
For as long as I can remember there has been a member of the terminal crew at Brodick that has been first to greet us as we drive off the ferry and last to bid us farewell as we go back to the mainland.
I would appeal, through your newspaper, that CalMac find this chap a similar position at the new terminal. Regretfully I do not know the crew member's name but I did manage to grab a photo as we left after our last visit.
Michael Smith
North Shields